Dedicated Rotary Calciner Shipping Services
We ship all types of rotary kilns as part of our dedicated rotary calciner shipping service. We know that being able to safely move your rotary calciner from one industrial plant to another makes a massive difference in your production ability. At Heavy Haulers, we understand deadlines, and you can rely on us to stick to them when transporting your heavy rotary calciner equipment.
Our rotary calciner transport services provide you with secure door-to-door delivery, trained delivery professionals, and logistics experts who are familiar with the rules, regulations, and paperwork associated with rotary calciner shipping. We'll make sure that every shipment processed through the Heavy Haulers nationwide transport network is appropriately loaded and secured using state-of-the-art loading equipment and safe handling techniques. Safety is vital for us, for your team, and your expensive equipment. We've got years of experience transporting rotary calciners throughout the U.S., fine tuning our rotary calciner delivery service to provide everything you need.
Contact Our Expert Shipping Specialist's
(800) 908-6206
Transporting a Rotary Calciner with Heavy Haulers
As they're crucial for the processing of many materials, if you need to transport a rotary calciner, you must select a heavy equipment transport company that specializes in oversized rotary calciner delivery. Our rotary calciner delivery services are perfectly coordinated to help you get your rotary calciner transported wherever you need it. Trust Heavy Haulers, the heavy machinery transport specialists to ship your rotary calciner throughout North America, Canada, Mexico, and overseas. We carefully choose the right trailer to load your rotary kiln and make sure each load is appropriately rated and secured for transport.
Rotary calciners are heavy-duty pieces of equipment used in thermal processing. Often referred to as rotary kilns, these machines are used to process materials at high temperatures, in a continuous process. Heat is transferred through the calciner's shell by radiation, heating materials held in the rotating drum inside the furnace. Common materials produced using a rotary calciner include cement, iron ore pellets for blast furnaces, titanium oxide, and aluminum oxide for aluminum metal creation. They are also essential for roasting a wide variety of sulfide ores before metal extraction takes place, processing plastics, and charcoal activation. Let's get started! (800) 908-6206
Common Types of Rotary Calciner:
● Cement Kiln
● Lime Kiln
● Refractory Kiln
● China clay Kiln
● Bartlett & Snow Rotary Calciner
● Riedhammer Rotary Calciner
● Metso Rotary Calciner
● Ruggles-Coles Rotary Calciner
How to Ship a Rotary Calciner
Shipping a rotary calciner with Heavy Haulers allows you to transport oversized machinery through busy cities and into undeveloped areas. Rotary calciners typically require multi-axle trailers capable of supporting equipment that weighs thousands of tonnes. It is also necessary to secure this type of machinery with anchors and cabling. Choose Heavy Haulers as your rotary calciner delivery service provider, and we'll plan, schedule, load, secure, transport, and offload your equipment quickly and safely. Speak to one of our representatives to get started on your rotary calciner transport journey. (800) 908-6206
Common Trailer Types Available from Heavy Haulers
Heavy Haulers specializes in hauling heavy loads such as construction equipment, oil field rigging and Super Loads. We are wideload experts! We offer an extensive range of trailer choices, including:
Max Weight: 48,000 lbs. | Max Length 53 ft. | Max Width 8.5 ft. | Max Height 11 ft.




Max Weight: 45,000 lbs. | Max Length 29 ft. | Max Width 8.5 ft. | Max Height 11.5 ft.
Max Weight: 150,000+ lbs. | Main Deck Length 29 ft. | Well Width 8.5 ft. | Legal Height Limit 11.6 ft.




Max Weight: 48,000 lbs. | Max Length 53 ft. | Max Width 8.5 ft. | Max Height 8.5 ft.
See what you need?
Call us for a FREE Shipping Estimate at (800) 908-6206
HEAVYHAULERS.COM
START YOUR SHIPMENT TODAY!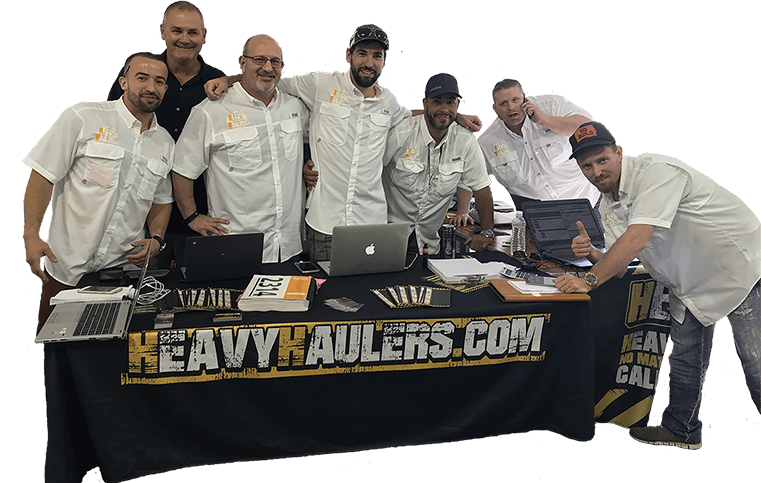 We Are Ready To Help You Haul Your Equipment!
See what you need?
Call us for a FREE Shipping Estimate at (800) 908-6206