Nationwide Rotary Transfer Machine Hauling Services
Our rotary transfer machine shipping services are available across the breadth of the U.S., Canada, and Mexico. We take pride in supporting our customers to move rotary transfer machines through our dedicated rotary transfer machine haulage service. With us, you'll experience seamless door-to-door shipping, and you don't need to worry about route planning, permits, or finding a suitable trailer for the job – we'll handle every aspect of your rotary transfer machine transport.
From sourcing the correct trailer type to securing the equipment with anchors and cabling strong enough to protect the machine from movement during travel, our rotary transfer machine hauling service combines every aspect into one easy-to-manage transaction for you. Navigating major U.S. highways, maneuvering trucks through busy city streets, and handling long-haul shipments to undeveloped areas are our specialty. No matter where you are in the U.S., our rotary transfer machine shipping service can assist you. Call now! (800) 908-6206
Contact Our Expert Shipping Specialist's
(800) 908-6206
Professional Rotary Transfer Machine Shipping from Heavy Haulers
Professionally trained heavy-duty machinery delivery experts provide rotary transfer machine hauling from Heavy Haulers. Every driver in the Heavy Haulers' nationwide network is fully insured, bonded, and accredited, with a passion for undertaking all types of rotary transfer machine deliveries. Whether you're transporting a rotary transfer machine across town, delivering a rotary transfer machine to a neighboring state, or shipping a rotary transfer machine out to Canada or Mexico, our professional drivers are available.
Rotary transfer machines are typically used for metalworking. They comprise of a large indexing table with surrounding machining stations that can be used to produce a large number of parts in a short space of time. Annual production capacity may vary between 100,000 units and millions of units. The indexing table can turn vertically, horizontally, continuously, or intermittently, and workpieces are clamped in pallet type fixtures in a circular path. Rotary transfer machines are commonly used for mass-production of automotive parts, hydraulic, and pneumatic fittings. As machines are often expensive and custom-designed, it's essential to partner with a rotary transfer machine shipping company that knows how to ship your valuable equipment safely. Get a free shipping estimate now! (800) 908-6206
Common Types of Rotary Transfer Machines We Ship
• Horizontal Transfer Machine
• Vertical Transfer Machine
• Porta Transfer Machine
• Mikron Multistar

• Eubama S5
• Monnier & Zahner M108
• Whistler Hydromat
• Pfiffner HW25
• Pfiffner HS12 CNC
How to Ship a Rotary Transfer Machine with Heavy Haulers
Use Heavy Haulers to transport a rotary transfer machine for you, and we'll arrange everything that's needed to get your delicate, expensive rotary transfer equipment to its next destination safely. Shipping a rotary transfer machine requires a suitable trailer and an experienced hauler – due to their weight and intricate moving parts. You'll need someone with experience to load and secure your equipment, a professional hauler with accurate knowledge of all rotary transfer machine transport regulations. Contact us, and we'll partner you with the right expertise to load, ship, and offload your equipment.
Common Trailer Types Available from Heavy Haulers
Heavy Haulers specializes in hauling heavy loads such as construction equipment, oil field rigging and Super Loads. We are wideload experts! We offer an extensive range of trailer choices, including:
Max Weight: 48,000 lbs. | Max Length 53 ft. | Max Width 8.5 ft. | Max Height 11 ft.




Max Weight: 45,000 lbs. | Max Length 29 ft. | Max Width 8.5 ft. | Max Height 11.5 ft.
Max Weight: 150,000+ lbs. | Main Deck Length 29 ft. | Well Width 8.5 ft. | Legal Height Limit 11.6 ft.




Max Weight: 48,000 lbs. | Max Length 53 ft. | Max Width 8.5 ft. | Max Height 8.5 ft.
See what you need?
Call us for a FREE Shipping Estimate at (800) 908-6206
HEAVYHAULERS.COM
START YOUR SHIPMENT TODAY!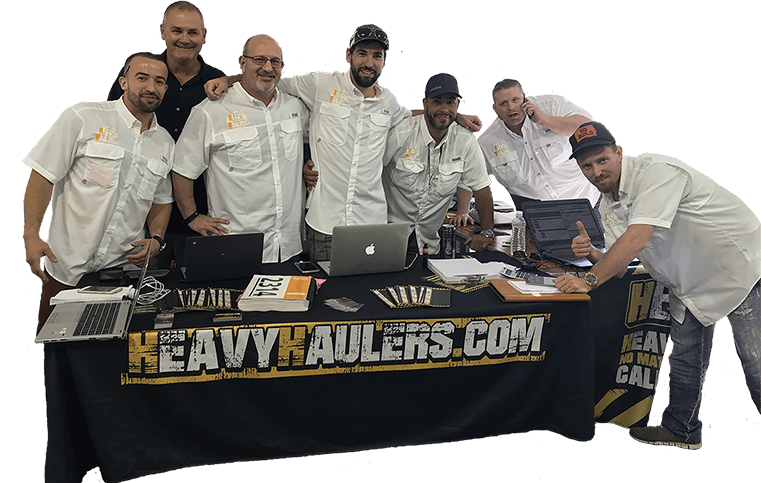 We Are Ready To Help You Haul Your Equipment!
See what you need?
Call us for a FREE Shipping Estimate at (800) 908-6206