Heavy Haul Brokers to Transport Your Oversize Loads
Heavy Haulers has highly experienced heavy haul brokers ready to transport your oversize load. Heavy haul brokers are also known as transport or logistics agents. Our team of brokers knows the ins-and-outs of oversize load shipping. Every client is assigned a dedicated heavy haul broker, who will handle every aspect of your equipment or machinery transport. Your broker will be available from the very first phone call to answer any questions you may have. Your heavy haul broker will walk you through the steps to prepare your oversize equipment for transport, obtain all permits necessary, and let you know every detail about the shipping process, so you know what to expect.
Our heavy haul brokers find the best driver to ship your oversize load. That's not the same thing as the first or least expensive driver. Your dedicated transport agent will vet every driver that wants to ship your load, ensuring they have the proper experience and the best trailer to haul your heavy equipment. More than that, your broker will also take care of anything additional requirements for your shipment. For instance, if you need load assistance, your broker will obtain the best crane or forklift crew to get it loaded on the trailer safely. If you need pilot cars, our brokers take care of that too. Everything you need for your oversize load transport is handled with quality and professionalism with our heavy haul brokers. Call now and let's get your transport started! (800) 908-6206
Contact Our Expert Shipping Specialist's
(800) 908-6206
Why Use a Heavy Haul Broker To Ship Your Equipment?
A heavy haul broker ensures that the team transporting your oversize is load is legitimate, and provides the best rate available. A heavy haul broker makes sure that every detail is covered--details that you might not realize if you're not someone who transport regularly--which can save you on fees or penalties later. A heavy haul broker is a professional transport agent, who ships your oversize or heavy load with the best solutions available. Call now and get your equipment shipping rate with a top quality broker today! (800) 908-6206
Work With The Best Transport Agents Today!
(800) 908-6206
Heavy Haulers Ships Across All 50 States
Alabama - Alaska - Arizona - Arkansas - California - Colorado - Connecticut - Delaware - Florida - Georgia - Hawaii - Idaho - Illinois - Indiana - Iowa - Kansas - Kentucky - Louisiana - Maine - Maryland - Massachusetts - Michigan - Minnesota - Mississippi - Missouri - Montana - Nebraska - Nevada - New Hampshire - New Jersey - New Mexico - New York - North Carolina - North Dakota - Ohio - Oklahoma - Oregon - Pennsylvania - Rhode Island - South Carolina - South Dakota - Tennessee - Texas - Utah - Vermont - Virginia - Washington - West Virginia - Wisconsin - Wyoming
Looking For Transport
With a Specific Trailer?

Max Weight: 150,000+ lbs. | Main Deck Length 29 ft.
| Well Width 8.5 ft. | Legal Height Limit 11.6 ft.

Max Weight: 48,000 lbs. | Max Length 53 ft.
| Max Width 8.5 ft. | Max Height 8.5 ft.
Max Weight: 48,000 lbs. Max Length 53 ft. |
Max Width 8.5 ft. | Max Height 11 ft.
Max Weight: 45,000 lbs. | Max Length 29 ft.
| Max Width 8.5 ft. | Max Height 11.5 ft.
Heavy Haulers Pilot Car Services
Are you looking for a reliable pilot car
for your transport?
Get Started
See what you need?
Call us for a FREE Shipping Estimate at (800) 908-6206
HEAVYHAULERS.COM
START YOUR SHIPMENT TODAY!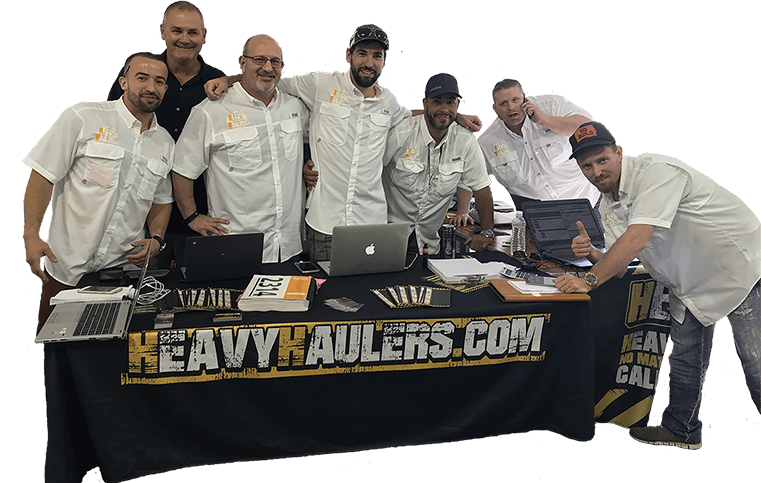 We Are Ready To Help You Haul Your Equipment!
See what you need?
Call us for a FREE Shipping Estimate at (800) 908-6206