Experienced Freight Terminal Shipping Company
Heavy Haulers is an experienced freight terminal shipping company with more than a decade of experience handling all types of cargo. We specialize in oversized and overweight shipments that may need additional permits, escorts, and tailor-made freight terminal shipping solutions, so you can trust us to handle even the most complex freight terminal shipping projects. Whether it's for a one-off shipment or a regular service, we have a nationwide network of experienced drivers available to assist you. Call now for a free shipping estimate! (800) 908-6206
We are transport specialists and can help you to ship your freight terminal cargo throughout North America. We know which is the best route to travel, the right trailer to use, how to safely secure your precious cargo, and schedule your shipment so that it arrives on-time and in perfect condition. We know that freight terminal shipping is integral to many U.S. businesses, and it's essential to choose a freight terminal shipping service company that will properly rate, secure, and transport your cargo.
Contact Our Expert Shipping Specialist's
(800) 908-6206
Comprehensive Freight Terminal Shipping Services
A freight terminal is a processing point for millions of cargo shipments, and freight terminals throughout the U.S. They encompass airports, seaports, trucking terminals, and railroads. Many U.S. freight terminals are located at ports, and deliveries are often transported using cargo containers. Heavy Haulers provides both port-to-port and seamless door-to-door freight terminal shipping services and has the experience and know-how to provide tailor-made freight terminal shipping services. Onward transport from freight terminals throughout the U.S., Canada, and Mexico can be facilitated through Heavy Haulers, utilizing our nationwide network of drivers.
We handle the scheduling, securing, transporting, and unloading of a wide variety of freight terminal shipping cargo from vehicles and oversized tanks to cargo containers. Our vast fleet of trucks and trailers, including RGN, flatbeds, and step decks, is driven by skilled drivers and is available to handle every freight terminal shipping requirement. Our freight terminal shipping services can be combined with load tracking and door-to-door shipping.
Common Freight Terminal Shipping Cargo
Transported by Heavy Haulers
● Intermodal Containers
● Open Top Containers
● Refrigerated ISO Containers
● Tanks
● Drums
● Half-Height Containers
● Vehicles
● Bulk Freight
How to Ship Using Freight Terminal Services
To get started with a Heavy Haulers freight terminal shipping service, first, give one of our representatives a call. Heavy Haulers can co-ordinate with international carriers for incoming freight terminal shipments and collect cargo from any destination within the U.S. As part of the Heavy Haulers service, we provide door-to-door shipping. Once all the details are finalized with one of our logistics professionals, we can send someone to your site on the specified date and time to load your cargo and progress your shipment through our vast transportation network to its end destination.
Common Trailer Types Available from Heavy Haulers
Heavy Haulers specializes in hauling heavy loads such as construction equipment, oil field rigging and Super Loads. We are wideload experts! We offer an extensive range of trailer choices, including:
Max Weight: 48,000 lbs. | Max Length 53 ft. | Max Width 8.5 ft. | Max Height 11 ft.




Max Weight: 45,000 lbs. | Max Length 29 ft. | Max Width 8.5 ft. | Max Height 11.5 ft.
Max Weight: 150,000+ lbs. | Main Deck Length 29 ft. | Well Width 8.5 ft. | Legal Height Limit 11.6 ft.




Max Weight: 48,000 lbs. | Max Length 53 ft. | Max Width 8.5 ft. | Max Height 8.5 ft.
HEAVYHAULERS.COM
START YOUR SHIPMENT TODAY!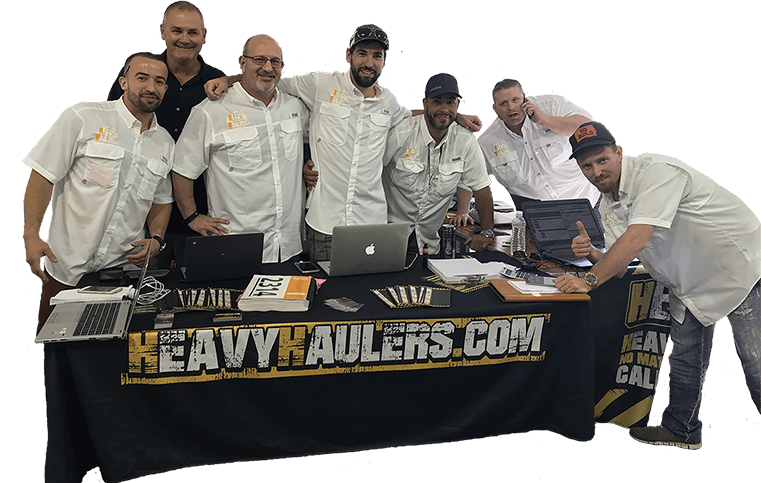 We Are Ready To Help You Haul Your Equipment!