Transporting Hurricane Equipment to Disaster Site with Heavy Haulers
The hurricane season in the US occurs between June and November. Winds blow up to 155 mph, and the microbursts and storm surges typically compound the scale of devastation. Before this happens, Heavy Haulers is here to provide quality hurricane equipment shipping to help prep up for an impending disaster. Whether you need standby and inverter generators, lifejackets and floatation supplies, chainsaws, flood dryers, or land clearance machinery, you can let us pick the equipment safely and have them delivered to your intended site on the time we agreed.
For over ten years, Heavy Haulers has offered superior heavy-machinery and cargo shipping. We have branched out in over 50 states in the US, including hurricane-prone regions such as Florida, Texas, Louisiana, and North Carolina, etc. You can contact your local Heavy Haulers branch, and we will be ready to listen to your hurricane needs to provide tailor-made transportation services. Let's get started! (800) 908-6206
Contact Our Expert Shipping Specialist's
(800) 908-6206
Haul Hurricane Equipment at Affordable Quotes at Heavy Haulers
The damages caused by hurricanes already means financial loss. That's the reason our professional logistics personnel are dedicated to providing quality hurricane equipment transportation while helping you save money. We will enquire about the shipment, plan out the shortest routes with low transportation fees, and calculate the estimates to achieve a reasonable price without any lowball offers or fishy incentives. Our experienced drivers have successfully hauled disaster machinery every hurricane season. Therefore, you can be sure that the machinery and tools will be delivered to your doorstep or warehouse on time and safely.
Hurricane equipment comprises pieces of machinery, supplies, and resources used by householders and relief organizations in the preparation of a potential hurricane. These tools and machines also play a critical role in the evacuation and recovery from the devastations caused by powerful thunderstorms and tornadoes. At Heavy Haulers, we understand your hurricane concerns. We will help you plan the entire haulage project, from loading, transportation, and delivery.
Common Types of Hurricane Equipment at Heavy Haulers
A wide range of machinery is used in hurricane preparation. Examples of commonly used supplies consist of:
● Pump And Pump Package Systems
● Massive Power Devices
● Chainsaws
● Suction and Discharge Hoses
● Temporary Work-Site Lighting Equipment, Among Others.
How to Haul Hurricane Equipment with Heavy Haulers
Are you living in a hurricane region and would like to move the necessary contingency equipment to keep you safe when disaster strikes? Set yourself up to receive hurricane equipment shipping services at another level. Our logistics specialists will want to know the details of your shipment. Consequently, we will find the best method of haulage to make sure the equipment reaches you in time to enable you to start early preparation. If it is a cargo escort or you need, we will organize that. Call us now and let's ship your hurricane equipment today!
(800) 908-6206
Common Trailer Types Available from Heavy Haulers
Heavy Haulers specializes in hauling heavy loads such as construction equipment, oil field rigging and Super Loads. We are wideload experts! We offer an extensive range of trailer choices, including:
Max Weight: 48,000 lbs. | Max Length 53 ft. | Max Width 8.5 ft. | Max Height 11 ft.




Max Weight: 45,000 lbs. | Max Length 29 ft. | Max Width 8.5 ft. | Max Height 11.5 ft.
Max Weight: 150,000+ lbs. | Main Deck Length 29 ft. | Well Width 8.5 ft. | Legal Height Limit 11.6 ft.




Max Weight: 48,000 lbs. | Max Length 53 ft. | Max Width 8.5 ft. | Max Height 8.5 ft.
See what you need?
Call us for a FREE Shipping Estimate at (800) 908-6206
HEAVYHAULERS.COM
START YOUR SHIPMENT TODAY!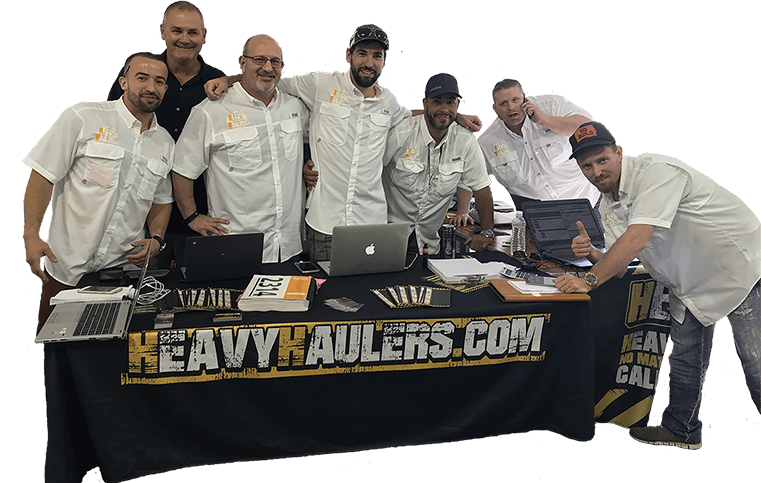 We Are Ready To Help You Haul Your Equipment!
See what you need?
Call us for a FREE Shipping Estimate at (800) 908-6206