Comprehensive Limited Access Services
Heavy Haulers is a shipping company that is devoted to providing services for customers with special requirements. With us, you don't need to worry about how to maneuver a semi-truck through a small parking lot or how to ship products to and from a building that doesn't have a loading bay. As a limited access services provider, we'll analyze your requirements, and offer the most suitable resources to complete the project safely and successfully. Regardless of if your shipment requires permits, escorts, and additional paperwork, we take care of everything as part of our promise to deliver a comprehensive limited access shipping service. Call now! (800) 908-6206
Limited access services often include the use of small semi-trucks, lift gates, and solutions customized for your specific limited access scenarios. Some carriers may charge separate fees for limited access services, but at Heavy Haulers we include everything in one consolidated, easy to manage payment. We can assess, schedule, load, transport, and unload your limited access shipments, providing you with connections to local drivers and trucks that are familiar with your environment.
Contact Our Expert Shipping Specialist's
(800) 908-6206
Nationwide Limited Access Services
Limited access services refer to services required by customers with restricted access. Sometimes this incorporates facilities that physically have limited access, for example, narrow alleyways. It also covers shipments to government locations and military bases that have additional security protocols. Heavy Haulers has delivered to small strip-mall parking lots, restaurants with no loading bays, construction sites with no built loading dock facilities, military facilities, and businesses with limited opening hours. When you choose Heavy Haulers, you're choosing a company that has been providing limited access services to clients nationwide for more than a decade.
If your shipment is required at a location that needs limited access services, under our protection, your purchase will be safely moved from origin to end destination with minimal fuss. Our nationwide limited access services are widely available through the U.S., and our fleet of trucks and drivers operate from all major cities. Professionals at Heavy Haulers are well-practiced at finding the quickest, easiest route, even in the toughest logistical situations.
Common limited access locations we deliver to:
● Construction Sites
● Military Bases
● Government Sites
● Prisons
● Schools and Universities
● Churches
● Fairs and Carnivals
● Farms and ranches
● Reservations
● Zoos
● Piers
● Airports
● Hotels, Motels, and Resorts
● Small Strip-Malls
How to Use Limited Access Services
You can organize limited access services through a Heavy Haulers representative. At Heavy Haulers, we handle the logistics and all the heavy lifting, arranging with you the most suitable cargo-handling equipment, trucks, and drivers you'll need to complete the delivery. Use our limited access services to get access to a nationwide network of professionals waiting to help co-ordinate and transport your shipments.
Common Trailer Types Available from Heavy Haulers
Heavy Haulers specializes in hauling heavy loads such as construction equipment, oil field rigging and Super Loads. We are wideload experts! We offer an extensive range of trailer choices, including:
Max Weight: 48,000 lbs. | Max Length 53 ft. | Max Width 8.5 ft. | Max Height 11 ft.




Max Weight: 45,000 lbs. | Max Length 29 ft. | Max Width 8.5 ft. | Max Height 11.5 ft.
Max Weight: 150,000+ lbs. | Main Deck Length 29 ft. | Well Width 8.5 ft. | Legal Height Limit 11.6 ft.




Max Weight: 48,000 lbs. | Max Length 53 ft. | Max Width 8.5 ft. | Max Height 8.5 ft.
HEAVYHAULERS.COM
START YOUR SHIPMENT TODAY!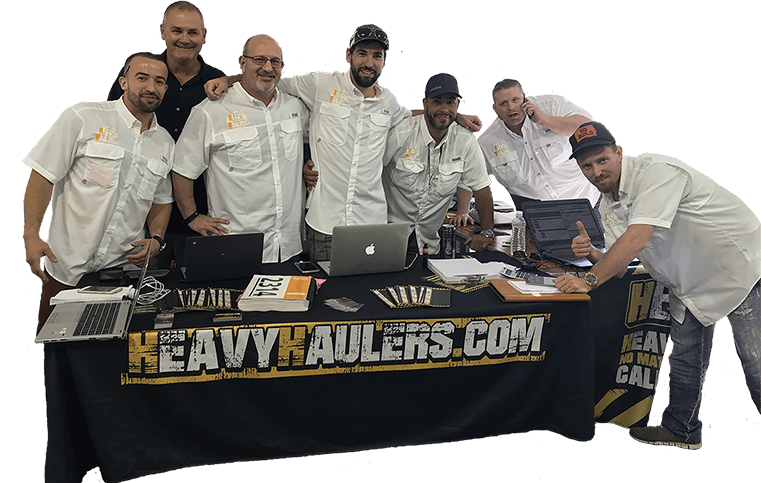 We Are Ready To Help You Haul Your Equipment!