Versatile Heavy Equipment Carrier Lane Shipping Throughout the US, Canada, and Mexico
At Heavy Haulers, our nationwide network of drivers and trucks serving regular routes throughout the U.S. enables us to provide you with the perfect opportunity to take advantage of heavy equipment carrier lane shipping services for both less-than-truckload shipping and long-haul journeys. Our drivers are experienced, thoroughly familiar with North American highways, all road conditions, and handling all types of cargo. Call for a free shipping estimate! (800) 908-6206
We've driven the most common freight lanes throughout the U.S. and Canada for more than a decade, transporting goods between Los Angeles, Chicago, Ontario, Atlanta, and many major cities. Specializing in oversized and overweight loads, we've cultivated a company focused on assisting you with even the most complex shipping needs. We take pride in our versatile fleet of vehicles, cargo handling experience, and professional drivers, who are ready to assist you at any time.
Contact Our Expert Shipping Specialist's
(800) 908-6206
Heavy Haulers Carrier Lane Shipping Expertise
Carrier lanes may also be referred to as freight lanes, trucking lanes, and shipping lanes. In each case, these relate to the route served by your chosen transport carrier. Utilizing a carrier lane for oversize shipments helps reduce waste for less-than-truckload journeys as well as large trucking operations. Carrier lane shipping for heavy equipment can be regional or national.
When you choose to work with Heavy Haulers, you're taking advantage of a national carrier lane service that can provide local shipments, as well as long haul lanes that can carry your freight across the state and country borders. Carrier lane shipping allows Heavy Haulers to utilize dedicated routes in order to get your shipment delivered more efficiently. Our nationwide network of drivers and trucks are at your disposal. We can provide seamless door-to-door carrier lane transport and load tracking for your heavy equipment to ease your worries. Call now! (800) 908-6206
Common Carrier Lane Cargo We Transport:
● LTL Shipping
● Spot Market Freight
● Refrigerated Goods
● Flatbed Freight
● Raw Materials
● Containers
● Pallets
● Drums, Reels, and Bales
● Construction Materials
How to Ship Using Carrier Lane Services
Representatives at Heavy Haulers can work with you to arrange carrier lane shipping throughout the U.S. Let us know where and when you need your shipment, and we'll be able to provide a fast, accurate quote for all of our carrier lane transport services. We make carrier lane shipping with Heavy Haulers as hassle-free as possible, handling all the intricate details, so you don't have to. Call us to get started, and we'll discuss with you which route is best, and handle everything between pickup and dropoff, including any additional paperwork associated with long-haul journeys and oversized equipment transported using carrier lane shipping.
Common Trailer Types Available from Heavy Haulers
Heavy Haulers specializes in hauling heavy loads such as construction equipment, oil field rigging and Super Loads. We are wideload experts! We offer an extensive range of trailer choices, including:
Max Weight: 48,000 lbs. | Max Length 53 ft. | Max Width 8.5 ft. | Max Height 11 ft.




Max Weight: 45,000 lbs. | Max Length 29 ft. | Max Width 8.5 ft. | Max Height 11.5 ft.
Max Weight: 150,000+ lbs. | Main Deck Length 29 ft. | Well Width 8.5 ft. | Legal Height Limit 11.6 ft.




Max Weight: 48,000 lbs. | Max Length 53 ft. | Max Width 8.5 ft. | Max Height 8.5 ft.
See what you need?
Call us for a FREE Shipping Estimate at (800) 908-6206
HEAVYHAULERS.COM
START YOUR SHIPMENT TODAY!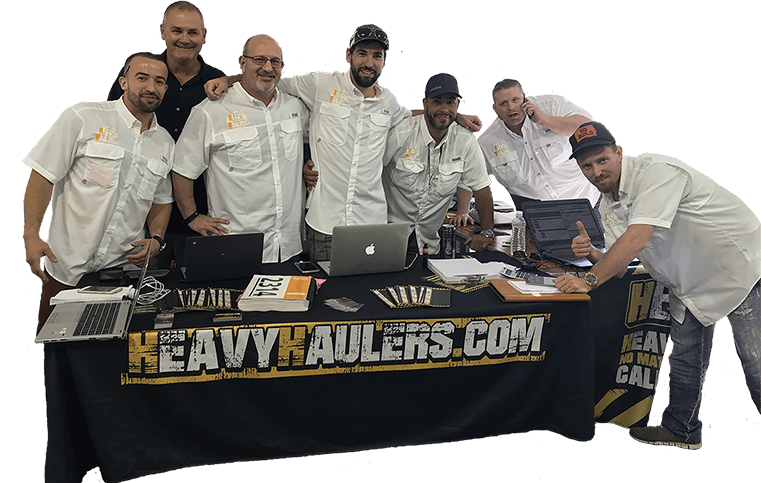 We Are Ready To Help You Haul Your Equipment!
See what you need?
Call us for a FREE Shipping Estimate at (800) 908-6206