Seek Outstanding Heavy Lift Cargo Services at Heavy Haulers
Heavy Lift Cargo is a shipping service specialized in transporting heavy cargo. Handling and transportation of large-volume cargo are probably among the most challenging and complex shipping services that require seasoned professionals and state-of-the-art equipment.
Heavy Haulers is one of the best transportation companies in the world. Our clients can attest to the excellent quality of our hauling work, which includes heavy-lift cargo services. We have invested in quality, specialized trailers and shipping equipment to guarantee the safe hauling of your bulky goods. Call now for a free shipping estimate! (800) 908-6206
Contact Our Expert Shipping Specialist's
(800) 908-6206
Our drivers come with years of towing experience. They understand that transporting heavy materials requires extra caution so that nothing goes wrong. Therefore, they are attentive all the way, and they collaborate with our logistics team to curb all the obstacles they may experience on the road. Our heavy-lift cargo services include towing your massive vehicles, but we can also handle a variety of other freight like construction materials & equipment, compressors, and even generators.
Advantages of Heavy Haulers' Heavy Lift Cargo Services
When you hire our heavy lift cargo services, you will enjoy a wide array of benefits. To begin with, you will get your goods to the destination in good time, no matter how heavy your shipment is. Meeting deadlines is our number one priority as it prevents any inconveniences that can be caused by delays.What's more, you never have to worry about loading and offloading. At Heavy Haulers, we have trained and experienced staff who will do that for you. They observe all the necessary safety measures so that no harm befalls your cargo while they are doing so.
On top of that, our heavy lift cargo services are available to all the states, inclusive of Canada and Mexico. You can access them regardless of where you are. All you need to do is contact us, tell us what you need, and provide us with your location. With our team of logistics, we will make the required arrangements and deliver our unparalleled heavy lift cargo services. When doing this, we always put your desires and opinions into account. Your maximum satisfaction is always our priority.
Common Trailer Types Available from Heavy Haulers
Heavy Haulers specializes in hauling heavy loads such as construction equipment, oil field rigging and Super Loads. We are wideload experts! We offer an extensive range of trailer choices, including:
Max Weight: 48,000 lbs. | Max Length 53 ft. | Max Width 8.5 ft. | Max Height 11 ft.




Max Weight: 45,000 lbs. | Max Length 29 ft. | Max Width 8.5 ft. | Max Height 11.5 ft.
Max Weight: 150,000+ lbs. | Main Deck Length 29 ft. | Well Width 8.5 ft. | Legal Height Limit 11.6 ft.




Max Weight: 48,000 lbs. | Max Length 53 ft. | Max Width 8.5 ft. | Max Height 8.5 ft.
See what you need?
Call us for a FREE Shipping Estimate at (800) 908-6206
HEAVYHAULERS.COM
START YOUR SHIPMENT TODAY!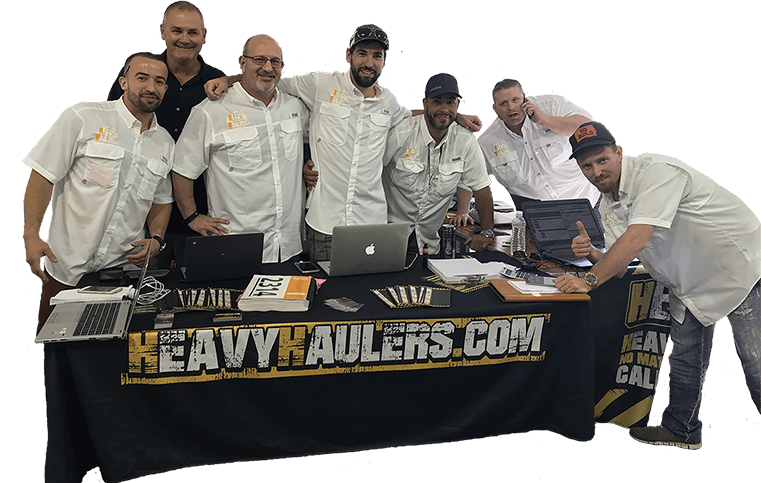 We Are Ready To Help You Haul Your Equipment!
See what you need?
Call us for a FREE Shipping Estimate at (800) 908-6206