Experienced Cartage Shipping Service Professionals
Our nationwide infrastructure and vast network of delivery professionals are at your disposal. If you need equipment shipped on a short-haul service to another part of your city, or you need someone to pick up your shipment from the nearest container freight station and transported directly to your door, Heavy Haulers can assist. Regardless of freight type, we can provide the truck and driver for the job. Call now! (800) 908-6206
We have more than a decade of experience handling all kinds of freight from one city to the next and transporting regular shipments across North America, Canada, and Mexico. We can collect goods from warehouses, depots, airports, seaports, and deliver locally, providing a convenient cartage service to you, no matter where you are. We're familiar with the most accessible routes to travel, the best time of day to transport your goods efficiently, and our experienced service professionals will work with you to deliver your shipments as and when you need them.
Contact Our Expert Shipping Specialist's
(800) 908-6206
Local Cartage Transportation Services Available Nationwide
Heavy Haulers provides local cartage services throughout the U.S. to help you transport goods over a short distance. Typically used for light hauls and local deliveries, products are shipped in smaller trucks and vans. Heavy Haulers can help to arrange the transportation of your cargo to and from any container freight station within the U.S. and deliver to your local area. If your end destination is not local, you can combine a cartage service with a less-than-truckload (LTL) delivery that will deliver your cargo to its final long-haul destination. Heavy Haulers aims to provide a seamless service that allows us to transport cargo to and from any U.S. destination, across the continent, and even worldwide.
How to Ship Using Cartage Services
If a local or light haulage service is what you need, one of our representatives will be more than happy to match you with a driver and truck in your local area that can provide the delivery timescale that you need. Shipping using a cartage service includes the use of Heavy Haulers' professionals to load, transport, and unload your local delivery direct to your doorstep. Provide us with the shipment origin and destination, timescale required, and we'll handle everything in between, ensuring the safe and secure transit of your small shipment.
Common Trailer Types Available from Heavy Haulers
Heavy Haulers specializes in hauling heavy loads such as construction equipment, oil field rigging and Super Loads. We are wideload experts! We offer an extensive range of trailer choices, including:
Max Weight: 48,000 lbs. | Max Length 53 ft. | Max Width 8.5 ft. | Max Height 11 ft.




Max Weight: 45,000 lbs. | Max Length 29 ft. | Max Width 8.5 ft. | Max Height 11.5 ft.
Max Weight: 150,000+ lbs. | Main Deck Length 29 ft. | Well Width 8.5 ft. | Legal Height Limit 11.6 ft.




Max Weight: 48,000 lbs. | Max Length 53 ft. | Max Width 8.5 ft. | Max Height 8.5 ft.
See what you need?
Call us for a FREE Shipping Estimate at (800) 908-6206
HEAVYHAULERS.COM
START YOUR SHIPMENT TODAY!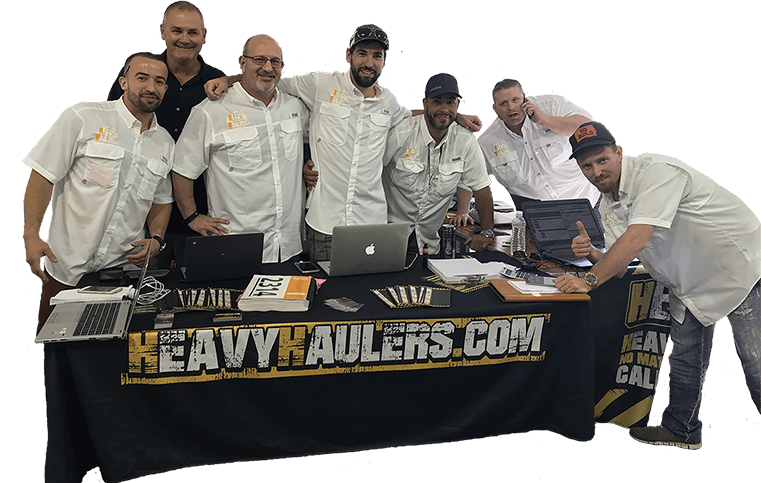 We Are Ready To Help You Haul Your Equipment!
See what you need?
Call us for a FREE Shipping Estimate at (800) 908-6206