Efficient Liftgate Services with Heavy Haulers
Liftgate services from Heavy Haulers are an efficient way to transport a wide variety of equipment and materials. Time is a valuable asset to many clients, and we understand that at Heavy Haulers. That's why we offer a lift gate service that not only cuts down on the amount of time it takes for your goods to be loaded and unloaded, liftgate shipping services also protect the efficiency and safety of all our workers. Call now! (800) 908-6206
Professionals at Heavy Haulers drastically reduce the amount of energy it takes to load and unload equipment when using a liftgate service, meaning our energized crews have more time for you as the customer. We pride ourselves in providing the right type of service to make your shipping and transport a quality experience.
Contact Our Expert Shipping Specialist's
(800) 908-6206
Liftgate Services Available Nationwide
Heavy Haulers liftgate shipping services are available through our nationwide network of logistics professionals. Heavy Haulers serve every major city in the U.S., and our liftgate shipping cargo service can deliver to remote locations, including construction sites with no readily built loading dock. As a nationwide lift gate services shipping company, we can also deliver to inner-city areas, including home, restaurant, and hotel districts. Our logistics experts can schedule liftgate shipments according to your delivery date requirements, even offering expedited shipping services to make sure you aren't slowed down by your transport.
Shipping using a Heavy Haulers' liftgate service provides you with trucks fitted with hydraulic equipment that enables freight to lift using a platform attached to the rear of the truck. The Heavy Haulers' lift gate service is a comprehensive shipping package that includes the scheduling, loading, and unloading of freight using a liftgate, including at curbside locations throughout the U.S., Canada, and Mexico. Call now for a free shipping estimate! (800) 908-6206
Common Freight Liftgates are Used For
● Furniture
● Residential Cargo
● Restaurant Equipment
● Pallet Jack Freight
● 150-5000lb Equipment
● Homebuilding Materials
● Construction Equipment
How to Ship Using a Lift Gate Service
Heavy equipment and materials shipped on pallets or crates can travel using a liftgate service. Gates are typically folded against the back of the truck or safely stowed underneath, and a Heavy Haulers' driver will lower this ground level and unfold this equipment to create a lifting platform. Hydraulics enables the platform to raise and lower accordingly, to move material from ground level to truck bed level and vice versa, eliminating the requirement for loading dock space and specialist equipment on-site. To request a shipment using Heavy Haulers lift gate services, speak to one of our representatives to guarantee liftgate delivery shipping at your chosen destination.
Common Trailer Types Available from Heavy Haulers
Heavy Haulers specializes in hauling heavy loads such as construction equipment, oil field rigging and Super Loads. We are wideload experts! We offer an extensive range of trailer choices, including:
Max Weight: 48,000 lbs. | Max Length 53 ft. | Max Width 8.5 ft. | Max Height 11 ft.




Max Weight: 45,000 lbs. | Max Length 29 ft. | Max Width 8.5 ft. | Max Height 11.5 ft.
Max Weight: 150,000+ lbs. | Main Deck Length 29 ft. | Well Width 8.5 ft. | Legal Height Limit 11.6 ft.




Max Weight: 48,000 lbs. | Max Length 53 ft. | Max Width 8.5 ft. | Max Height 8.5 ft.
See what you need?
Call us for a FREE Shipping Estimate at (800) 908-6206
HEAVYHAULERS.COM
START YOUR SHIPMENT TODAY!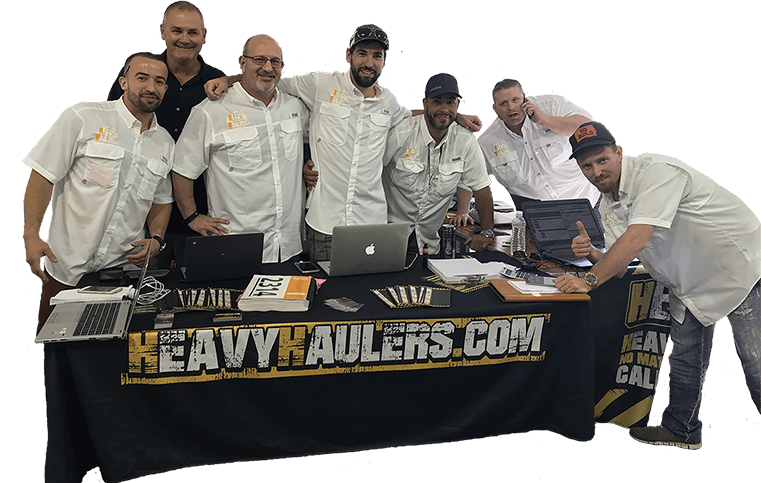 We Are Ready To Help You Haul Your Equipment!
See what you need?
Call us for a FREE Shipping Estimate at (800) 908-6206