Personalized Trade Show Shipping Services
As a shipping specialist that has handled equipment shipping for trade shows throughout North America, Heavy Haulers is fully aware that your business can depend upon having your products and materials arrive at the trade show intact and on-time. Our highly-trained team can take the hassle out of getting your equipment and materials from one show to the next, to and from any events that you need to attend this year. With more than a decade of experience, Heavy Haulers are the perfect choice for trade show shipping services.
Trade shows can be hectic and stressful, but getting booths and equipment to the convention center shouldn't be. We customize each of our services to meet every customer's bespoke requirements. Whether you're organizing or attending an automotive trade show in Chicago or setting up a booth at a San Diego trade show, we can assist you. Heavy Haulers has a lot of experience handling oversized and overweight cargo, and our logistics experts relish the opportunity to undertake customized trade show shipping projects. Call now! (800) 908-6206
Contact Our Expert Shipping Specialist's
(800) 908-6206
Focused Trade Show Shipping Experience
With the Heavy Haulers trade show shipping service, you can focus on the rest of your business and plan your attendance at the event without worrying about the status of your booths and materials, knowing they are in our dependable hands. Trade show shipping encompasses the shipping of products, including booths and construction materials. Not only do we have the vast transport capable of linking clients with trade show attendance regionally and nationally, but we can also arrange for aftershow shipping, uniting customers with products purchased at the tradeshow.
We can provide trucks and drivers exclusively for your trade show equipment and purchases, so you don't have to worry about less-than-truckload shipping affecting pickup and dropoff points and potentially delaying your delivery. We focus on providing comprehensive services that can assist you with every aspect of trade show shipping, from customs clearance, tracking and tracing shipments, show-to-show shipping, direct-to-show, or advance warehouse shipping before the trade show starts.
How to Ship Using a Tradeshow Shipping Service
Arranging your next tradeshow shipping with Heavy Haulers starts with a phone call. One of our representatives will be happy to discuss your requirements, whether it's shipping a vehicle or transporting booths. Our vast network of drivers and trucks is at your disposal, and we can take care of everything from initial scheduling to delivery. Let our experienced trade show and event shipping specialists analyze your needs and create a unique solution. Call us today to get started.
Common Trailer Types Available from Heavy Haulers
Heavy Haulers specializes in hauling heavy loads such as construction equipment, oil field rigging and Super Loads. We are wideload experts! We offer an extensive range of trailer choices, including:
Max Weight: 48,000 lbs. | Max Length 53 ft. | Max Width 8.5 ft. | Max Height 11 ft.




Max Weight: 45,000 lbs. | Max Length 29 ft. | Max Width 8.5 ft. | Max Height 11.5 ft.
Max Weight: 150,000+ lbs. | Main Deck Length 29 ft. | Well Width 8.5 ft. | Legal Height Limit 11.6 ft.




Max Weight: 48,000 lbs. | Max Length 53 ft. | Max Width 8.5 ft. | Max Height 8.5 ft.
HEAVYHAULERS.COM
START YOUR SHIPMENT TODAY!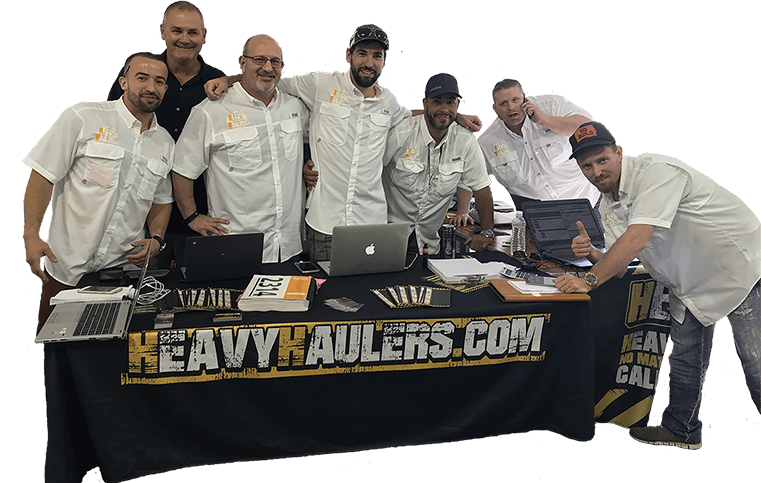 We Are Ready To Help You Haul Your Equipment!