Heavy Haulers On-Dock Rail Services
Rail services may haul containers, bulk materials, general, or specialized freight. Rail services vary by region, so it's important that you partner with a quality heavy haul transport and shipping company that knows the rules, regulations, and the specialized requirements often associated with on-dock rail services. With more than a decade of heavy haul transport experience gained throughout the U.S., Canada, and Mexico, Heavy Haulers have an extensive history, and vast support network available to help arrange the transportation of your cargo using on-dock rail services.
Efficient On-Dock Rail Service Specialists
Heavy Haulers' vast support network allows us to provide nationwide, and even worldwide, heavy haulage shipping. Trained in the use of a whole array of heavy haul equipment and vehicles, our drivers can handle a vast range of cargo with ease. Experts at managing the logistics of oversized and overweight loads, we provide efficient on-dock rail services that can help you to transport your valuable cargo from docks throughout North America to any inland destination. Whether it's a new excavator required in a remote Texas location, a fleet of vehicles heading to a dealership in Florida, or bulk materials required on a construction project elsewhere, we can arrange expedited shipping of dock rail cargo. Call for a free shipping estimate! (800) 908-6206
Contact Our Expert Shipping Specialist's
(800) 908-6206
What Is An On-Dock Rail Service?
Instead of relying on chassis pools, extended manned gate hours, and truck appointments, rail boxes can be loaded at the dock using an on-dock rail service. On dock rail services have the opportunity to improve overall supply chains, and making greater use of on-dock rail service facilities for containers heading inland via rail, can be much more efficient than using near-dock railheads for transport.
Common On-Dock Rail Shipping:
● Ocean Containers
● Domestic Intermodal Containers
● Bulk Material Shipping
● Flat Car Shipping
● Well Car Shipping
How to Ship Using an On-Dock Rail Service
Simply give one of our customer representatives a call to discuss your requirements. Our quotes are free, accurate representation of the costs involved in shipping using on-dock rail services, and our seasoned experts will be able to give you professional advice on the best on-dock rail shipping method that suits your cargo. Once you've chosen the Heavy Haulers on-dock rail shipping service you require, we'll schedule your shipments, complete all necessary paperwork, and handle everything seamlessly for you using door-to-door services, load tracking, and any other services required.
Common Trailer Types Available from Heavy Haulers
Heavy Haulers specializes in hauling heavy loads such as construction equipment, oil field rigging and Super Loads. We are wideload experts! We offer an extensive range of trailer choices, including:
Max Weight: 48,000 lbs. | Max Length 53 ft. | Max Width 8.5 ft. | Max Height 11 ft.




Max Weight: 45,000 lbs. | Max Length 29 ft. | Max Width 8.5 ft. | Max Height 11.5 ft.
Max Weight: 150,000+ lbs. | Main Deck Length 29 ft. | Well Width 8.5 ft. | Legal Height Limit 11.6 ft.




Max Weight: 48,000 lbs. | Max Length 53 ft. | Max Width 8.5 ft. | Max Height 8.5 ft.
See what you need?
Call us for a FREE Shipping Estimate at (800) 908-6206
HEAVYHAULERS.COM
START YOUR SHIPMENT TODAY!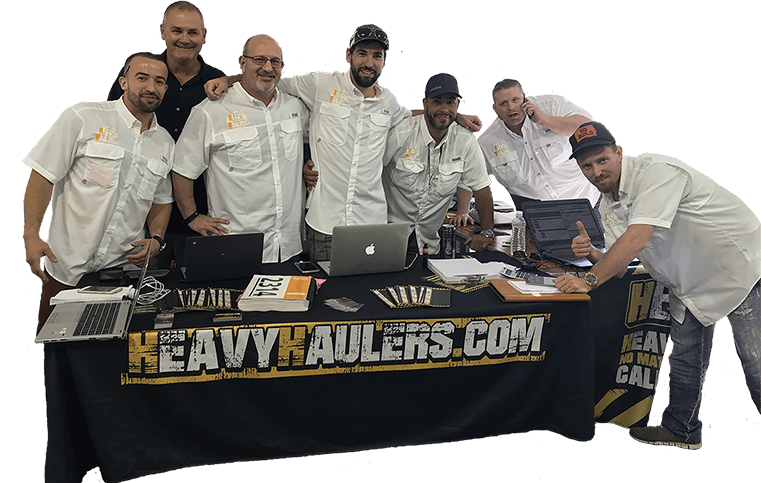 We Are Ready To Help You Haul Your Equipment!
See what you need?
Call us for a FREE Shipping Estimate at (800) 908-6206