Experienced Delivery Assistance Professionals Nationwide
If you're unsure of how to proceed with a particular shipment, especially if it's a one-off, a large item that you don't have experience handling, we'll provide you with all of the delivery assistance services that you need, no matter where you are. Our vast network enables us to work in remote locations, inner cities, and even in conjunction with international shipping companies, and use alternative modes of transport such as sea and air shipping. Our experienced delivery staff knows their way around cargo containers, step deck trailers, flatbeds, liftgates, and over-dimensional items that need to be shipped. Trust us to provide all the delivery assistance services that you need. Call now for a free shipping estimate! (800) 908-6206
Utilizing Heavy Haulers Delivery Assistance Services
Contact Our Expert Shipping Specialist's
(800) 908-6206
You might not know the best way to package and secure your valuables for long-haul shipping, but we do. Heavy Haulers delivery assistance is available for every shipment you place in the hands of Heavy Haulers'. We can help with the loading and unloading of a variety of heavy equipment, from construction machinery and industrial equipment to medical transport and superload shipping. In a lot of cases, you may not have the equipment or expertise on-site to successfully load and offload shipments. That's why we provide a range of delivery assistance services, cargo-handling equipment, and highly train our haulers to help us assist you as much as possible when it comes to your equipment delivery. Our comprehensive delivery services allow us to offer scheduling, loading, unloading, tracking, permits, escorts, and everything you need to make sure your delivery experience is as hassle-free for you as possible.
Common Delivery Assistance Services we Provide:
● Loading and Unloading
● Liftgates
● Escorts and Permits
● Cargo-Handling Equipment
● Expedited Shipping
● Load Tracking
● Scheduling and Route Planning
How to Ship Using Delivery Assistance Services
Every Heavy Haulers journey starts with a quote from one of our knowledgeable representatives. At the time of providing the quote, we'll discuss with you precisely what you need and if you'll require any additional delivery assistance services at the time of transportation. For example, if you don't have a dedicated loading bay, we can bring the equipment to help us safely load and unload your equipment as part of our delivery assistance services. All aspects of the shipping process can be handled by us, including the provision of permits and escort cars. You can book delivery assistance services through any of our representatives. Call now! (800) 908-6206.
Common Trailer Types Available from Heavy Haulers
Heavy Haulers specializes in hauling heavy loads such as construction equipment, oil field rigging and Super Loads. We are wideload experts! We offer an extensive range of trailer choices, including:
Max Weight: 48,000 lbs. | Max Length 53 ft. | Max Width 8.5 ft. | Max Height 11 ft.




Max Weight: 45,000 lbs. | Max Length 29 ft. | Max Width 8.5 ft. | Max Height 11.5 ft.
Max Weight: 150,000+ lbs. | Main Deck Length 29 ft. | Well Width 8.5 ft. | Legal Height Limit 11.6 ft.




Max Weight: 48,000 lbs. | Max Length 53 ft. | Max Width 8.5 ft. | Max Height 8.5 ft.
See what you need?
Call us for a FREE Shipping Estimate at (800) 908-6206
HEAVYHAULERS.COM
START YOUR SHIPMENT TODAY!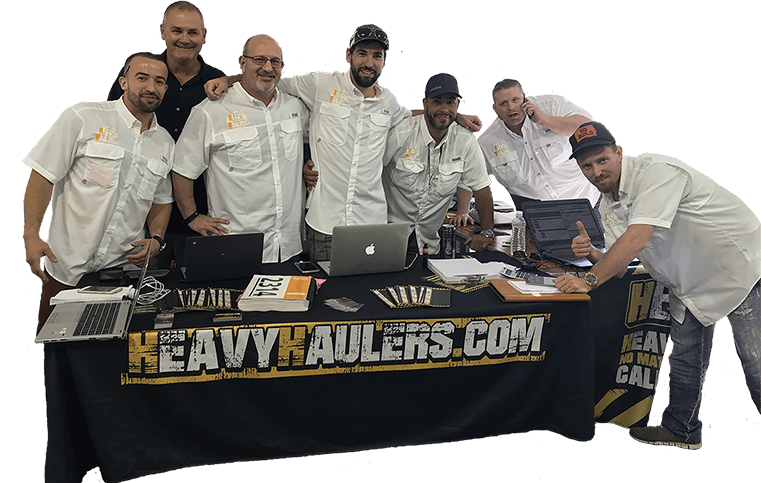 We Are Ready To Help You Haul Your Equipment!
See what you need?
Call us for a FREE Shipping Estimate at (800) 908-6206