International Project Cargo Shipping and Transport Company
Moving of heavy project-related cargo is a grueling task that requires extensive planning and apposite choice in the mode of transport. Whether you are shipping project cargo to Canada, Mexico, or across the 50 States, Heavy Haulers' project cargo shipping and transportation services are available to ensure the shipment is hauled safely and timely. Companies, brands, and individuals have experienced and appreciated our expertise in shipping project cargo for years. We transport project cargo domestically and internationally with ease. To make shipping easy we handle all paperwork and permits for your project cargo.
At Heavy Haulers, we pride in owing state-of-art equipment and specially designed hauling trucks that can meet all unique shipping needs of all our clients. With Heavy Haulers' fully certified and licensed drivers and transport team, project cargo haul becomes a hassle-free task with our help. Our project cargo team possesses an immeasurable understanding of project cargo shipping. Heavy Haulers value the detailed engineering process that empowers us to comply with the budget meant for the ship and the timelines accorded. We appreciate that shipping project cargo entails the handling of sensitive and valuable merchandise, and thus we pay attention to detail. Call now for a free shipping estimate! (800) 908-6206
Contact Our Expert Shipping Specialist's
(800) 908-6206
Trusted Shipping Solutions with Heavy Haulers
Our experts pre-plan their operations to maintain efficiency in shipping the cargo, eliminating risks while at the same time saving on the transportation costs incurred. Loading the cargo is an essential procedure that entails critical checks on the process through the collaboration of the members of the crew assigned the project. At Heavy Haulers, we ensure proper handling to prevent loses and environmental hazards. Heavy Hauler experts are driven by a strong team spirit and collaboration that is highly motivated and experienced in providing project cargo shipping and transportation services across the United States, Canada, and Mexico. Years of service guarantee Heavy Haulers' success in project cargo shipping. We understand the demands of the project, and we thus offer varied transportation modes to ensure the cargo is delivered safely and timely.
Project cargo is the national or international transport and shipping of heavy equipment, high value machinery, and other heavy haul freight. As the most trusted shipping company in the industry, Heavy Haulers has invested in quality equipment to complete the task without fail according to our client's needs. Our experts are available throughout the shipping process to provide constant checks and assessments, depending on the vulnerability of the project cargo. We are always on standby for emergency cases inclusive of sudden weather changes and rare equipment or vehicle failures. As Heavy Haulers, we are not limited by cargo design. We offer various equipment for different sized and shape cargo project. Stability, capability, and power are what our machines are made off make it an easy task for us to ship your project cargo beyond boundaries and other limitations.
Common Types Project Cargo Heavy Haulers Ship
• Road Construction Machines
• Marine Port Equipment
• Military Equipment

• Generators
• Turbines, etc.
How to Ship Project Cargo with Heavy Haulers
Shipping and transportation of project cargo can be quite draining. At Heavy Haulers, we understand the effort, time, and critical logistics involved in shipping project cargo. Shipping of the cargo comprises of a combination of diverse modes and arrangements as opposed to regular load. It requires intensive planning, considerations, and various equipment to ensure that the project cargo is delivered to the intended destination on time. The haul becomes secure and reliable with Heavy haulers. Technology has made shipping and transportation of project cargo familiar and accessible. Many companies are flexible to ship equipment locally and internationally.
Looking For Transport
With a Specific Trailer?

Max Weight: 150,000+ lbs. | Main Deck Length 29 ft.
| Well Width 8.5 ft. | Legal Height Limit 11.6 ft.

Max Weight: 48,000 lbs. | Max Length 53 ft.
| Max Width 8.5 ft. | Max Height 8.5 ft.
Max Weight: 48,000 lbs. Max Length 53 ft. |
Max Width 8.5 ft. | Max Height 11 ft.
Max Weight: 45,000 lbs. | Max Length 29 ft.
| Max Width 8.5 ft. | Max Height 11.5 ft.
HEAVYHAULERS.COM
START YOUR SHIPMENT TODAY!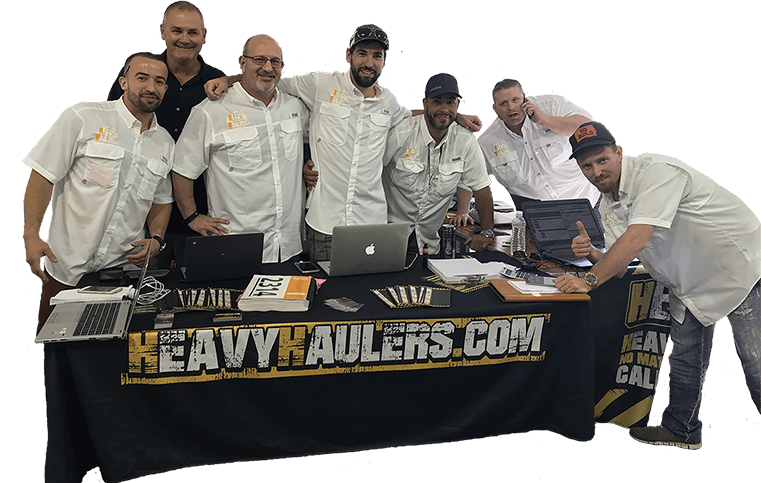 We Are Ready To Help You Haul Your Equipment!
See what you need?
Call us for a FREE Shipping Estimate at (800) 908-6206