Bulk Heavy Equipment Shipping Services You Can Trust
Heavy Haulers has more than a decade of experience handling bulk shipping services for heavy equipment. We provide you with access to seasoned drivers that know the roads, best times to travel, and how to load a wide variety of bulk shipping cargo. We carefully choose the right trailer and equipment to effectively secure your bulk heavy equipment, whether its loose timber or full vats of chemicals. Every load is appropriately rated for transport, and extra care is taken to secure high-value cargo.
We've had experience moving every type of bulk shipping cargo to undeveloped and urban areas. Trust us to ship your freight throughout North America, and we'll keep you in the loop every step of the way. Our bulk heavy equipment shipping services can be tracked via GPS, and you can always speak to one of our drivers or logistics professionals for an update on where your cargo shipment is. You can trust us to keep you informed every step of the way.
Contact Our Expert Shipping Specialist's
(800) 908-6206
Handling Bulk Heavy Equipment Shipping of Any Size
Bulk shipping services transport large quantities of items, particularly materials used in construction. Bulk shipping cargo can be carried as loose cargo, e.g., cement, coal, and shipping in containers, or stored in tanks. At Heavy Haulers, we can handle all types of bulk shipping services, including the transportation of oversized tankers, loose lumber, steel, and other commodities. You can depend on us to handle shipments of any size with the same reliable professionalism and expertise. Call for a free shipping estimate! (800) 908-6206
Our nationwide network can collect and deliver bulk cargo shipping from ports and railyards, construction sites, remote locations, and restricted access sites. We have small semi-trucks, large RGN trailers, step decks, lowboys, and the equipment available to handle bulk containerized cargo shipping. Whether you need tons of steel delivered to a construction site or bulk quantities of chemicals delivered to an innercity lab, we can handle it.
Common Bulk Shipping Cargo We Transport
● Tractors
● Heavy Machinery
● Forklifts
● Iron Ore
● Coal
● Cement
● Lumber
● Steel
How to Use Bulk Shipping Services
Bulk shipping services can be ordered through Heavy Haulers. Our bulk shipping tool will take the stress out of handling large shipments. You can use us to coordinate bulk shipping services required throughout the U.S., and internationally. Start the free, accurate, and comprehensive quote service on our website, and a Heavy Haulers representative will assess your needs and discuss with you in more detail over the phone. Alternatively, call us straight away to get started.
Common Trailer Types Available from Heavy Haulers
Heavy Haulers specializes in hauling heavy loads such as construction equipment, oil field rigging and Super Loads. We are wideload experts! We offer an extensive range of trailer choices, including:
Max Weight: 48,000 lbs. | Max Length 53 ft. | Max Width 8.5 ft. | Max Height 11 ft.




Max Weight: 45,000 lbs. | Max Length 29 ft. | Max Width 8.5 ft. | Max Height 11.5 ft.
Max Weight: 150,000+ lbs. | Main Deck Length 29 ft. | Well Width 8.5 ft. | Legal Height Limit 11.6 ft.




Max Weight: 48,000 lbs. | Max Length 53 ft. | Max Width 8.5 ft. | Max Height 8.5 ft.
HEAVYHAULERS.COM
START YOUR SHIPMENT TODAY!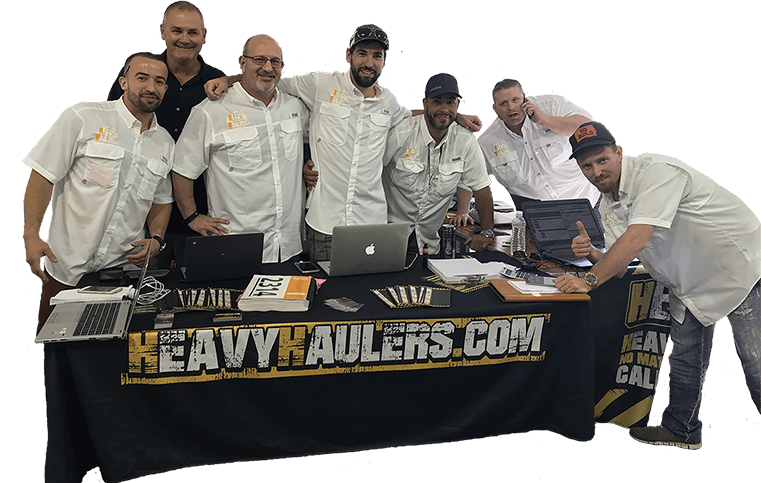 We Are Ready To Help You Haul Your Equipment!