Heavy Haulers: Moving FAK (Freight of All Kind) Cargo Nationally and Internationally
While many trucking companies in the freight transportation industry get confused with the classifications and categorization of FAK cargo, Heavy Haulers has an elaborate approach of catering to your shipment needs when the consignment involves Freight of All Kind shipping. We are long-distance, heavy-cargo transporters in the US with the experience to move FAK cargo at affordable LTL shipping rates.
As a leading freight company, we not only confine our solutions within the US but also in Canada, Mexico, and other overseas destinations. We make that possible by providing localized services in each of these locations. Whether you are moving a FAK from city to city, cross-country, or ground-to-port, we will transport the cargo within legal limits. Our representatives can comply with the transportation policies to make sure that the shipment process goes smoothly. Let's get started! (800) 908-6206
Contact Our Expert Shipping Specialist's
(800) 908-6206
Cost-Effective and Efficient FAK Hauling Services
FAK is an abbreviation for Freight of All Kinds, and it is used by the National Motor Freight Traffic Association to classify different types of cargo. FAK values range from 50-500, with high regard for the difficulty involved in shipping the freight. The higher the classification, the more difficult it is to move the goods, thus higher shipping costs per hundredweight. Transporting different types of cargo as FAK has some financial benefits, perhaps the reason why many people negotiate a FAK with us. But we don't take advantage of that to fleece our clients. Instead, we will discuss with you some of the factors that impact price while looking at ways for you to save cash. Our accountability, integrity, and transparency go a long way. Our representatives will accurately calculate the quote, detailing where every dime and penny you spend goes.
Unlike other unscrupulous shipping brands, we won't lowball any of our solutions in the bid to win your business. We aim to offer value for money, and we will work together with you to ensure you ship your FAK cargo with us at an affordable price. Heavy Haulers understands that every second that goes into the shipment process means a disruption or downtime to your business operations. That's the reason we always work with a timeline penciled in the quotation. We will be punctual at the pick-up site to ensure the FAK cargo gets on the road asap to reach the delivery site on time. Call now! (800) 908-6206
How to Ship FAK with Heavy Haulers
Our FAK pricing models encompass different types of cargo under the same classification. Depending on the cargo type, we will use different carriers and trailers. For dry LTL partial loads, we will use pallets and boxes transported on a flatbed trailer. Bulky FAK will be loaded into closed shipping containers. We will use cranes and other project-specific hoisting machinery to load heavy equipment onto a single trailer. Before transportation, the cargo will be inspected and secured to ensure it reaches you in one piece.
Looking For Transport
With a Specific Trailer?

Max Weight: 150,000+ lbs. | Main Deck Length 29 ft.
| Well Width 8.5 ft. | Legal Height Limit 11.6 ft.

Max Weight: 48,000 lbs. | Max Length 53 ft.
| Max Width 8.5 ft. | Max Height 8.5 ft.
Max Weight: 48,000 lbs. Max Length 53 ft. |
Max Width 8.5 ft. | Max Height 11 ft.
Max Weight: 45,000 lbs. | Max Length 29 ft.
| Max Width 8.5 ft. | Max Height 11.5 ft.
HEAVYHAULERS.COM
START YOUR SHIPMENT TODAY!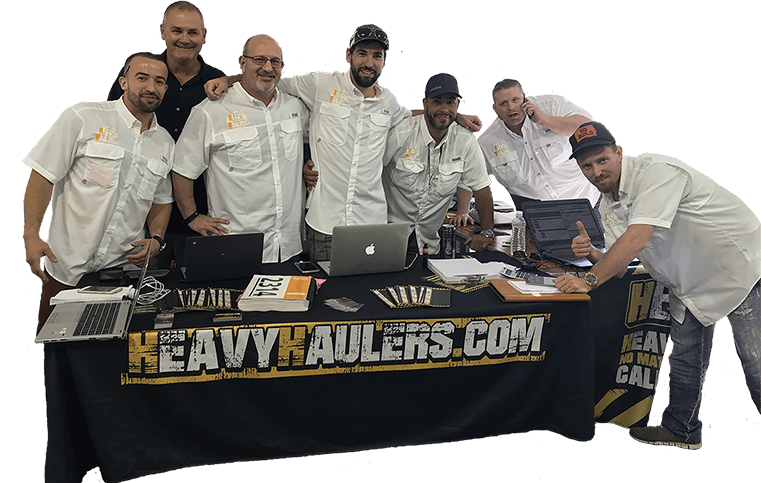 We Are Ready To Help You Haul Your Equipment!
Common Equipment Heavy Haulers Transports
Trust Heavy Haulers to transport any brand of equipment you own. Most of our drivers are experienced heavy-machinery operators who can safely maneuver your loads aboard our trailers. Some of the brands we have shipped include:
See what you need?
Call us for a FREE Shipping Estimate at (800) 908-6206