Efficient Worldwide Straight Truck Shipping Services
We have a decade of experience handling straight truck shipping for a variety of clients, including those shipping inventory across the state or relocating to another part of the world. Heavy Haulers is a straight truck shipping company that can quickly send your freight anywhere throughout the U.S., Canada, Mexico, and even worldwide. Wherever you need your boxed cargo shipments, trust Heavy Haulers to deliver. We can load, transport, and unload your shipments exceptionally efficiently. Call for a free shipping estimate! (800) 908-6206
Backed by our nationwide network throughout the U.S., our straight truck shipping service provides you with access to experienced, highly trained logistics professionals that know the best routes to travel, the permits required, and how to handle specialist cargo. Save time with Heavy Haulers by allowing us to take control of your straight truck shipping freight, and work out the best way to move your delivery while you turn your attention to other important matters.
Contact Our Expert Shipping Specialist's
(800) 908-6206
Comprehensive Straight Truck Delivery Services
Heavy Haulers straight truck shipping services utilize trucks equipped with boxes for hauling cargo. Cargo shipped using the Heavy Haulers' straight truck shipping service is transported in a fully shaded, protected environment, perfect for fragile freight, large loads of small items, and items that need to be shipping across the U.S. quickly. Box cargo can be safely packed together in a much more efficient manner, and the accidental movement of freight within a box truck is minimized.
Heavy Haulers' straight truck shipping services can be used to move your cargo anywhere throughout the U.S., Canada, and Mexico. Our straight truck shipping services encompass seamless door-to-door shipping, including the scheduling, loading and offloading, transporting, and handling any additional paperwork, including permits for carrying specialized freight. We even handle everything at customs and weigh stations, so one less thing for you to worry about if your shipment needs to cross any borders.
Heavy Haulers' commonly ship the following through straight truck services:
● LTL Freight
● Parcels
● Furniture
● Household Appliances
● Printed Goods
● Hotel Inventory
● Tools and Equipment
● Merchandise
How to Ship using Straight Truck Services
Shipping using straight truck services is easy with Heavy Haulers. One of our trained representatives will match you with a driver familiar with your intended route, and a box truck size suitable for your shipments. Call us for a quote, and we can talk you through the entire process, detailing the most suitable straight truck services that we have, discussing appropriate shipping times, and arranging for any additional permits to be completed before we pick up your shipment. Heavy Haulers provides door-to-door shipping, so once you select your shipping service of choice, our dedicated transport team will handle the rest.
Common Trailer Types Available from Heavy Haulers
Heavy Haulers specializes in hauling heavy loads such as construction equipment, oil field rigging and Super Loads. We are wideload experts! We offer an extensive range of trailer choices, including:
Max Weight: 48,000 lbs. | Max Length 53 ft. | Max Width 8.5 ft. | Max Height 11 ft.




Max Weight: 45,000 lbs. | Max Length 29 ft. | Max Width 8.5 ft. | Max Height 11.5 ft.
Max Weight: 150,000+ lbs. | Main Deck Length 29 ft. | Well Width 8.5 ft. | Legal Height Limit 11.6 ft.




Max Weight: 48,000 lbs. | Max Length 53 ft. | Max Width 8.5 ft. | Max Height 8.5 ft.
See what you need?
Call us for a FREE Shipping Estimate at (800) 908-6206
HEAVYHAULERS.COM
START YOUR SHIPMENT TODAY!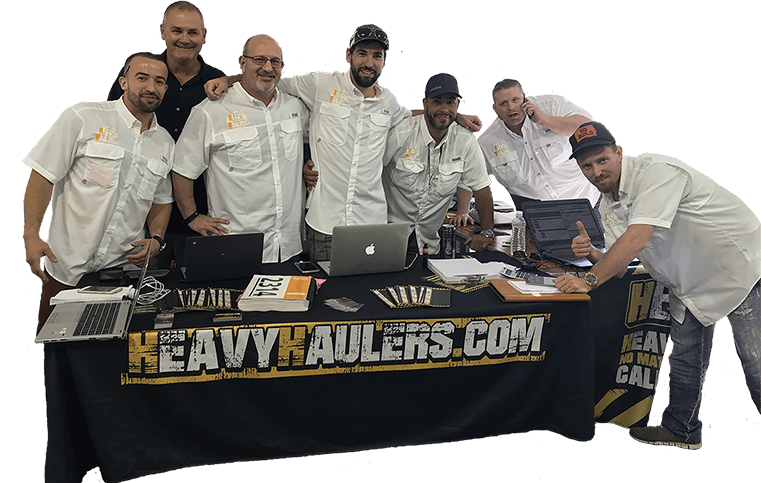 We Are Ready To Help You Haul Your Equipment!
See what you need?
Call us for a FREE Shipping Estimate at (800) 908-6206