Custom Blanket Wrapped Freight Services
A blanket wrap is an environmentally sustainable method of shipping, saving money on packing materials, and avoiding the hassle of crating equipment before shipping. At Heavy Haulers, we make the process of shipping blanket wrapped cargo hassle-free by handling every aspect, and our blanket wrapped cargo services can be fully customized. We can ship everything from single items to full truckloads, regionally, and nationally. We can even coordinate international blanket wrapped freight services and shipments to Canada and Mexico.
We're available to help you ship everything from household furniture to expensive medical equipment that requires additional protection to avoid knocks and bumps affecting instrument calibration. We offer seamless door-to-door shipping, and customized solutions including personalized load tracking, that can help you to locate your valuable cargo. Even if you need a blanket wrapped freight service at short notice, Heavy Haulers can accommodate you.
Contact Our Expert Shipping Specialist's
(800) 908-6206
Handling Blanket Wrapped Freight Services with Care
Blanket wrapped shipping services provide soft cushioning that helps to protect your shipments, and they're a preferred method of preserving the condition of a variety of equipment because they are easily stackable, and can be used in multiple layers to provide enhanced protection. They are an affordable option for customers that are not able to crate pack sensitive cargo. Blanket wrap freight shipping from Heavy Haulers ensures your delivery has the level of care necessary to transport your equipment safely.
Blanket wraps act as a shock-absorbing buffer. Blanket wrapped cargo is commonly transported on air ride suspension trailers, but the specialized blanket wrap service can also be used in conjunction with a whole array of Heavy Haulers trucks. As part of every blanked wrapped freight service from Heavy Haulers, we deal with the wrapping, loading, transporting, and unloading of your equipment. Our professionals have years of experience in handling sensitive cargo, and you can trust us to handle your freight with care.
Common Blanket Wrapped Cargo:
● Office Equipment
● Medical Instruments
● Fragile Robotics
● Industrial Equipment
● Commercial Refrigeration Equipment
● Restaurant Equipment
● Trade Show Exhibits
● Fixtures
● Furniture
● Mirrors
● Glassware
● Pottery
● Antiques
How to Use Blanket Wrapped Services
Heavy Haulers is here to help you every step of the way. Our representatives are on hand to provide you with detailed, accurate quotes for every aspect of our blanket wrapped services. You can start the process online, and if you need a little more help, we have dedicated staff available on the phone to help you. We'll provide all the assistance you need loading, securing, and unloading your blanket wrapped freight. Just give us a call to get started! (800) 908-6206
Common Trailer Types Available from Heavy Haulers
Heavy Haulers specializes in hauling heavy loads such as construction equipment, oil field rigging and Super Loads. We are wideload experts! We offer an extensive range of trailer choices, including:
Max Weight: 48,000 lbs. | Max Length 53 ft. | Max Width 8.5 ft. | Max Height 11 ft.




Max Weight: 45,000 lbs. | Max Length 29 ft. | Max Width 8.5 ft. | Max Height 11.5 ft.
Max Weight: 150,000+ lbs. | Main Deck Length 29 ft. | Well Width 8.5 ft. | Legal Height Limit 11.6 ft.




Max Weight: 48,000 lbs. | Max Length 53 ft. | Max Width 8.5 ft. | Max Height 8.5 ft.
HEAVYHAULERS.COM
START YOUR SHIPMENT TODAY!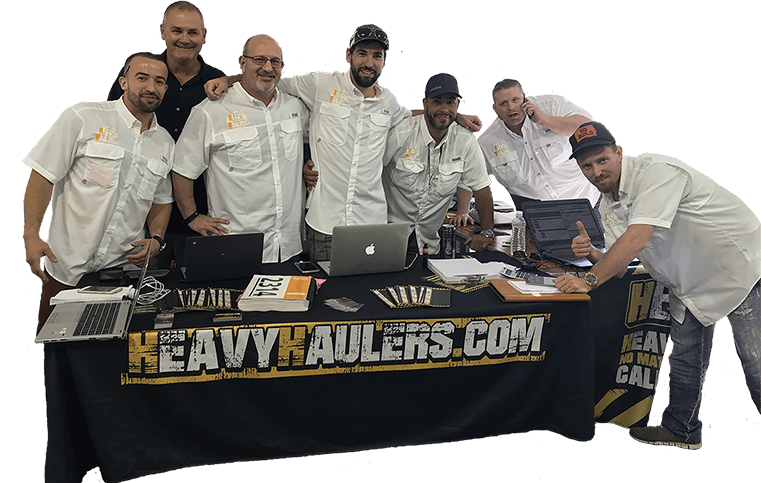 We Are Ready To Help You Haul Your Equipment!