Securing Military Freight Shipments Nationwide
Heavy Haulers has more than a decade of logistics experience, making us the idea military freight services provider for your military and government shipments. We recognize the specialist security and safety requirements associated with military freight shipments, especially regulations related to shipping to government sites, and the logistical requirements associated with the transportation of military equipment and vehicles. This awareness and experience of military freight shipments put Heavy Haulers in the best position to assist you with our military freight services.
Our drivers are comfortable with securing and transporting a wide range of military equipment, specializing in oversized and overweight military truck movement, including field ambulances, MRAP vehicles, and command posts. We have transported these trucks hundreds of miles, from Fort Polk to Jacksonville, and across state borders. Trust us to deliver your military freight shipments, and you'll get access to seasoned professionals that know how to handle your specific military freight cargo. Call for a free shipping estimate! (800) 908-6206
Contact Our Expert Shipping Specialist's
(800) 908-6206
Expedited Military Freight Shipments
Heavy Haulers are the choice military freight shipping company for trucks used by the U.S. armed forces. We have the transport and dispatch capabilities to provide specialist military truck moving services and meet deadlines, even if they're within 24 hours. Our nationwide fleet can accommodate a wide variety of vehicles, from field ambulances to heavy artillery carriers. We have heavy-duty RGN trailers, lowboys, step decks, and specialized cargo-handling equipment at your service.
We can expedite shipments to all U.S. military bases. We can also ship military troop, weapon carrier trucks, and other military equipment that has been demilitarized to army surplus stores, ready for sale to civilians. Military freight shipments often include the shipping of military vehicles and demilitarized military equipment, on flatbeds, RGN, and step deck trailers. Even for shipments that require permits, we can arrange all the necessary paperwork to get your military freight on the road as soon as practical. We pride ourselves on being able to provide an efficient service without compromising on safety. All of our drivers are highly-skilled and trained in the use of specialist cargo.
Common Military Freight Services Cargo:
● Command Posts
● Bradley Battle Command Vehicle
● Support Trucks
● M 7 Bradley Fire Support Vehicle
● Field Ambulances
● Heavy Artillery Carriers
● MRAP Vehicles
● Custom Telehandlers
● Bradley Tanks
● Squad Vehicles
● M 1128 Mobile Gun Systems
How to Use Military Freight Services
The first step towards booking military freight services with Heavy Haulers is to discuss your military freight movement requirement with one of our representatives. Our skilled logistics professionals are adept at providing fast, free, and accurate quotes for even the most sophisticated military transport projects. We'll use our expertise to help you avoid unnecessary delays or complications, and provide low-profile shipments safe from security or compliance breaches. Call us to get started! (800) 908-6206
Common Trailer Types Available from Heavy Haulers
Heavy Haulers specializes in hauling heavy loads such as construction equipment, oil field rigging and Super Loads. We are wideload experts! We offer an extensive range of trailer choices, including:
Max Weight: 48,000 lbs. | Max Length 53 ft. | Max Width 8.5 ft. | Max Height 11 ft.




Max Weight: 45,000 lbs. | Max Length 29 ft. | Max Width 8.5 ft. | Max Height 11.5 ft.
Max Weight: 150,000+ lbs. | Main Deck Length 29 ft. | Well Width 8.5 ft. | Legal Height Limit 11.6 ft.




Max Weight: 48,000 lbs. | Max Length 53 ft. | Max Width 8.5 ft. | Max Height 8.5 ft.
HEAVYHAULERS.COM
START YOUR SHIPMENT TODAY!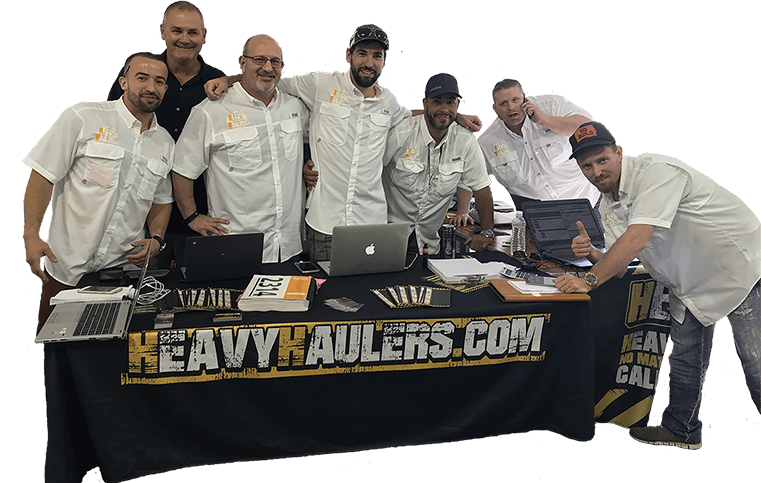 We Are Ready To Help You Haul Your Equipment!