The Design and Use of a Power Only Trucking Service
Power-only trucking allows companies to hire drivers to haul their product instead of investing in the purchase of a fleet of vehicles and hiring truck drivers to transport it. The service can be used for one trailer or multiple trailers in one shipment or as a regular service, depending on the needs of the client. There is no limit to the type of freight that can be shipped in this way, whether it be goods for retail sale, food products, construction material or heavy equipment. Heavy Haulers works with all sorts of trucking options, including power only trucking. Call now for a free shipping estimate! (800) 908-6206
Power only trucking also provides flexibility in the type of trailer it can haul and the configuration that can be used to balance out a load. These trucks have an adjustable fifth-wheel that can be moved to fit with your trailer's particular size and dimensions, including oversized loads that require more than the standard axle configuration.
Contact Our Expert Shipping Specialist's
(800) 908-6206
Using Heavy Haulers for your Power-Only Trucking
Having a trailer to ship those large pieces of machinery or equipment but not a vehicle that can physically move it can be frustrating. If you need your product or freight transported, Heavy Haulers can provide power-only service using your flatbed trailer, dry van trailer, refrigerated van, tanker trailer and even shipping container. We specialize in shipping SuperLoad, over-dimensional and awkward loads, including equipment used in a variety of industries, including construction, oil rigging, manufacturing and more.
Power only trucking is useful for companies who have the trailers to put their product into but not a way to transport it. It allows owners to hire carriers to provide just the cab of a truck--the pulling power--to move their shipment to its final location. Heavy Haulers can provide trailer owners with quality power-only service anywhere within the continental U.S., Mexico and Canada. Call now! (800) 908-6206
Common Freight Transported with Power-Only Service
• Chassis
• Special Event Trailers
• Dry Vans
• Specialty Trailers
• Flatbeds
• Containers
• Refrigerated Vans
• Exhibition Trailers
Common Trailer Types Available from Heavy Haulers
Heavy Haulers specializes in hauling heavy loads such as construction equipment, oil field rigging and Super Loads. We are wideload experts! We offer an extensive range of trailer choices, including:
Max Weight: 48,000 lbs. | Max Length 53 ft. | Max Width 8.5 ft. | Max Height 11 ft.




Max Weight: 45,000 lbs. | Max Length 29 ft. | Max Width 8.5 ft. | Max Height 11.5 ft.
Max Weight: 150,000+ lbs. | Main Deck Length 29 ft. | Well Width 8.5 ft. | Legal Height Limit 11.6 ft.




Max Weight: 48,000 lbs. | Max Length 53 ft. | Max Width 8.5 ft. | Max Height 8.5 ft.
We transport many brands of Trucks across the country and North America
Trust Heavy Haulers to transport any brand of truck you own. We are experienced in handling all types of brands and manufacturers, we have hands-on experience shipping all truck manufacturers there is on the road! Some of the truck brands we commonly ship include:
HEAVYHAULERS.COM
START YOUR SHIPMENT TODAY!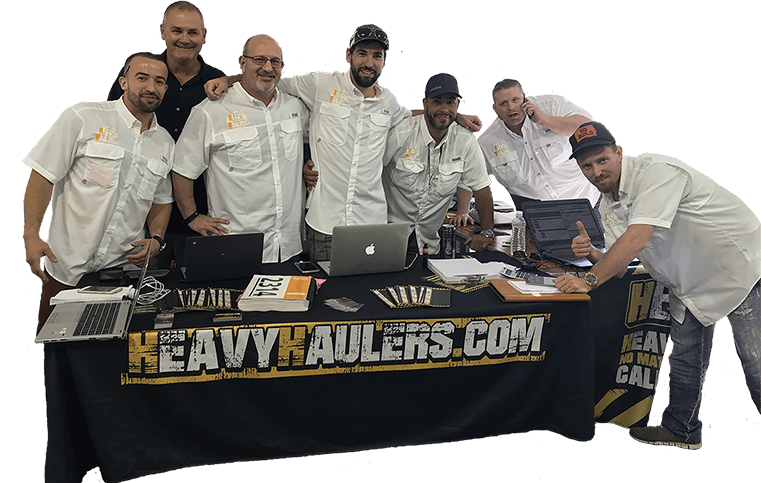 We Are Ready To Help You Haul Your Equipment!
See what you need?
Call us for a FREE Shipping Estimate at (800) 908-6206