Heavy Equipment Towing Services Provided in all 50 States, Mexico and Canada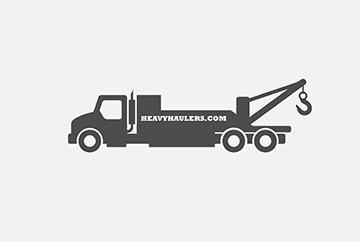 Equipment Towing Services
Whether you want to tow, move or generally relocate your heavy equipment, you will need the assistance if a towing company. Whether you are moving from one site to another or making starting a new project on a work site, towing services have to come up whether it's in the final draft of the bill of quantities or the surveyor's scope of services required to make the project smooth from start to finish. Where do you start when looking for towing services? Well, it all comes down to picking the right company for your towing needs.
Do You Need Towing or Transport Services?
We specialize in heavy-duty, commercial relocation and towing of heavy equipment. From dump trucks to scissor lifts, our versatile services and relentless services are always available. Whether it's light, medium or heavy duty equipment moving, our expert team is dispatched almost momentarily. This way the balance is maintained, you focus on your project while we handle the complex technicities that come with relocating equipment.
Our Recent Equipment Shipments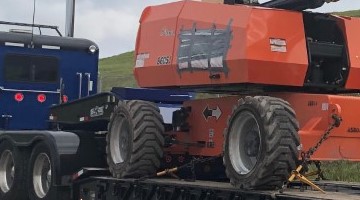 60,000 lbs JLG 1850SJ Boom Lift transported into East Bethany
Shipping From: Jacksonville, FL 32226

Transporting To: East Bethany, NY 14054

Specs: JLG 1850SJ Boom Lift; 48L X 8.2W X 10H; 60,000lbs

Transport Specialist: Milos Visnjic
(754) 203-9257
Common Trailer Types Available from Heavy Haulers
Heavy Haulers specializes in hauling heavy loads such as construction equipment, oil field rigging and Super Loads. We are wideload experts! We offer an extensive range of trailer choices, including:
Max Weight: 48,000 lbs. | Max Length 53 ft. | Max Width 8.5 ft. | Max Height 11 ft.




Max Weight: 45,000 lbs. | Max Length 29 ft. | Max Width 8.5 ft. | Max Height 11.5 ft.
Max Weight: 150,000+ lbs. | Main Deck Length 29 ft. | Well Width 8.5 ft. | Legal Height Limit 11.6 ft.




Max Weight: 48,000 lbs. | Max Length 53 ft. | Max Width 8.5 ft. | Max Height 8.5 ft.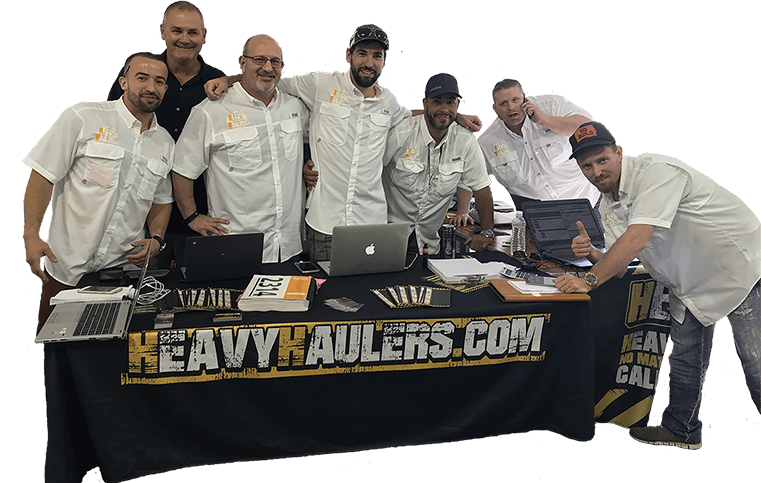 We Are Ready To Help You Haul Your Equipment!
Common Types of Equipment Heavy Haulers Has Experience Transporting
Trust Heavy Haulers to transport any brand of equipment you own. Most of our drivers are experienced heavy-machinery operators who can safely maneuver your loads aboard our trailers. Some of the brands we have shipped include:
See Some of the Equipment & Vehicles We Tow Regularly
When you need to save time and money, there is only one way you can beat your crammed schedule, using the right towing services. Furthermore, you can avoid the contingencies and accidents that arise when shipping your vehicle by using a relocating company. If you are looking to find out on some of the vehicles and equipment we move, here they are below and here are some of the services we offer:
Heavy Haulers offers:
Door-to-door transport
24/7 Customer Service
Free Cancellations
Contingency Insurance
See Our Recent Equipment Tows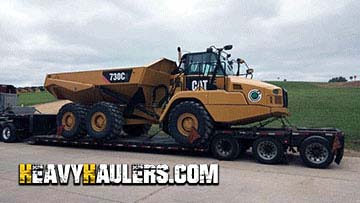 Articulated Dump Truck Towing
One of the most challenging tasks when it comes to towing is the relocation of heavy vehicles. A dump truck checks all the requirements for heavy vehicle towing operations that require professional services. Dump trucks are designed to carry heavy loads and push trailers from one location to another. They require unique consideration when using them to tow heavy vehicles. The trailer and the vehicle itself should be considered during the operation. Next time you are looking for towing pulling services for a dump truck be sure to call us, and we will professionally handle your needs.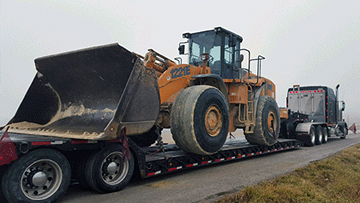 Wheel Loader Towing
There are different approaches to making each wheel loader towing successful. To begin with, the type of tower should fit the requirements necessary to tow wheel loaders of different sizes. For instance, a D8 wheel loader will require more mechanical strength to pull. It's important to double check the weight limits of the truck and the tower to make sure there aren't any breakdowns during the operation. Find out more on the procedure involved by reaching out to one of our specialized agents.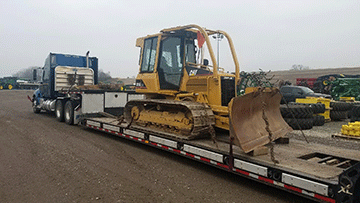 Bulldozer Towing
Towing a bulldozer can be dangerous without the right equipment and training. Whether it's large or small, it takes professionals to see through a bulldozer towing operation. By using the right equipment and making safety our priority, we make each bulldozer towing task efficiently. Next time you are looking for towing pulling services for a dump truck be sure to call us, and we will professionally handle your needs.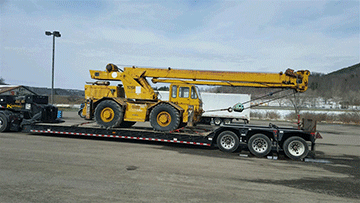 Towing a Crane
Our one-stop-shop allows you to access all crane towing services under one roof. Certain aspects of towing require flexibility, for instance moving forklifts from one location to another requires a different approach to moving a crane.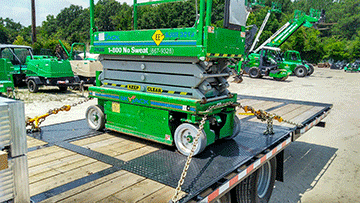 Towing Scissor Lifts
Among our extensive services is scissor lift towing services. It's wise to choose a company with the capability to handle all-season towing needs. We do not take anything to chance; that's why we follow all the required rules and regulations as evidenced by our certification and licenses. Years of towing has made our reputation preceded our seamless services.
Boom Lift Towing
Thankfully, our team of services have allowed us to make a statement in the towing niche. We are here to narrow down your research, reach out to us and we will gladly take you through the services that best suits your situation. Our exclusive list of towing equipment allows us to handle each boom lift towing operation with efficiency. Whether you are towing a rental or a recently purchased boom lift, chat or call us to get your boom lift towed.
Forklift Towing
One of the common inquiries from our clients is whether they can tow a forklift. Most forklifts come with an inbuilt hook or tow bar. For this reason, the forklift can be easily towed when it breaks down or when it requires relocation. A forklift can also be used to tow other vehicles. However, we recommend using the right means to tow your vehicles. Reach out to us, and we will recommend the best methods you can use to tow your forklift.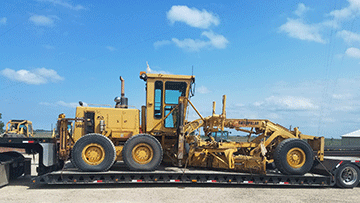 Motor Grader Towing
Motor graders are mostly used in construction projects to create a level ground. A fitted blade helps in cutting, levelling, and uniform distribution of materials. There aren't many companies that have the resources and experience to tow motor graders, call us today, and we will recommend the best method to tow your equipment.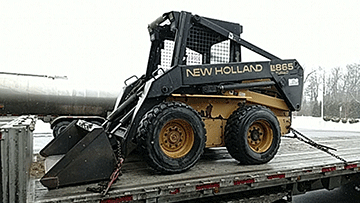 Skid Steer Towing
Towing a skid steer requires a legal license. Moreover, it requires some professional attention; for instance, if you are pulling the Skid steer behind a tower, there are safety issues that come about. Do the towers have enough strength to pull the skid steer? Does it have enough braking power to engage and disengage the skid-steer wheel when necessary? Is the tower using a hitch recommended for that towing operation? Call us today for all your skid-steer towing needs.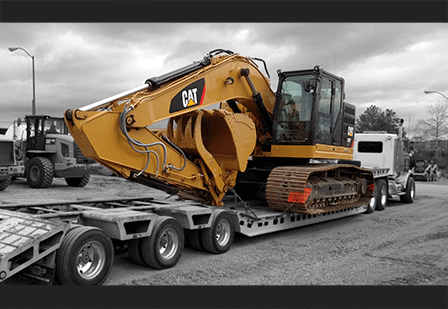 Why we stand out from the rest
When you're at a crossroad, wondering which towing company best fits your needs, there are some beach marks you can use courtesy of our in-house professional experience. The last thing you need when relocating your goods is having to wait.
Whether you ate the client or a contractor, wasted time ruthlessly increases your overall costs. We understand that's and that's why we offer personalized customer care services. We strive to build a healthy relationship with our clients. We make our channels of communication accessible and always on responsive.