Heavy Haulers Ships Paving Equipment in All 50 States, Canada, and Mexico!
Savvy contractors know that the key to landing paving and road work jobs is being on time and producing high-quality work. Heavy Haulers knows that you can't get started with your paving and asphalt jobs until your heavy machinery is at the site, ready to go. That's why we specialize in heavy equipment hauling for paving companies, including pavers, compactors, milling machines, and construction trucks. Our licensed, bonded drivers can move your entire fleet of paving equipment anywhere in North America, Canada, and Mexico. Give us a call at (800) 908-6206 to find out how Heavy Haulers can ship your paving machinery to your next job site!
Transport Your Paving Equipment with Reliable and On-time Heavy Haulers!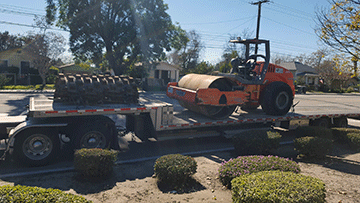 Shipping Hamm 3410 Vibratory Compactor
Many pieces of paving including compactors, tandem rollers, asphalt profilers, and road reclaimers aren't rated to travel ordinary roads. They'll need strong trailers, whether a flatbed or a low-boy, to travel from one job site to the next. Rigs with enough torque and power to transport these heavy machines aren't usually found at ordinary shipping companies. Heavy Haulers focuses on moving your large, specialized paving equipment through busy city streets and along the highways. For safe delivery on time, even into undeveloped rural areas, trust Heavy Haulers.
Shipping Your Paving Equipment with Heavy Haulers is Seamless and Affordable - Find Out For Yourself!
A logistics specialist will inventory your paving equipment, either a single item shipment or the transport of your entire complement of paving machinery. We understand the state and local regulations for oversized and heavy loads and ensure that your equipment is fully compliant. Door-to-door service includes loading and unloading to protect your equipment and ensure safety. As your equipment travels, keep up with it in real time. All the paperwork necessary, including weigh station forms and customs documents, is prepared by us in advance, saving you the worry. Call Heavy Haulers at (800) 908-6206 for a FREE, no-obligation quote and see the difference today!
Common Types of Paving Equipment We Ship:
● Micro Paving Trucks
● Macropaver Trucks
● Milling Machines
● Graders
● Sweepers
● Batch Plants
● Drum Plants
● Material Transfer Vehicles
● Asphalt Pavers
● Compactors/Rollers
● Truck Mixers