Heavy Haulers Ships Paving Equipment in All 50 States, Canada, and Mexico!
Savvy contractors know that the key to landing paving and road work jobs is being on time and producing high-quality work. Heavy Haulers knows that you can't get started with your paving and asphalt jobs until your heavy machinery is at the site, ready to go. That's why we specialize in heavy equipment hauling for paving companies, including pavers, compactors, milling machines, and construction trucks. Our licensed, bonded drivers can move your entire fleet of paving equipment anywhere in North America, Canada, and Mexico. Give us a call at (800) 908-6206 to find out how Heavy Haulers can ship your paving machinery to your next job site!
Transport Your Paving Equipment with Reliable and On-time Heavy Haulers!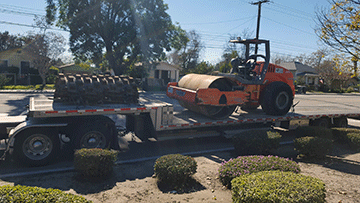 Shipping Hamm 3410 Vibratory Compactor
Many pieces of paving including compactors, tandem rollers, asphalt profilers, and road reclaimers aren't rated to travel ordinary roads. They'll need strong trailers, whether a flatbed or a low-boy, to travel from one job site to the next. Rigs with enough torque and power to transport these heavy machines aren't usually found at ordinary shipping companies. Heavy Haulers focuses on moving your large, specialized paving equipment through busy city streets and along the highways. For safe delivery on time, even into undeveloped rural areas, trust Heavy Haulers.
Shipping Your Paving Equipment with Heavy Haulers is Seamless and Affordable - Find Out For Yourself!
A logistics specialist will inventory your paving equipment, either a single item shipment or the transport of your entire complement of paving machinery. We understand the state and local regulations for oversized and heavy loads and ensure that your equipment is fully compliant. Door-to-door service includes loading and unloading to protect your equipment and ensure safety. As your equipment travels, keep up with it in real time. All the paperwork necessary, including weigh station forms and customs documents, is prepared by us in advance, saving you the worry. Call Heavy Haulers at (800) 908-6206 for a FREE, no-obligation quote and see the difference today!
Recent Paving Equipment Transported by Heavy Haulers
Hauling Bomag BW177PDH-40 Vibratory Compactor
Heavy Haulers recently hauled this 2012 Bomag BW177PDH-40 Vibratory Compactor from Winter Garden, Florida, to Londonderry, New Hampshire. The transport was 1,330 miles long. Also travelling on this transport was a Caterpillar Mini Hydraulic Excavator and a Bobcat Mini Excavator. Compactor - Weight: 16,200 pounds. Length: 15 feet 8 inches. Width: 6 feet. Height: 8 feet 2 inches. To haul your Bomag paving equipment today, call Brian at Heavy Haulers directly at (954) 603-1344.
Hauling 1988 Bomag BW213 Compactor
Brian G. at Heavy Haulers recently transported this 1988 Bomag BW213 compactor. It was picked up in Imperial, MO and delivered to its destination 326 miles away in Hanover, IN. It was 25 feet long, 8 feet 5 inches wide, 10 feet 8 inches high and weighed 28,500 pounds. If you have a compactor you need transported call our agent Brian G. to schedule your next pick up! (954) 603-1344
Shipping a 1990 Bomag Tandem Roller
Heavy Haulers can manage all of your freight or implement transportation needs! This is a 1990 Bomag tandem roller that was picked up in Billings, MT and delivered to Williston, ND. This client called in claiming the company originally hired for this load did not show up. Nick H. at Heavy Haulers sprung into action to find this client a trailer. Within 1 hour of initial contact with this client this Bomag was on the back of a trailer headed to the client. Call Nick H. to get your next piece of freight on a trailer today! (561) 229-0690
See what you need?
Call us for a FREE Shipping Estimate at (800) 908-6206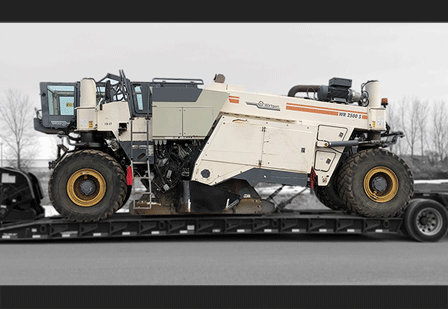 How To Ship Paving Equipment
To keep equipment on the road to and from new worksites, we need to have quality roads to travel. Heavy Haulers helps this process by helping get all types of road paving equipment moved all across the United States as well as Canada and Mexico. We also have the expertise and experience to handle all the logistical issues when dealing with transporting equipment of this size and weight. Heavy Haulers can handle it all!
Most paving equipment needs to be transported on wither a drop deck or RGN trailer. These trailer types are best suited to transport large scale equipment. Some types of equipment are so large (milling machines) that they may need the assistance of a crane to load it aboard a RGN trailer.
Common Trailer Types Available from Heavy Haulers.
Heavy Haulers specializes in hauling heavy loads such as construction equipment, oil field rigging and Super Loads. We are wideload experts! We offer an extensive range of trailer choices, including:
Max Weight: 48,000 lbs. | Max Length 53 ft. | Max Width 8.5 ft. | Max Height 11 ft.




Max Weight: 45,000 lbs. | Max Length 29 ft. | Max Width 8.5 ft. | Max Height 11.5 ft.
Max Weight: 150,000+ lbs. | Main Deck Length 29 ft. | Well Width 8.5 ft. | Legal Height Limit 11.6 ft.




Max Weight: 48,000 lbs. | Max Length 53 ft. | Max Width 8.5 ft. | Max Height 8.5 ft.
HEAVYHAULERS.COM
START YOUR SHIPMENT TODAY!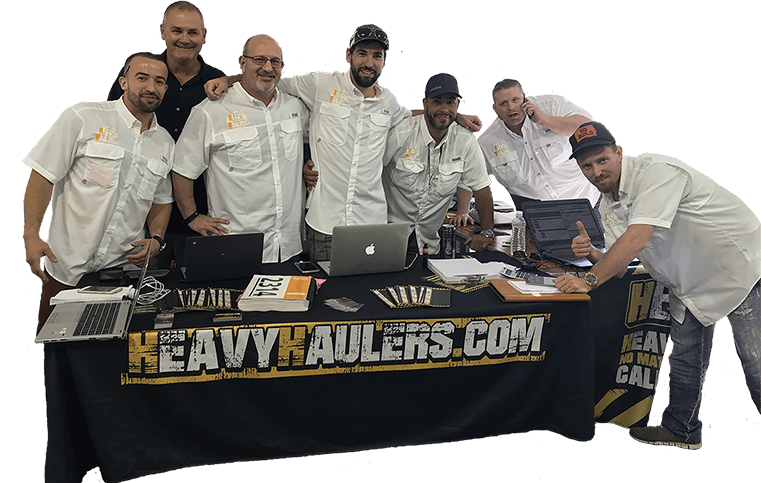 Types of Equipment Heavy Haulers has Experience Transporting
Trust Heavy Haulers to transport any brand of equipment you own. Most of our drivers are experienced heavy-machinery operators who can safely maneuver your loads aboard our trailers. Some of the brands we have shipped include:
Oshkosh

Allis Chalmers

Toro

JLG

Roadtec

Genie

Telsmith

Gradall

Atlas Copco

Huskvarna
Heavy Haulers Ships Paving Equipment
Heavy Haulers ships paving equipment. Speak with one of our logistics professionals to arrange efficient and affordable transportation for your paving equipment. Your representative shops for the best rates for you, dispatches your load when you're ready, and shepherds your transport to a successful conclusion. Let's begin our relationship today.
Heavy Haulers offers:
Door-to-door transport
24/7 Customer Service
Free Cancellations
Contingency Insurance
See More of Our Recent Paving Equipment Transports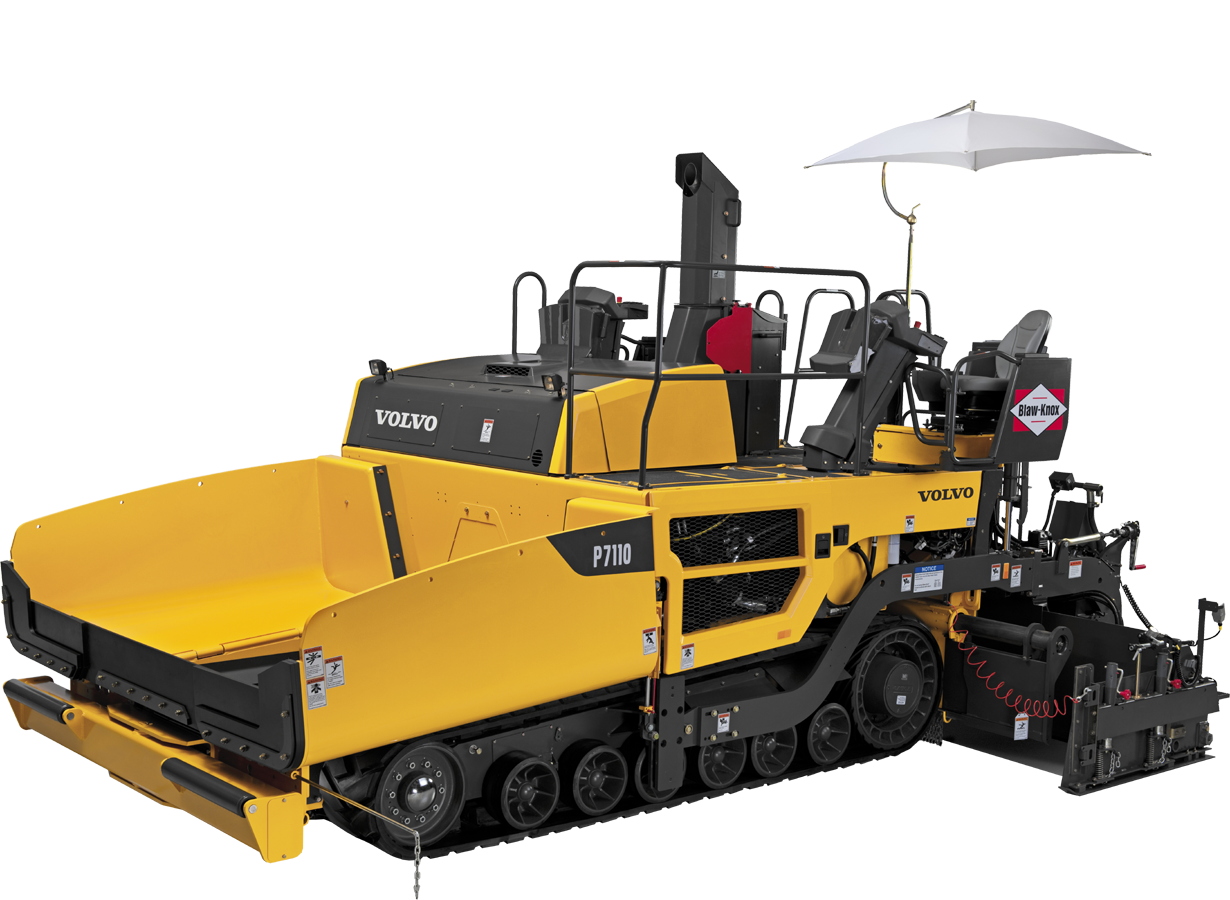 Paving Equipment Transportation Services
Our logistics professionals here at Heavy Haulers have the indepth knowledge on how to handle such unusual transports. We can handle all the necessary permits, the routing, escort vehicles (if necessary) and scheduling to ensure that your equipment arrives on time!
Our team is well versed in shipping all types of paving equipment including vibratory compactors, rollers, profilers, milling machines, road reclaimers, mobile mixers & pavers. Heavy Haulers knows what it takes to get your equipment to its new location!