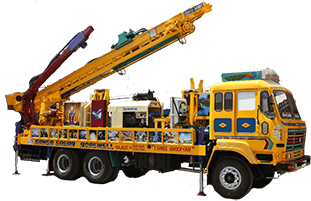 Drilling Truck Hauling Services in All 50 States
Choose Heavy Haulers to transport your drilling trucks – our expert teams plan the best routes, allowing you to spend less time waiting and more time drilling. We specialize in reaching well locations, often found in rough terrain or down back country roads. We understand the conditions can be brutal – so we train our staff to safely move your machinery in all types of climates. We're professional and we work safe, making sure that your drilling trucks arrive at the job site ready to work.

There are several different types of oilfield trucks – and they each play an important role in excavation and drilling.

• Swab Rigs are used to remove fluids from the well's production zones. Removing these fluids allows the natural resources inside to be extracted. It's usually positioned close to the well so the cable, lowered by the winch, can move up and down smoothly. This creates bottom pressure, moving the oil or gas near the top o the well for removal.


• Winch Trucks carry a powered spool around a cable. These trucks are used to pull and lift heavy objects. They can vary in size depending on how tight the space is and are typically used to carry equipment around the oilfield.


• Vacuum Trucks carry liquids, solids, or a sludge mix in a large tank at the back of the truck. Vac trucks use a heavy-duty vacuum to remove substances that are loose enough to be pumped into the reservoir. They're used for sewage transportation, as well as the byproducts of excavation. They're also used to transport natural resources in the petroleum industry.


Heavy Haulers can Transport All Types of Drilling Trucks Local & Long-Distance!
These trucks need powerful resources to safely transport them from one job site to the next. Heavy Haulers has the experience safely shipping heavy trucks and equipment into rough terrain and narrow back roads. Give us a call today at (800) 908-6206 for your free estimate.
Our Recent Drilling Truck Shipments
Hauling a 2013 Skylift Patriot 50 Drill Truck
Heavy Haulers was impressed with everything this Skylift Patriot 50 does. It's the perfect blue pill to take when you need this-or-that done. And who do you call to haul your money-maker that does it all? ...Heavy Haulers does it all and are the trusted name to haul! Heavy Haulers understands that your heavy equipment is what puts the food on the table and we're right there pulling for you every mile of the way. Seamless service from quote to delivery. Call Heavy Haulers today and let us know what you're hauling and we'll get you delivered faster than the pizza you ordered. Chris Kyle
Transport Specialist: Chris Kyle
(239) 256-2733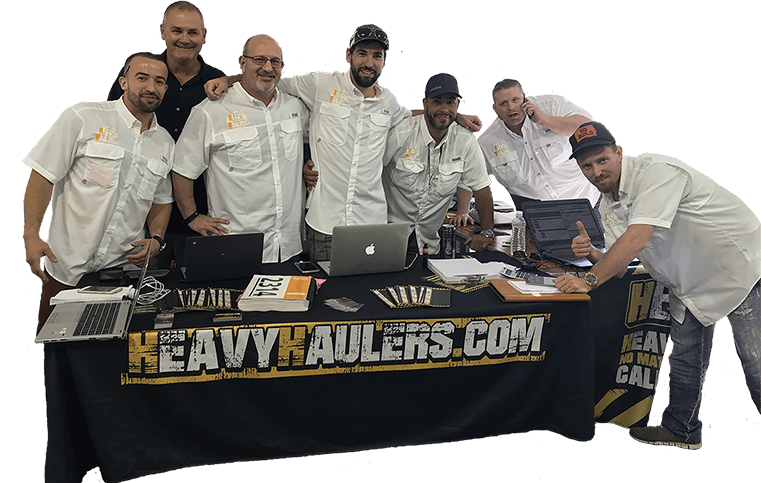 How to Transport a Drill Truck
We ship drill trucks across the 50 states. We make this a reality by choosing strategic positions to locate our network. The in-house team of drivers and logistics experts offer. We have done extensive research and know the right carrier for shipping drill trucks.
There are several factors we consider before shipping your drill truck, such as the previous methods used in shipping similar loads. As such choosing the right company with enough experience to allocate the right equipment to ship your drill truck is the key to making your drill truck shipment a success.
Drilling Rig Manufacturer Equipment Transports
Trust Heavy Haulers to transport all kinds of equipment by any drilling rig manufacturer. Most of our drivers are experienced heavy-machinery operators who can safely maneuver your loads aboard our trailers. Some of the manufacturers we have shipped include:
Massenza Drilling Rig

Lifewater Drilling Technology

Laibe Corporation

Sonic Drill Corporation

Diedrich Drill, Inc.

Schramm, Inc.

Bay Shore Systems, Inc.

FEMCO
SIMCO Drilling Equipment, Inc.

Buckeye Drill Company

Drillmec Inc.

Mojave Industrial Tools, Inc.

Armstrong Machine Company

Mobile Drill Intl

GE Transportation

Sandvik Mining and Construction
Kemaico USA Corporation

Loadcraft Industries, Ltd.

Vertek a Division of ARA

TSC Group Holdings Limited

Holte Manufacturing

Rockmore International,

North Houston Machine, Inc.

Water Services Inc.

al
Heavy Haulers Ships Across All 50 States
Alabama - Alaska - Arizona - Arkansas - California - Colorado - Connecticut - Delaware - Florida - Georgia - Hawaii - Idaho - Illinois - Indiana - Iowa - Kansas - Kentucky - Louisiana - Maine - Maryland - Massachusetts - Michigan - Minnesota - Mississippi - Missouri - Montana - Nebraska - Nevada - New Hampshire - New Jersey - New Mexico - New York - North Carolina - North Dakota - Ohio - Oklahoma - Oregon - Pennsylvania - Rhode Island - South Carolina - South Dakota - Tennessee - Texas - Utah - Vermont - Virginia - Washington - West Virginia - Wisconsin - Wyoming
Looking For Transport
With a Specific Trailer?

Max Weight: 150,000+ lbs. | Main Deck Length 29 ft.
| Well Width 8.5 ft. | Legal Height Limit 11.6 ft.

Max Weight: 48,000 lbs. | Max Length 53 ft.
| Max Width 8.5 ft. | Max Height 8.5 ft.
Max Weight: 48,000 lbs. Max Length 53 ft. |
Max Width 8.5 ft. | Max Height 11 ft.
Max Weight: 45,000 lbs. | Max Length 29 ft.
| Max Width 8.5 ft. | Max Height 11.5 ft.
Heavy Haulers Pilot Car Services
Are you looking for a reliable pilot car
for your transport?
Get Started
Drilling Truck Transportation Services with Heavy Haulers
Heavy Haulers offer trustworthy and reliable transportation services for all varieties of freight including shipments of individual and commercial equipment and heavy machinery. Heavy Haulers are insured and fully capable of servicing every load in need of transportation, we provide load tracking upon request and have agents available during all hours of the day 7 days a week.
Heavy Haulers is dedicated to quality service and we pride ourselves on being reliable and trustworthy. Another reason our business has succeeded is due to our adaptation to new virtual resources and new age business development that we have created and contributed to the industry's vital resources that make us better than the competition.







11423605

MILES TRAVELED






1214292

LOADS SHIPPED







1315658103

TONS TRANSPORTED






921637

CLIENTS SATISFIED