The Best Drilling Machinery Transport Services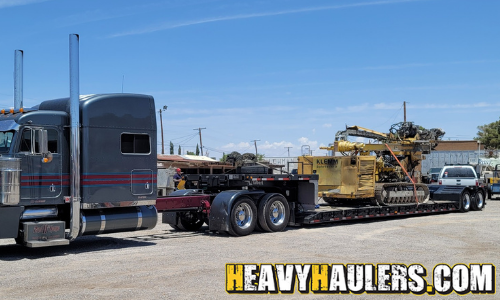 Contact Our Drill Equipment Transport
Specialist Now! (800) 908-6206
Heavy Haulers transports drilling machinery and equipment all across the U.S. and overseas. We ship everything from mill drill machines to supersized drill rig platforms on the ocean. For over a decade we have specialized in transporting all drill equipment locally and overseas. A dedicated logistics agent will find the best driver, trailer, and even ship to transport your drilling equipment. We're here to provide the best transport solutions available.
Heavy Haulers contracts with only reliable, certified, and bonded loaders and drivers. We ensure that your drilling equipment - from mud pumps to ditch witches – arrives at your site on time and intact. We use properly rated trailers large enough to fit your machinery and rigs powerful enough to navigate even into the roughest terrain. Let's transport your drill machinery today. Call now! (800) 908-6206
Shipping Drilling Equipment Domestically and Overseas
Drilling equipment is used in a variety of industries. Construction, mining, geothermal, and even science industries use drill machinery. Drillships haul equipment for deep sea excavation, while a CNC drill machine may be found in manufacturing factories. Drill machinery is an important part of the economy, which is why they need to be transported with care. Heavy Haulers is licensed, bonded, and insured to transport drilling equipment across the United States and overseas.
If you need to ship drill equipment internationally, Heavy Haulers has a dedicated international team ready to get started. We handle everything from permits to customs paperwork to ensure your drill machine is shipped with care. Heavy Haulers is the industry-leading drill equipment transport company. Call now for a free shipping estimate! (800) 908-6206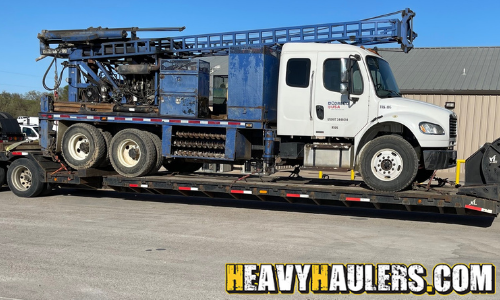 How To Ship Drill Equipment and Machinery with Heavy Haulers!
To ship drill equipment with the best transport company, call Heavy Haulers today. Whether you need to transport multiple drill machines or an oversize drill rig, we have the trucks and trailers to see the move through safely. We transport all drill machinery, including CNC and Milling machines. Heavy Haulers gets all the permits, paperwork, and route planning done for you, so you can be confident in your drilling equipment transport. Call now for a free shipping estimate! (800) 908-6208
Common Equipment Heavy Haulers Transports
Trust Heavy Haulers to transport any brand of equipment you own. Most of our drivers are experienced heavy-machinery operators who can safely maneuver your loads aboard our trailers. Some of the brands we have shipped include:
Heavy Haulers Ships Across All 50 States
Alabama - Alaska - Arizona - Arkansas - California - Colorado - Connecticut - Delaware - Florida - Georgia - Hawaii - Idaho - Illinois - Indiana - Iowa - Kansas - Kentucky - Louisiana - Maine - Maryland - Massachusetts - Michigan - Minnesota - Mississippi - Missouri - Montana - Nebraska - Nevada - New Hampshire - New Jersey - New Mexico - New York - North Carolina - North Dakota - Ohio - Oklahoma - Oregon - Pennsylvania - Rhode Island - South Carolina - South Dakota - Tennessee - Texas - Utah - Vermont - Virginia - Washington - West Virginia - Wisconsin - Wyoming
Looking For Transport
With a Specific Trailer?

Max Weight: 150,000+ lbs. | Main Deck Length 29 ft.
| Well Width 8.5 ft. | Legal Height Limit 11.6 ft.

Max Weight: 48,000 lbs. | Max Length 53 ft.
| Max Width 8.5 ft. | Max Height 8.5 ft.
Max Weight: 48,000 lbs. Max Length 53 ft. |
Max Width 8.5 ft. | Max Height 11 ft.
Max Weight: 45,000 lbs. | Max Length 29 ft.
| Max Width 8.5 ft. | Max Height 11.5 ft.
Heavy Haulers Pilot Car Services
Are you looking for a reliable pilot car
for your transport?
Get Started