The Best Industrial Rigging Transport Services
Heavy Haulers is the expert when it comes to shipping industrial rigging. Our niche shipping services are focused on reliable transport of industrial rigging using a team of professional divers using extreme dimension handling trailers and powerful rigs. We ship throughout North America, from Alaska to Canada and Mexico, with door-to-door delivery on your timeline.
For over a decade, Heavy Haulers have perfected its expertise in operations and logistics. Shipping industrial rigging can be complicated, but Heavy Haulers understands the requirements of your equipment. We've developed our techniques to safely and securely move your equipment, including safely dismantling it for secure transit. Our oversized load specialists take care of all the paperwork necessary for railroad crane transport, including weigh station permits and authorization for transport throughout North America, including Canada and Mexico. Call now! (800) 908-6206
Contact Our Expert Shipping Specialist's
(800) 908-6206
Safely Shipping Industrial Rigging
Picking the right industrial rigging shipment service doesn't have to be difficult. Simply call the team at Heavy Haulers to get started. We offer safe, reliable rigging transport, no matter the size and weight. We perform and excel in heavy, industrial machinery and equipment rigging projects including everything from disassembly, to professional transportation, and then installation. Regardless of the size, weight, or location, we get the job done correctly, safely, and on-time.
Take the guesswork out of shipping your industrial rigging. Rigging and heavy lifting jobs involve dangerous maneuvers but the professional team at Heavy Haulers is certified to ship your equipment. Lifting and moving thousands of pounds, whether in the field or at a manufacturing facility, is a specialized trade that requires precise planning. From the expert trip planners to bonded drivers, Heavy Haulers gets you on time and budget.
Common Industrial Rigging Jobs
● Factory Moves
● Hoist Hooks
● Lifting Hooks
● Rigging Hooks
● Sling Hooks
● Pulleys and Blocks
How to Ship Industrial Rigging
Proper machine transport of industrial rigging requires a well-planned combination of small and large parts, from hooks and shackles to cranes, and a shipping company capable of moving incredibly large and heavy items. Heavy Haulers begins by inspecting your rigging, disassembling it if needed. We then determine the correct trailer and truck to move your equipment. We give you a personalized code to follow your shipment so you may watch the progress of your cargo and stay one step ahead of pressing issues.
Common Trailer Types Available from Heavy Haulers
Heavy Haulers specializes in hauling heavy loads such as construction equipment, oil field rigging and Super Loads. We are wideload experts! We offer an extensive range of trailer choices, including:
Max Weight: 48,000 lbs. | Max Length 53 ft. | Max Width 8.5 ft. | Max Height 11 ft.




Max Weight: 45,000 lbs. | Max Length 29 ft. | Max Width 8.5 ft. | Max Height 11.5 ft.
Max Weight: 150,000+ lbs. | Main Deck Length 29 ft. | Well Width 8.5 ft. | Legal Height Limit 11.6 ft.




Max Weight: 48,000 lbs. | Max Length 53 ft. | Max Width 8.5 ft. | Max Height 8.5 ft.
See what you need?
Call us for a FREE Shipping Estimate at (800) 908-6206
HEAVYHAULERS.COM
START YOUR SHIPMENT TODAY!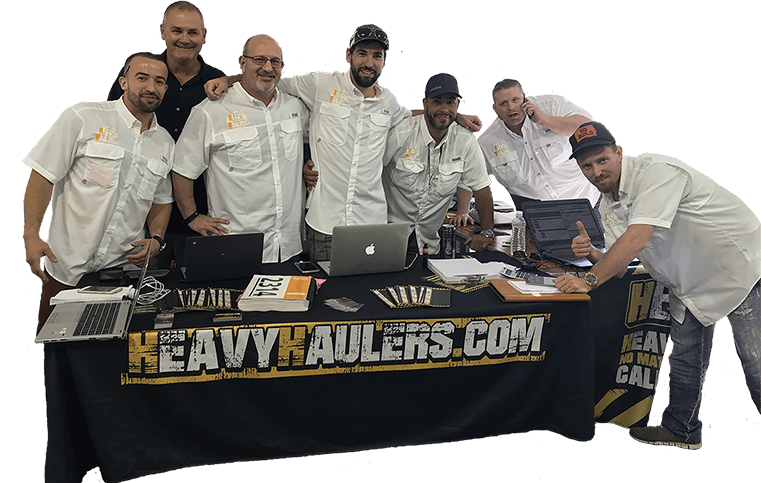 We Are Ready To Help You Haul Your Equipment!
See what you need?
Call us for a FREE Shipping Estimate at (800) 908-6206