Birmingham, AL Heavy Machinery Shipping Services
Transporting oversized equipment can be an expensive and stressful endeavor. Heavy Haulers Transport company specializes in moving heavy vehicles across the continental United States, Canada and Mexico. We regularly travel the highways and byways of Birmingham, Alabama and other nearby cities, including Tuscaloosa and Hoover.
Ask Heavy Haulers to transport your machinery between Birmingham, AL and any state in the nation, Canada and Mexico. Contact Heavy Haulers for FREE transport estimates at (800) 908-6206.
Recent Transports Heavy Haulers Has Taken to/from Birmingham, AL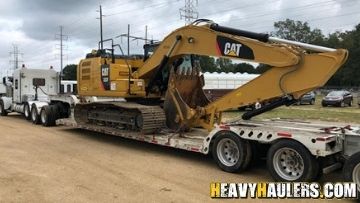 Caterpillar 323 Excavator near Birmingham, AL to Carlsbad, NM
Hal at Heavy Haulers recently hauled this Caterpillar 323 Excavator for a client. This Caterpillar Excavator was picked up in near Birmingham, AL to Carlsbad, NM. This client called in needing an immediate pick up in Alabama after the original company that was hired could not produce a trailer for the clients freight. Hal was able to secure a driver and trailer within 3 hours. Call Hal today to get your last minute freight picked up: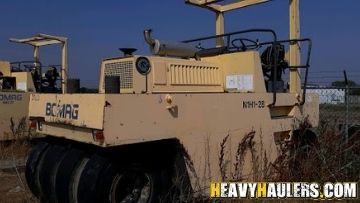 Transporting a 1990 Bomag loaded in Birmingham, AL
Heavy Haulers can manage all of your freight or implement transportation needs! This is a 1990 Bomag tandem roller that was picked up near Birmingham, AL and delivered to Williston, ND. This client called in claiming the company originally hired for this load did not show up. Nick H. at Heavy Haulers sprung into action to find this client a trailer. Within 1 hour of initial contact with this client this Bomag was on the back of a trailer headed to the client. Call Nick H. to get your next piece of freight on a trailer today: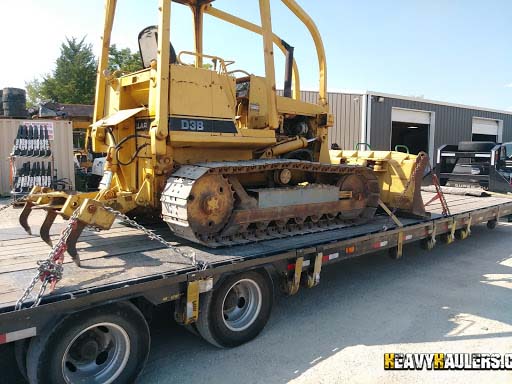 Hauling Caterpillar D3B pick up near Birmingham, AL
This is a Caterpillar D3B Heavy Haulers recently shipped for a client. It was picked up near Birmingham, AL and delivered to Fredericksburg, TX This client called in distraught that his Caterpillar crawler tractor was still not picked up by the original company hired. Tye at Heavy Haulers immediately took action! Once Tye started working on this he was able to secure a driver within minutes! If you need a quick pick up with a reliable company and agent call Tye at Heavy Haulers today!
Shipping Heavy Equipment through Birmingham Legally
Heavy Haulers trains their drivers in the legalities of traveling through Birmingham, Mobile, and other medium-sized cities throughout Alabama. We ensure that your equipment travels through the state with the proper paperwork and permits to avoid possible fines and penalties. We're familiar with the widely traveled spider-web of highways that go through Alabama, including I-65, U.S. Highway 31 and the always difficult "Malfunction Junction."
Birmingham Alabama Hauling and Transport Specs
Ports: Port of Birmingham (Ten-Tom Waterway)

Airports: Birmingham-Shuttlesworth International Airport

Trailer length limit: 57' and 85' combined with vehicle




SUPERLOAD DESIGNATION BEGINS WITH THE FOLLOWING DIMENSIONS

Weight: over 250,000lb gross

Width: 16'

Height: 16'

Length: 150'

Transport Restrictions: The interstate system is off limits for loads carrying product more than 16' wide, oversize loads must travel primarily during daylight hours. No Sunday travel is allowed. Extreme lengths (120-150') must travel during business between 9:00am-3:00pm M-F.

Common Alabama Trailer Types: Removable Gooseneck Trailer (RGN), Lowboy, Flatbed

Common Transport Equipment: Skid Steer Loaders, Backhoes, Garbage Trucks
Oversized Transport and Heavy Haulers
Heavy Haulers has more than a decade of experience shipping oversized machinery and vehicles to locations in and around Birmingham Alabama. We are bonded, licensed and insured to tow farm equipment and those that require oversize or Super load permits. Call us today at 1-(800) 908-6206 and receive your free shipping quote.
Looking For Transport
With a Specific Trailer?

Max Weight: 150,000+ lbs. | Main Deck Length 29 ft.
| Well Width 8.5 ft. | Legal Height Limit 11.6 ft.

Max Weight: 48,000 lbs. | Max Length 53 ft.
| Max Width 8.5 ft. | Max Height 8.5 ft.
Max Weight: 48,000 lbs. Max Length 53 ft. |
Max Width 8.5 ft. | Max Height 11 ft.
Max Weight: 45,000 lbs. | Max Length 29 ft.
| Max Width 8.5 ft. | Max Height 11.5 ft.
When Shipping Equipment in Anchorage, AK with Heavy Haulers;
When you choose Heavy Haulers, you're opting for quality. Plenty of fly-by-night operations want your transportation business. We are professional transporters who are in this for the long run. Our nationwide construction-equipment hauling company is:
● Experienced - More than 10 years transporting cargo in the U.S.;

● Double Insured - Carrier and Contingency, Just In Case;

● Professional - Fully Licensed, Bonded and Accredited;

● Efficient - We accept nearly all forms of payment, including cash.
Experience Shipping Heavy Equipment to Birmingham, AL
Heavy Haulers specializes in hauling heavy loads such as construction equipment, oil field rigging and Super Loads. We are wideload experts! Heavy Haulers specializes in the heavy stuff! However - we can accommodate all types of equipment no matter the weight. Below you'll find some common pieces of equipment we've transported for the past 10+ years!
Common Equipment Heavy Haulers Transports
Trust Heavy Haulers to transport any brand of equipment you own. Most of our drivers are experienced heavy-machinery operators who can safely maneuver your loads aboard our trailers. Some of the brands we have shipped include: