Shipping JCB Construction Equipment
Call Our company Heavy Haulers for all JCB equipment shipping services locally or cross country at (800) 908-6206! Trust Heavy Haulers to ship your JCB construction equipment. J.C. Bamford Excavators is one of the world's largest manufacturers of construction equipment. Commonly referred to as JCB, the English company began in 1945 by producing agricultural tipping trailers. In 1952 they manufactured their first excavator, a backhoe loader. Twelve years later the company introduced its first crawler excavator.


Rather than expanding through acquisition, JCB chose to concentrate on in-house product development. By 1995 the company had become Europe's largest construction equipment manufacturer. Overall, JCB produces more than 300 models of equipment. The company employs more than 12,000 people.
Common JCB Equipment We Transport Frequently:
Recent JCB Construction Heavy Haulers Has Shipped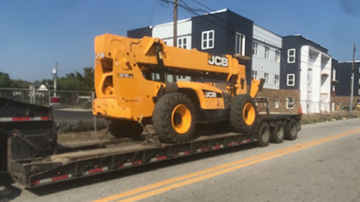 JCB Telehandler Transported on an RGN Trailer from Newnan to Augusta, GA
Hal Foster, a Heavy Haulers JCB equipment shipping expert, hauled this 29,000 pound JCB Telehandler intra-state in Georgia on an RGN trailer. He valuated the telehandler's 28 ft. length, its 8.9 ft. width and 8.3 ft. length and used the heavy capacity trailer to simplify its loading and conveyance. Within four and a half hours after it was picked up, the 2012 JCB 510-56 Telehandler was delivered safely in Augusta much to the client's relief.
Transport Specialist: Hal Foster
(772) 227-1564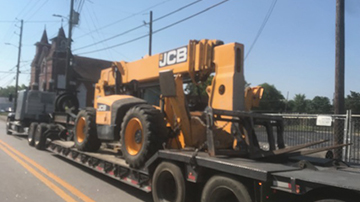 JCB Telehandler Hauled on an RGN Trailer
Shipping From: Newnan, GA 30265

Transporting To: Augusta, GA 30901

Specs: 2012 JCB 510-56; 28L X 8.3W X 8.9H; 29,000lbs

Transport Specialist: Hal Foster
(772) 227-1564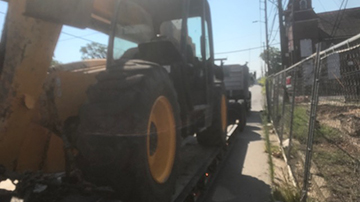 JCB Telehandler Shipped on an RGN Trailer
Shipping From: Newnan, GA 30265

Transporting To: Augusta, GA 30901

Specs: 2012 JCB 510-56; 28L X 8.3W X 8.9H; 29,000lbs

Transport Specialist: Hal Foster
(772) 227-1564
JCB Wheel Loader
Both the industrial and agricultural JCB wheel loaders are recognized globally. They are categorized from 6-tonne hydro static to 25-tonne quarrying machines using a mix of 4- and 6- cylinder diesel engines. For example, the JCB 409 has outstanding features making it unmatched on the wheel loaders efficiency list. It's highly productive with its increased payload and power. Other executive features improving the wheel loader's functionality are its articulated chassis, the 55.4 kW engine producing 300 Nm and its comfort for the user. The machine also has unmatched maneuverability due to its compact dimensions and low height over the cab joined to a pivot steer. More importantly, the JCB 409-wheel loader can work in buildings and limited spaces with the latest model reducing on the loads weight. Comprehensively, all JCB wheel loader models offer excellent services in whichever job site. This is because they are equipped with big torque, big power, powerful breakout forces, excellent traction and high power-to weight ratio. Heavy Haulers is your entrusted transportation partner for any of the JCB wheel loader models due to our knowledge and resources.
JCB Forklift
JCB introduced forklift trucks with a telescopic boom known as JCB Teletruk in 1997 . The design instead did not incorporate the vertical mast hence optimizing the site safety, yard space, saving on time and ultimately reducing cost. Heavy Haulers, we have the right resources to ship any JCB forklift models, anywhere any day.
JCB Hydraulic Excavator
The JCB hydraulic excavators have consistently been produced for four decades now. Inevitably, the quality and attention to details in their make has grown drastically. For instance, the JCB JS220 model of the hydraulic excavators weighing 22 tons is engineered perfectly in most ways. This is because it has unmatched productivity, strength, safety and comfort features. It also has a closed box section revolving frame which simultaneously reduces stress and increases strength. Another model of the JCB hydraulic excavators with equally advanced features is the JS131. It has fast cycle times, immensely productive across various applications. More to the advantage, the JCB JS131 has reduction in fuel consumption. It's equipped with dipper and boom ends to increase operator comfort, protection and prevent shock loading. All the JCB hydraulic excavators are fitted with mild mechanical systems that make them remarkable for use. They have reduced wearing parts by up to 50% and also not only easy to repair but also maintain.
JCB Integrated Tool Carrier
The JCB integrated tool carriers are a major necessity in the various work sites. These particular equipment incorporate multiple useful features that otherwise come in individual machines. These are the components that extend their versatility and usability. For instance, the JCB integrated tool carriers are fitted with buckets, brooms and blades and other quick-change attachments. All these tools make the JCB integrated tool carrier save on cost and ultimately increase on efficiency. These machines are seamlessly able to improve on productivity in all job sites they are employed to. Their notably improved tilt force through an entire lift cycle for load control, advanced lift height and quick coupler ensuring fast change of tools are some of the features adding on to their efficiency. The JCB integrated tool carrier models are easily handled for transportation. This is attributed not only to their structure in appearance but also for their weight giving them an advantage of seat well on trailers. Within our operation, we have shipped almost every JCB integrated tool carrier models..