Innovative Cable Tank Transport Solutions with Heavy Haulers
Heavy Haulers is an industry-seasoned heavy-equipment transportation company that provides unmatched cable tank hauling services to a wide range of consumers. From offshore wind-energy farms to submarine wire tanks, we can securely haul the prestressed tank and have it delivered to your operation site within the set time. Throughout our 10+ years of experience in the freight industry, we have invested in a range of equipment and a state-of-the-art fleet of trucks and trailers. We will make sure that the cable tank transport goes flawlessly, whether it is on a high-speed highway or a high-traffic city road.
We strive to create a comprehensive roster of shipping solutions. Our logistics agents work diligently to offer proven technological tools and new-age business practices to make sure you receive the best, client-focused shipment services.
Contact Our Expert Shipping Specialist's
(800) 908-6206
Custom-Made Cable Tank Hauling Services with Heavy Haulers
Cable tanks come in different sizes depending on the bending radius, tensional specifications, and stress requirements. Some weigh as much as 500 tons, while others reach an astonishing 1500 tons. That said, clients have individual needs when transporting a cable tank. Contact us today and talk to one of our representatives. S/he will gather the details about the freight – what is the size, where is the location, and where will the load be delivered? We will then customize our services to make sure that the cable-storage tank reaches the delivery area in the shape that you ordered it.
Cable tanks, also known as modular turntables, are used in the short- and long-term storage of middle and high-voltage cables. The wires are wound around the core of the tank with high adherence to specific parameters to make sure they remain functional and optimize their purpose. Our competent team of weight and loading professionals use appropriate equipment when lifting and positioning the cargo, therefore maintaining the quality of the tank. Call for a free shipping estimate! (800) 908-6206
Common Types of Cable Tanks Heavy Haulers Ship
Cable tanks offer functional storage systems for power cables. Industrial-level cable handlers can select from three main types of tanks. The common designs include:
• Umbilical Cable Tanks
• Flowline Cable Tanks
How to Haul a Cable Tank with Heavy Haulers
In order to haul a cable tank smoothly and successfully, you need the help of professionals with a worldwide network of live agents. Our team will help you with the paperwork and any other import regulations at the customs. However, it is advisable to be in contact with our agents for you to get accurate information on the documents to provide during the pick-up and clearance with the customs. We can make you a happy client today. Phone us at (800) 908-6206, and tell us about your shipment. We will then calculate the transportation fees, including how each route compared in terms of prices. Our professionals can also plan out the shortest path to the cargo-receiving destination to ensure efficient and timely delivery. We also welcome any questions that you may have concerning cable tank transportation. Our agents are knowledgeable and skilled in logistics matters. So give us a call and get started! (800) 908-6206
Common Trailer Types Available from Heavy Haulers
Heavy Haulers specializes in hauling heavy loads such as construction equipment, oil field rigging and Super Loads. We are wideload experts! We offer an extensive range of trailer choices, including:
Max Weight: 48,000 lbs. | Max Length 53 ft. | Max Width 8.5 ft. | Max Height 11 ft.




Max Weight: 45,000 lbs. | Max Length 29 ft. | Max Width 8.5 ft. | Max Height 11.5 ft.
Max Weight: 150,000+ lbs. | Main Deck Length 29 ft. | Well Width 8.5 ft. | Legal Height Limit 11.6 ft.




Max Weight: 48,000 lbs. | Max Length 53 ft. | Max Width 8.5 ft. | Max Height 8.5 ft.
HEAVYHAULERS.COM
START YOUR SHIPMENT TODAY!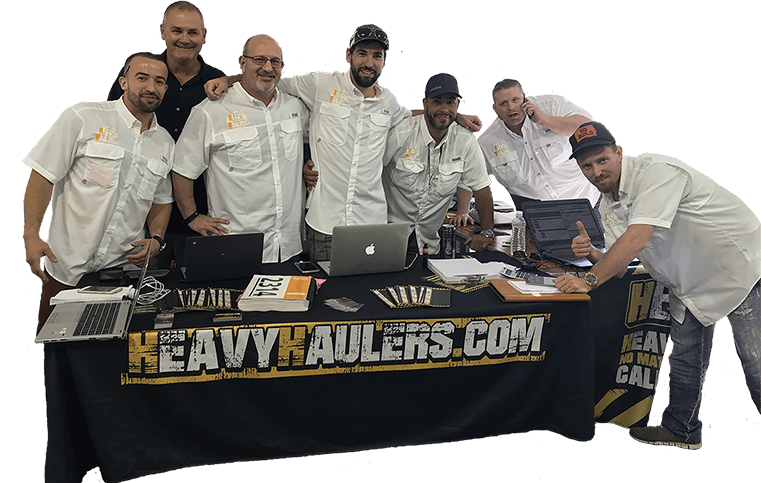 We Are Ready To Help You Haul Your Equipment!