Exceptional Modular Gas Plant Shipping
The use of modular equipment in manufacturing operation has become an emerging practice, termed to be more beneficial and viable than stick-built alternatives. Whether your methanol processing site is in California or you're running an asphalt-mixing location in Illinois or Texas, we will haul the modular gas plant to your intended destination on time and safely. We enjoy a low employee turnover and considering our 10-year experience, you can be sure to deal with qualified and professional staff.
Make a call to us and tell us the details about your modular gas plant shipment: Where will we pick it from, and where do you want it delivered? Once you give us this information, we will efficiently plan out the route and calculate the freight rates based on current market prices, of course, while helping you save. Call us now! (800) 908-6206
Contact Our Expert Shipping Specialist's
(800) 908-6206
We Handle Every Step of Modular Gas Plant Transportation
At Heavy Haulers, we highly regard competency and professionalism. We are here to alleviate your shipment concerns by taking care of every aspect of the freight. Not only do we organize for loading and offloading, but we also match the cargo with the appropriate transportation method. One of the significant limitations of transporting modular gas-processing equipment is the transportation restrictions set for such oversized, wide-load, and towering cargo. Our logistics experts will arrange police escorts and deploy pilot cars to ensure the haulage project moves smoothly. Furthermore, our industry-seasoned drivers are experienced in driving under any weather conditions.
A modular gas plant is a pre-engineered processing unit that is used to purify various types of gas produced from a gas or oil well. The purpose of purification is to condition the gas stream for safety and optimum purpose. Heavy Haulers has an excellent track record, providing unmatched modular gas plant shipments to both on- and off-shore oil exploration sites.
Common Types of Modular Gas Processing Plants We Ship
Oil drilling and gas refineries operations use different types of gas plants. The choice of the modular equipment depends on the gas under purification or the one to be removed. The most common ones include:
• Liquefied Petroleum Gas (LPG) Plants
• Natural Gas Liquids (NGL) Plants

• Nitrogen Rejection Units
• Helium Recovery and Liquefaction Plants
How to Ship a Modular Gas Plant with Heavy Haulers
One good thing about Heavy Haulers, we will take care of your modular gas plant loading and unloading. We will deliver it from your old location to your desired destination. What's more, we will ensure your modular gas plant against damage that might happen during the delivery. For inland pick-up, Heavy Haulers will ensure you have peace of mind by taking responsibility for damage from you and the burden of organizing the delivery by yourself. We will also help in taking care of the documents so that you don't have to keep checking documents. Our team is familiar with all customs procedures, and taking care of paperwork won't be a problem for us.
The only means toward receiving our comprehensive freight and shipping solutions is to get in touch with your state-based Heavy Haulers branch. Each of our locations has a professional logistics team that will tailor the hauling services to satisfy your unique wants and needs. We will examine the specifications of the cargo and used the right loading method. We have cranes and other work-specific tools to make sure the load is securely hoisted and positioned on the trailer. We can also organize for offloading services, backed up with a secondary contingency cargo insurance, making sure nothing about the freight goes awry.
Common Trailer Types Available from Heavy Haulers
Heavy Haulers specializes in hauling heavy loads such as construction equipment, oil field rigging and Super Loads. We are wideload experts! We offer an extensive range of trailer choices, including:
Max Weight: 48,000 lbs. | Max Length 53 ft. | Max Width 8.5 ft. | Max Height 11 ft.




Max Weight: 45,000 lbs. | Max Length 29 ft. | Max Width 8.5 ft. | Max Height 11.5 ft.
Max Weight: 150,000+ lbs. | Main Deck Length 29 ft. | Well Width 8.5 ft. | Legal Height Limit 11.6 ft.




Max Weight: 48,000 lbs. | Max Length 53 ft. | Max Width 8.5 ft. | Max Height 8.5 ft.
HEAVYHAULERS.COM
START YOUR SHIPMENT TODAY!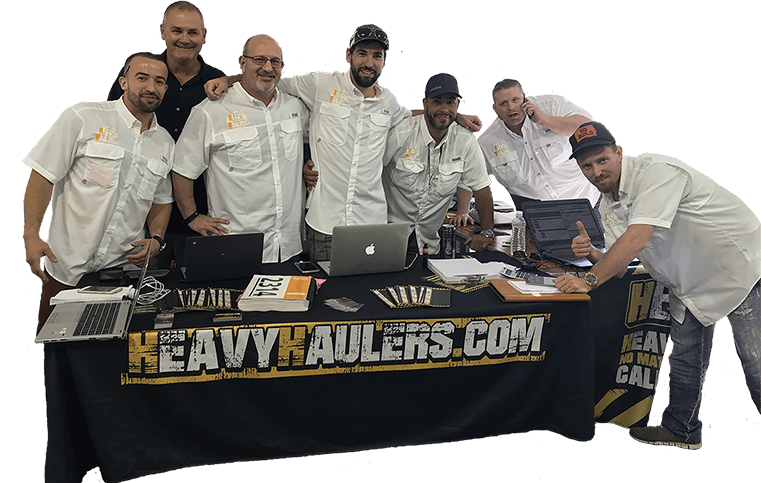 We Are Ready To Help You Haul Your Equipment!