Exemplary Shipping Services for Weight Lifting Equipment
Efficient transporting of your weight lifting equipment demands a professional hauling company for your utmost comfort and convenience. At Heavy Haulers, we take pride in our clients' confidence in our professionalism and expertise in transporting their weight lifting equipment. When you choose Heavy Haulers, we guarantee you hassle-free shipping service. We handle everything encompassing picking, hauling, and safe delivery of your heavy lifting equipment within the specified timelines.
After decades of experience in transporting heavy lifting equipment, Heavy Haulers has outshined its competitors in providing high-end services. Additionally, we pay keen attention to clients' shipping directives and specifications, including addresses to eliminate cases of wrong deliveries. We are tireless in making your transport vision and expectation a reality. On this ground, you can remain comfortable as Heavy Haulers transport your heavy lifting machinery to your specified destination, disturbing your daily life to the least. Let's get started! (800) 908-6206
Contact Our Expert Shipping Specialist's
(800) 908-6206
International and Domestic Weight Lifting Equipment Towing
When it comes to shipping and trucking your weight lifting equipment across distance and terrains, Heavy Haulers remains unchallenged. We extend our shipping services across all states in North America and also over to Canada and Mexico. Regardless of how challenging you think shipping your weight lifting equipment is, you can never go wrong with Heavy Haulers. We aim our logistics in facilitating profound customer satisfaction to our clients across regions.
Weight lifting equipment includes just about any piece of equipment that is free or attached to a stationary object designed for aerobics, strength building, or both. A weight lifting equipment works to improve the efficiency, strength, flexibility, muscle building, and endurance levels of various parts of the body. They include cable machines, weight benches, dumbbells, pull-up bars, among others. When moving such equipment in bulk, you need to work with a hauling company that has the experience, modern handling and trucking equipment, and seasoned professionals who are ready to ship your gym equipment from one state in North America to another one or to Mexico and Canada.Call for a free shipping estimate! (800) 908-6206
Various Heavy Lifting Equipment Transported at Heavy Haulers
At Heavy Haulers, transportation is our specialty, and thus, we offer numerous heavy lifting equipment based on the clients' needs and the nature of the load. Whether the load weights 5000 or 25000 Ibs, we have the right machinery and personnel best suited for the task. They include;
● Free Weights Such as Dumbbells, Barbells, Kettlebells, and Sandbags
● Convertible Ab Wheel Rollers
● Cardio Fitness Trampolines
● Dip Stands
● Multi-Gyms
● Treadmills
● Cable Machines
● Power and Squat Racks
● Single Stations
● Weight Benches, and many more
How to Ship Heavy Lifting Equipment with Heavy Haulers
At Heavy Haulers, we are licensed and insured to traverse far and wide and provide you with state-of-the-art heavy lifting equipment. Satisfying our clients is our most #1 priority. On that, and we maintain the highest standards of excellence for services beyond their expectations. Our team of professionals involves experts who are experienced, dedicated, and enthusiastic in providing top-notch transport services to clients across the world.
We handle your heavy lifting equipment with great care like they are our own. Besides, we save you the struggle of the daunting paperwork involved in acquiring shipping permits, especially across borders. To enjoy our premium shipping services, all you need to is to make a simple phone call and our world-class customer representatives will give you a free no-obligation quote and take through all the steps that it will take our tuckers to pick the equipment and drop them at your doorstep. Call now! (800) 908-6206
Looking For Transport
With a Specific Trailer?

Max Weight: 150,000+ lbs. | Main Deck Length 29 ft.
| Well Width 8.5 ft. | Legal Height Limit 11.6 ft.

Max Weight: 48,000 lbs. | Max Length 53 ft.
| Max Width 8.5 ft. | Max Height 8.5 ft.
Max Weight: 48,000 lbs. Max Length 53 ft. |
Max Width 8.5 ft. | Max Height 11 ft.
Max Weight: 45,000 lbs. | Max Length 29 ft.
| Max Width 8.5 ft. | Max Height 11.5 ft.
HEAVYHAULERS.COM
START YOUR SHIPMENT TODAY!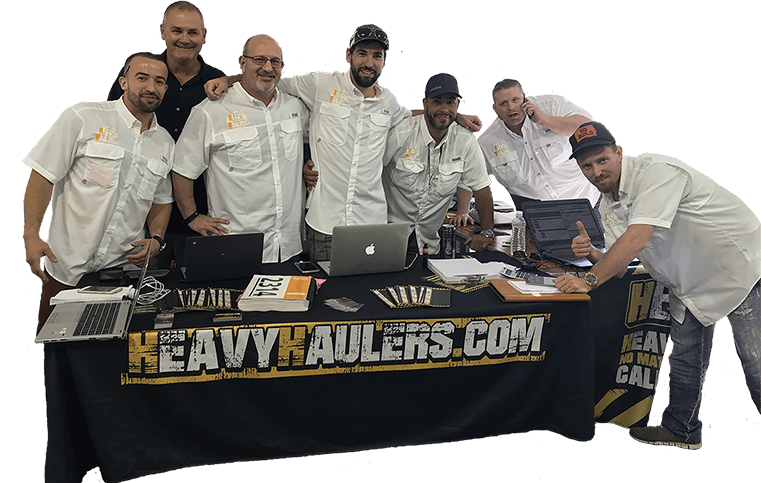 We Are Ready To Help You Haul Your Equipment!
Common Equipment Heavy Haulers Transports
Trust Heavy Haulers to transport any brand of equipment you own. Most of our drivers are experienced heavy-machinery operators who can safely maneuver your loads aboard our trailers. Some of the brands we have shipped include:
See what you need?
Call us for a FREE Shipping Estimate at (800) 908-6206