Shipping a Golf Cart with Affordable Pricing!
At Heavy Haulers, we can ship a golf cart to any major city, county, or state in the U.S. We also haul golf carts overseas to various countries. We're licensed, bonded, and insured for golf cart transport, and our professional golf cart shipping service will get your golf cart to its next destination with minimal fuss. Whether it's new or used, you can expect our licensed, bonded, and insured staff to handle it with care. We find the best pricing to ship your golf cart, whether it's just one or an entire fleet.
At Heavy Haulers we provide reliable and efficient golf cart shipping solutions. We follow all safety protocols to ensure your golf cart is received in the same condition it left your care. We believe it's vital to source professionals that know how to handle the equipment we're transporting. That's why, at Heavy Haulers, we'll provide you with local experts who know their way around a golf cart and will treat your vehicle with respect. Call for a free shipping estimate! (800) 908-6206
Contact Our Expert Shipping Specialist's
(800) 908-6206
Customized Golf Cart Transport Solutions
We know that golf carts are integral to a great golfing experience. Whether you're traversing golf courses in Florida or Arizona, a golf cart makes the experience that much more enjoyable. From turf maintenance to golf caddy transport, specialized carts are useful for a variety of golf resort tasks. Most commonly, we handle four-wheel golf cart shipping from major brands, typically suited to carrying golfers and their equipment, but we can also handle customized golf cart transportation.
Whether it's a fleet of golf carts, or just one, we can transport it. Traveling to a new resort or your favorite course has never been easier than with Heavy Haulers. We provide a seamless door-to-door golf cart shipping service that can pick up from your home, golf resort, or storage location. You can choose between open and enclosed golf cart transport services, and customize your golf cart shipping request to include load tracking or additional features. Let's get started! (800) 908-6206
Common Golf Carts We Transport
• Club Car Precedent
• Club Car Tempo
• Club Car Onward
• Columbia ParCar Legacy Eagles
• EZ Go RXV
• EZ Go TXT

• Garia Golf
• Garia Via
• Star Electric Sirius
• Star Electric XP
• Star Electric XPR
• Yamaha Drive
• Yamaha UMAX
How to Ship a Golf Cart with Heavy Haulers
Shipping a brand new, vintage, or expensive golf cart requires a golf cart shipping company you can trust to handle it effectively. With Heavy Haulers, you can select between a range of golf cart shipping services or a customized shipment. We will safely deliver your golf cart to its end destination on your specified date, handling any additional paperwork and associated route planning tasks. Our golf cart transporters are professional, trustworthy, and courteous, handling the loading and offloading for you at either end of the journey. Call for a free shipping estimate now! (800) 908-6206
Looking For Transport
With a Specific Trailer?

Max Weight: 150,000+ lbs. | Main Deck Length 29 ft.
| Well Width 8.5 ft. | Legal Height Limit 11.6 ft.

Max Weight: 48,000 lbs. | Max Length 53 ft.
| Max Width 8.5 ft. | Max Height 8.5 ft.
Max Weight: 48,000 lbs. Max Length 53 ft. |
Max Width 8.5 ft. | Max Height 11 ft.
Max Weight: 45,000 lbs. | Max Length 29 ft.
| Max Width 8.5 ft. | Max Height 11.5 ft.
HEAVYHAULERS.COM
START YOUR SHIPMENT TODAY!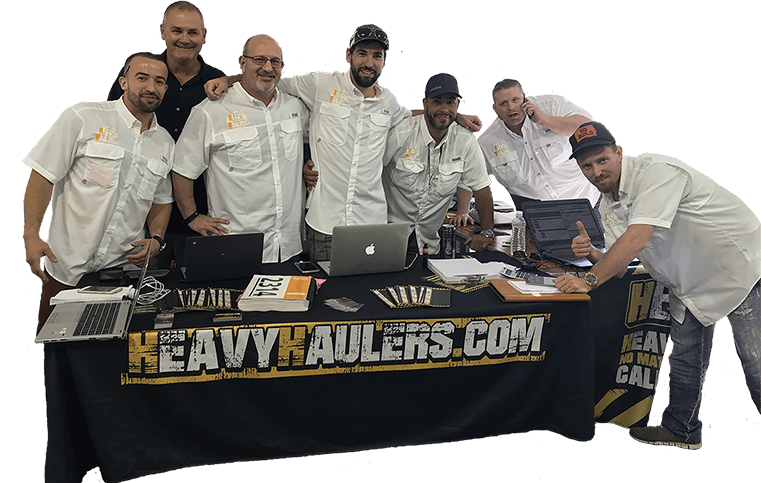 We Are Ready To Help You Haul Your Equipment!
See what you need?
Call us for a FREE Shipping Estimate at (800) 908-6206