First-Rate Temporary Elevator Shipping
Whether you want to ship a temporary elevator for use in your construction site or as a back-up lift for an out-of-order building elevator, Heavy Haulers can professionally handle the transportation. We've established a solid market niche over the 10+ years that we have been in the freight and shipment industry, helping clients to transport a temporary elevator.
Whichever state you operate in; you can experience our unmatched heavy-equipment shipping services. We have branches in over 50 US states with logistics professionals who are up for the challenge. They will answer any questions you have and clarify any issues when need be to ensure you receive tailor-made services that satisfy your temporary elevator transportation needs. The company has enjoyed steady business relationships with other international freight and shipment agents. We are proud to expend our superior freight and hauling services to clients in Canada, Mexico, and other international destinations. Call now for a free shipping estimate! (800) 908-6206
Contact Our Expert Shipping Specialist's
(800) 908-6206
Unbeatable Temporary Elevator Transport Services
At Heavy Haulers, we highly regard consumer satisfaction. That's why we will listen to your unique needs to make sure we leave you feeling happy. The shipping of your temporary elevator is our problem as much as it is yours, and we will take care of it. Our logistics specialist will organize temporary warehousing for pre-shipping security. We'll then plan out a route and find low-toll motorways to ensure you receive cost-effective transportation with no lowballs. We have an extensive fleet of trucks and experienced drivers who are not only experienced in long-haul shipments but also understand how to operate the equipment.
A temporary elevator, also known as a man-lift or rack-n-pinion hoist, is used to transport people and materials vertically in an efficient and safe manner. These elevators feature a single- or double-car design and on a tower section between different levels of a structure. Heavy Haulers will transport this to your next job site with ease. We understand the importance of your equipment and transport with care.
Common Types of Temporary Elevators We Ship
● General Construction Lifts
● Industrial Hoists
● Material-Only Elevators
● Transport Platforms
>
● Personnel-And-Material Hoists
How to Transport a Temporary Elevator with Heavy Haulers
Heavy Haulers logistics and transportation professionals will approach each hauling project separately and differently. We have the appropriate equipment and tools to carefully hoist the elevator onto a trailer and position it securely to alleviate any cases of load shifting. We will find a trailer with sturdy wheel and axle systems to transport a temporary elevator safely and securely. Our industry-seasoned drivers have plied many northern motorways and know what to do during snow or when traversing various terrains to make sure the cargo gets to the intended receiving location in one piece. Call now! (800) 908-6206
Looking For Transport
With a Specific Trailer?

Max Weight: 150,000+ lbs. | Main Deck Length 29 ft.
| Well Width 8.5 ft. | Legal Height Limit 11.6 ft.

Max Weight: 48,000 lbs. | Max Length 53 ft.
| Max Width 8.5 ft. | Max Height 8.5 ft.
Max Weight: 48,000 lbs. Max Length 53 ft. |
Max Width 8.5 ft. | Max Height 11 ft.
Max Weight: 45,000 lbs. | Max Length 29 ft.
| Max Width 8.5 ft. | Max Height 11.5 ft.
HEAVYHAULERS.COM
START YOUR SHIPMENT TODAY!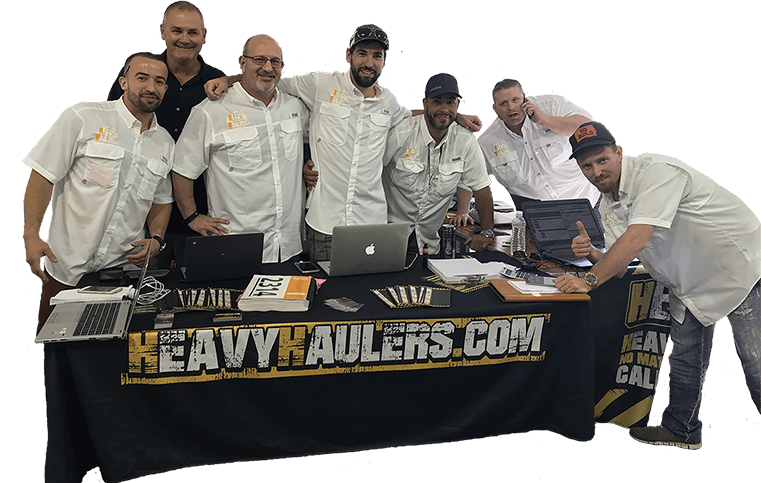 We Are Ready To Help You Haul Your Equipment!
Common Equipment Heavy Haulers Transports
Trust Heavy Haulers to transport any brand of equipment you own. Most of our drivers are experienced heavy-machinery operators who can safely maneuver your loads aboard our trailers. Some of the brands we have shipped include:
See what you need?
Call us for a FREE Shipping Estimate at (800) 908-6206