Comprehensive Domestic and International Submersible Shipping
Whether you need to move your submarine vessel locally or ship it internationally, we can make it happen. We offer port-to-port shipping and can help to obtain all the necessary paperwork for domestic and international submersible travel. The Heavy Haulers oversized submersible shipping service has been available for more than a decade, and we have extensive experience transporting submarines of all sizes. We're a domestic and international submersible shipping company that you can trust to deliver your submersible safely.
We know what it takes to provide a comprehensive service, and will bundle all relevant Heavy Haulers submersible transport services into one easy to manage payment for you. Whether you need a customized trailer for your submersible transport, load tracking, expedited delivery, or assistance loading, and unloading, we can craft the right submersible shipping service package for you. When we collect your submersible, we'll comprehensively document its condition, handling it carefully, securing, and properly rating the cargo before it leaves your premises. Our logistics professionals will pre-determine the safest and quickest transport route, and you can follow your submersible's journey through GPS alerts. Call now for a free shipping estimate! (800) 908-6206
Contact Our Expert Shipping Specialist's
(800) 908-6206
Experienced Submersible Transport Professionals
Using the knowledge that we've gained from many years of heavy equipment haulage, the team at Heavy Haulers has the right qualifications, skill, and attention to detail that will help us to ship your expensive submersible safely. Drivers at Heavy Haulers are fully insured, bonded, and qualified submersible transport experts. Heavy Haulers will provide you with an expert driver who knows the nuances associated with submersible haulage. We're capable of military submarine haulage, personal submarine transport, and transporting replica submersible vessels for display-only purposes.
We know submersibles – from large AUVs and ROVs to diving bells and antique bathyspheres, we have the resources available to provide you with professional shipping, handling, and domestic or international transportation coordination. Modern submarines are typically made from steel or titanium, and the largest has a displaced weight of up to 48,000 tons.
Types of Submersibles Shipped by Heavy Haulers
• Bathysphere
• Benthosphere
• Diving chambers
• Diving Bells
• AOVs
• ROVs
• Semi-submersibles
• Deep Submergence

• Mini Submersibles
• Recreational submersibles
• Ohio class
• Seawolf-class
• Mine neutralization vehicles
• Blackghost AUVs
• Pluto Plus AUVs
• Hobby AUVs
How to Ship a Submersible
To transport such heavy, specialized equipment, you need a submersible haulage company that you can trust to handle the unique set of challenges associated with its transport. Submersible shipping services from Heavy Haulers can be discussed with any of our office staff by phone or online. Taking into account your requirements, we'll tailor a transport package, providing route planning, customized trailers and lift techniques, port-to-port shipping, hauling to and from storage, and submersible shipping personnel to handle all aspects of the journey.
Bathysphere
The Bathysphere is a unique, spherical deep-sea submersible designed by Otis Barton that has no internal power. Instead, it's lowered into the ocean by a cable. Most famously used to conduct dives off the coast of Bermuda in the 1930s. Watson Stillman Hydraulic Machinery Company handled the casting of the original steel Bathysphere, but other manufacturers have cast reproductions.
Benthosocope
Designed by the same engineer, the Benthoscope was similar to the Bathysphere. It was built to withstand higher pressure and has been used on record-breaking solo descents to 4,500ft, rather than the 3,000 ft depth of the original Bathysphere. The internal diameter was 1.4m, and it had a wall thickness of 44.5mm.
Deep Submergence Vehicles
Deep Submergence Vehicles are deep-diving crewed submarines that use self-propulsion. Commonly divided into two types: research and rescue vehicles. Research vehicles are used for ocean surveying and exploration, while rescue vehicles are often used to rescue crews of sunken submarines or for installing undersea cables and wiretaps.
Diving Bell
Diving bells are one of the earliest forms of underwater exploration equipment. In modern diving bells, air overpressure and fresh air are supplied through pipes and air pump, filling the rigid chamber with a breathable atmosphere. The most common types are the closed bell and the open bottom wet bell.
Diving Chamber
A diving chamber is typically a small underwater vessel used for sole human occupation. Hyperbaric diving chambers have an entrance that can be sealed to hold internal pressures higher than the ambient, using a pressurized gas system. It can be used for diver training, therapeutic recompression, surface decompression, and saturation diving.
Mini Submarine
Mini submarines are categorized as underwater vehicles that weigh less than 150 tons. Typically operated by one or two crew members, but can hold up to nine people. Little to no onboard accommodation is provided, as they generally partner with larger submersibles that house living accommodation and support staff.
ROV
Remotely operated vehicles are tethered underwater devices that are typically operated from nearby floating platforms, ships, or land. They're unoccupied vessels used extensively in deepwater industries, including hydrocarbon extraction, sub-sea development, and sub-sea repair. Most ROVs are equipped with lights and video cameras.
AUV
AUVs are autonomous vehicles that travel underwater without being controlled by an operator like an ROV. Vehicles range in size from portable AUVs to 10m length. Many roboticists build AUVs as a hobby, but they are also widely used in commercial, research, wreckage investigations, and military applications.
Semi-Submersible
In 1961, the first semi-submersible vessel was launched by the Blue Water Drilling Company. Semi-submarines are vessels that are capable of diving but cannot fully submerge. Similar in design to a ship, the passenger cabin is usually a few meters below sea level and has large windows that allow observation of the marine environment during the passage.
Personal Submarines
Personal submarines are usually constructed for recreational use. However, they also have some military applications. Widely use in tourism, watersports, and rescue, personal submarines vary in size and diving depth capability. Some may house over 30 people and can submerge for several weeks, while others are built to house just one occupant.
Common Trailer Types Available from Heavy Haulers
Heavy Haulers specializes in hauling heavy loads such as construction equipment, oil field rigging and Super Loads. We are wideload experts! We offer an extensive range of trailer choices, including:
Max Weight: 48,000 lbs. | Max Length 53 ft. | Max Width 8.5 ft. | Max Height 11 ft.




Max Weight: 45,000 lbs. | Max Length 29 ft. | Max Width 8.5 ft. | Max Height 11.5 ft.
Max Weight: 150,000+ lbs. | Main Deck Length 29 ft. | Well Width 8.5 ft. | Legal Height Limit 11.6 ft.




Max Weight: 48,000 lbs. | Max Length 53 ft. | Max Width 8.5 ft. | Max Height 8.5 ft.
HEAVYHAULERS.COM
START YOUR SHIPMENT TODAY!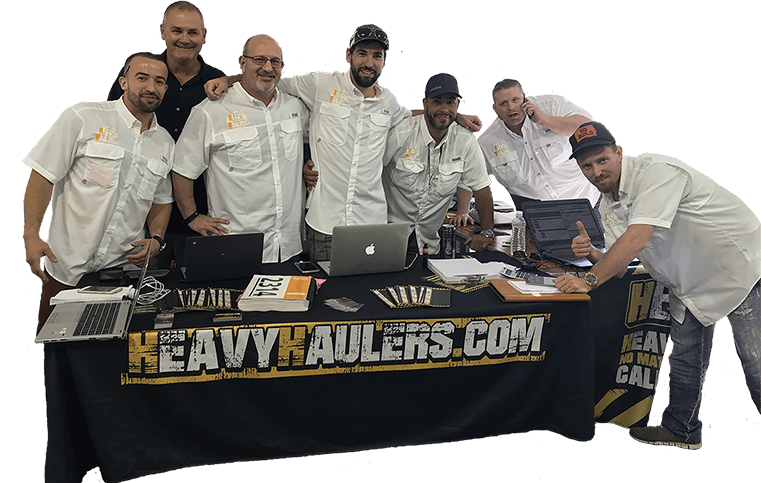 We Are Ready To Help You Haul Your Equipment!
See what you need?
Call us for a FREE Shipping Estimate at (800) 908-6206