Affordable and Versatile Anvils Shipping Solutions
Engineers commonly use anvils as a forging equipment. When you need to move anvils, get in touch with Heavy Haulers. Thanks to our excellent team of logistics, we can create the plan to haul your heavy equipment in the shortest time possible and start the shipping journey sooner than you expected. Our experience in shipping anvils is vast (over ten years), and we know all about guaranteeing safe and timely hauling services.
All Heavy Haulers' anvil hauling services are insured. The least of our desires is for you to worry yourself sick back at home as you wonder about what would happen if there were an accident. We also offer reliable shipment tracking services so that you can know your cargo's location while you await us. Call now and let's get started! (800) 908-6206
Contact Our Expert Shipping Specialist's
(800) 908-6206
Cost-Effective Anvil Hauling with Heavy Haulers
Anvil moving experts at Heavy Haulers are willing to move your heavy equipment for you at an affordable rate. When figuring out the best costs to charge you, Heavy Haulers considers factors like the number of anvils to be shipped, the dimensions of each as well as the distance to be covered from the pick-up to the unloading location. Our professionals will give you a free shipping quote as soon as you call us, giving you ample time to plan your funds.
An anvil is popular metalworking equipment that has a flat top surface and a large metal block that can weigh up-to 800 tons. The weight of the anvils is usually marked in 3 numbers representing short and long hundredweights. For example, an anvil that marked as 8-6-9 would be 8×112 lb. + 6×28 lb. + 6 lb. = 1070 lb. ≈ 485 kilos. When you are using an anvil, you have to put the machinery on a sturdy base that has been made using an intact and fire-resistant material. The market is full of different types of anvils whose designs are meant to meet the needs of different smiths. Call now for a free shipping estimate! (800) 908-6206
Common Types of Anvils Heavy Haulers Transports
• Cliff Carroll Anvils


• Delta Anvils


• GE Anvils


• Swan Anvils


• NC Anvils


How to Ship Anvils with Heavy Haulers
Call Heavy Haulers and let us enlighten you on our anvil shipping procedures. Our experts will guide you through the process, step by step, so that you are aware of the routes we will use to get to the anvils' destination. With our notification services, you will know when to expect us, and you can prepare for our delivery early in advance.
To guarantee smooth shipping, Heavy Haulers must obtain the necessary documents and escorts to move your anvils. Additionally, all our drivers are licensed and highly trained professional, plus will also help you unload and store the anvils once we arrive at your location. Let's get started! (800) 908-6206
Common Trailer Types Available from Heavy Haulers
Heavy Haulers specializes in hauling heavy loads such as construction equipment, oil field rigging and Super Loads. We are wideload experts! We offer an extensive range of trailer choices, including:
Max Weight: 48,000 lbs. | Max Length 53 ft. | Max Width 8.5 ft. | Max Height 11 ft.




Max Weight: 45,000 lbs. | Max Length 29 ft. | Max Width 8.5 ft. | Max Height 11.5 ft.
Max Weight: 150,000+ lbs. | Main Deck Length 29 ft. | Well Width 8.5 ft. | Legal Height Limit 11.6 ft.




Max Weight: 48,000 lbs. | Max Length 53 ft. | Max Width 8.5 ft. | Max Height 8.5 ft.
HEAVYHAULERS.COM
START YOUR SHIPMENT TODAY!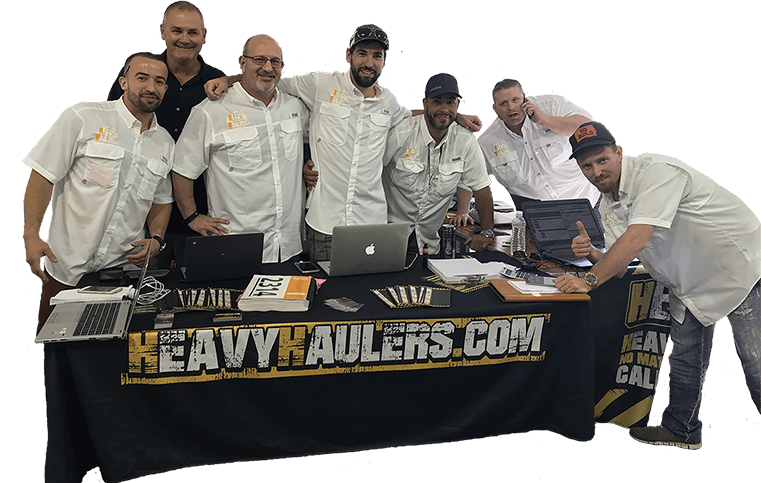 We Are Ready To Help You Haul Your Equipment!
See what you need?
Call us for a FREE Shipping Estimate at (800) 908-6206