Safe and Secure Wood Shop Equipment Transport
Are you relocating your wood shop or planning on investing in woodworking equipment for your economic pursuits? We know that transporting the machine to your desired delivery destination is a top priority in your to-do list, and we are here to alleviate your transportation needs. Heavy Haulers has a team of dedicated logistics specialists who jump right into your shipping consignment once you contact them.
With Heavy Haulers, you know that your wood shop equipment transport will flow smoothly and safely. We do everything in our power to ensure that your cargo is shipped securely. We don't merely recruit drivers, we search for trained, licensed, and insured professionals who've plied many northern routes, transporting heavy equipment to our clients in the continental US. Call now! (800) 908-6206
Contact Our Expert Shipping Specialist's
(800) 908-6206
Helping Achieve Affordable Wood Shop Equipment Hauling Services
After splurging a significant amount of money on the purchase of your woodworking machinery and tools, the last thing you want is your potential shipping company bombarding you with exaggerated shipping quotes. That's not in our DNA. We demonstrate integrity and transparency when calculating the estimate. That's why we bring you onboard, taking you through each stage of the shipping process and how and why a particular amount of money will be used. Our job is not to fleece you with upfront-payment requests or lowball our services to win your business. Instead, we pledge to help you save cash whenever possible and look for the shortest routes with the lowest toll fees.
As a leading shipping company in North America, Heavy Haulers leverages its success in providing consumer-first transport solutions, helping clients to move all types of pieces of woodworking machinery. That's why we will listen to all your needs and expectations. Our team of logistics professionals is ready to tailor our shipping solutions to meet your needs. Besides, we have branches in over 50 states. Whether you want us to ship your cargo within your state or cross-country, you can trust us to coordinate it. Let's get started! (800) 908-6206
Types of Wood Shop Equipment We Ship
Wood working professionals rely on a wide range of equipment and hand-held tools to perform their work. As a wood shop owner, you can task us with the transportation of whatever equipment you need, including:
● Circular Saws
● Jigsaws
● Power drills
● Random orbit sanders
● Compound miter saw
● Table saws
● Hammers
● Routers
● Bench grinders
● Bandsaws
● Nail guns
● Chainsaws
● Rotary tool
● Combination machines
How to Transport Wood Shop Equipment with Heavy Haulers
Wood working machinery and tools come in all types of sizes and dimensions. However, most are partial loads and hand-held tools that can be transported in crates and pallets. Our professionals can set up the necessary loading rigs and machinery, such as ramps and forklifts. The cargo is loaded in a standard shipping container, complete with dunnage to prevent vibrations and shocks that may lead to equipment damage. The transportation is done by a qualified and seasoned driver who can guarantee safe shipping. Call today! (800) 908-6206
Looking For Transport
With a Specific Trailer?

Max Weight: 150,000+ lbs. | Main Deck Length 29 ft.
| Well Width 8.5 ft. | Legal Height Limit 11.6 ft.

Max Weight: 48,000 lbs. | Max Length 53 ft.
| Max Width 8.5 ft. | Max Height 8.5 ft.
Max Weight: 48,000 lbs. Max Length 53 ft. |
Max Width 8.5 ft. | Max Height 11 ft.
Max Weight: 45,000 lbs. | Max Length 29 ft.
| Max Width 8.5 ft. | Max Height 11.5 ft.
HEAVYHAULERS.COM
START YOUR SHIPMENT TODAY!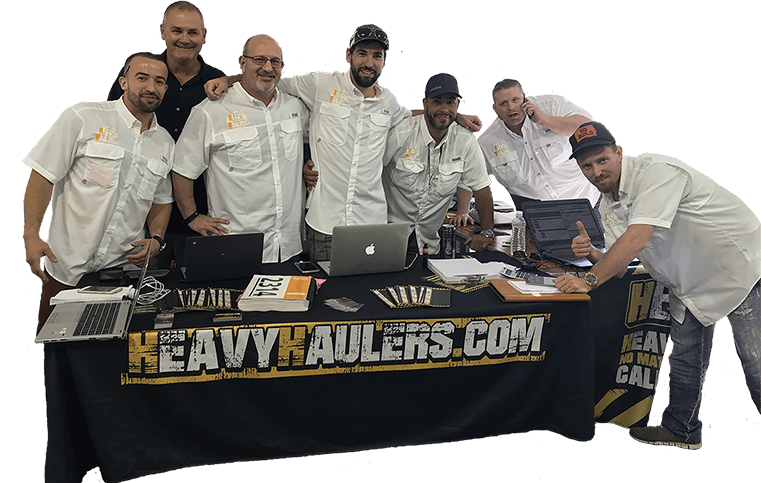 We Are Ready To Help You Haul Your Equipment!
Common Equipment Heavy Haulers Transports
Trust Heavy Haulers to transport any brand of equipment you own. Most of our drivers are experienced heavy-machinery operators who can safely maneuver your loads aboard our trailers. Some of the brands we have shipped include:
See what you need?
Call us for a FREE Shipping Estimate at (800) 908-6206