Heavy Haulers Offers Mobile Command Center Shipping in all 50 States
Police departments, County Sheriffs, emergency response teams, tactical response units, and even utility providers utilize mobile command centers. Rely on Heavy Haulers to transport a mobile command center, and you'll get access to a nationwide network that's ready to move your unit to its next destination ASAP. While often equipped for road transport, mobile command center shipping services will help you to save on wear-and-tear of your vehicle so that it remains in great shape for when you need it most.
Transporting mobile command centers is a service that we're proud to provide on a nationwide scale. We can even ship to Canada, Mexico, and further afield if you need us to! Mobile command center haulers chosen by our dedicated logistics experts are highly trained, professional, accredited, and insured to provide a comprehensive range of mobile command center transport services both in and around the United States. Our seamless door-to-door service crosses borders safely, in good time. Let's get started! (800) 908-6206
Contact Our Expert Shipping Specialist's
(800) 908-6206
We're Dedicated to Providing Customizable Mobile Command Center Transport
Center Transport Whether it's a rapid response unit dedicated to flood management or a tactical unit used by the police, we can haul it. We know that shipping a mobile command center requires more than just a one-size-fits-all approach, due to the highly customizable, often expensive nature, and importance in police, army, and emergency service operations.
That's why we're committed to providing a safe, secure mobile command center haulage service, no matter what type of mobile command center shipping service you require. We'll craft a personalized service any time that you need one!
Our national network of haulers, who are insured to provide door-to-door shipping and expedited mobile command center transport services, ensure that when the time comes, we're ready to offer a quick, comprehensive service to you. We have a large, sophisticated fleet of trailers, including flatbeds, RGN, extended trailers, and enclosed transport options. When it comes to mobile command center transportation, no one is better equipped to handle it than the Heavy Haulers mobile command center shipping team.
Common Types of Mobile Command Center:
● Police Department Mobile Center
● Sheriff Department Mobile Center
● BCFS Mobile Center
● Emergency Management Vehicle
● Incident Command Vehicle
● Gulf Power Mobile Command
● DPS Command
● Fire Department Command Center
● Rehabilitation Vehicles
● Rapid Deployment Vehicles
● Turnkey Command Center
● Air Force Base Mobile Command Trailer
●Motor Vehicle Commission Mobile Center
How to Ship a Mobile Command Center
Our staff is trained to provide quick, accurate assessments of your command center transportation requirements, and organize the fastest, safest shipping routes to get your command center to its next stop. We're always happy to come up with a tailored mobile command center shipping service that meets your mobile command center's haulage budget. With the Heavy Haulers team, you can depend on us to provide a fully comprehensive shipping service that handles every aspect of shipping. Contact us for a fast, detailed quote to get started today! (800) 908-6206
Looking For Transport
With a Specific Trailer?

Max Weight: 150,000+ lbs. | Main Deck Length 29 ft.
| Well Width 8.5 ft. | Legal Height Limit 11.6 ft.

Max Weight: 48,000 lbs. | Max Length 53 ft.
| Max Width 8.5 ft. | Max Height 8.5 ft.
Max Weight: 48,000 lbs. Max Length 53 ft. |
Max Width 8.5 ft. | Max Height 11 ft.
Max Weight: 45,000 lbs. | Max Length 29 ft.
| Max Width 8.5 ft. | Max Height 11.5 ft.
HEAVYHAULERS.COM
START YOUR SHIPMENT TODAY!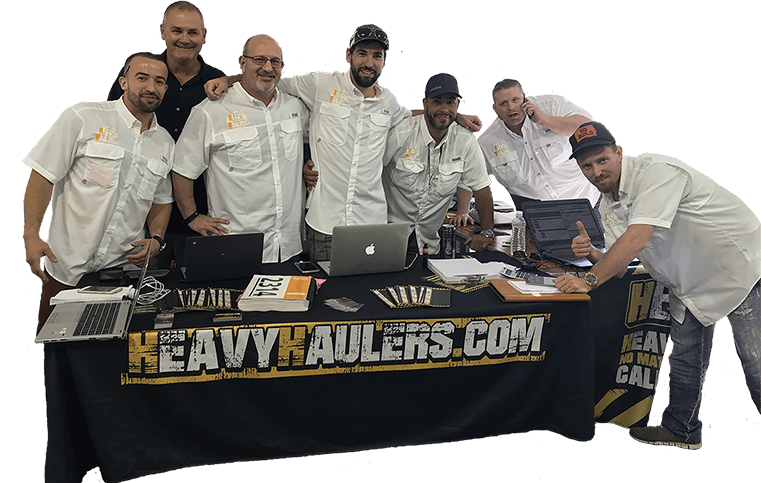 We Are Ready To Help You Haul Your Equipment!
Common Equipment Heavy Haulers Transports
Trust Heavy Haulers to transport any brand of equipment you own. Most of our drivers are experienced heavy-machinery operators who can safely maneuver your loads aboard our trailers. Some of the brands we have shipped include:
See what you need?
Call us for a FREE Shipping Estimate at (800) 908-6206