Heavy Haulers Provides the Best Silo Shipping Services
At Heavy Haulers, we provide you with more than a silo shipping service; we give you a lifetime experience. Our customer service is the foundation and the heart of our silo shipping business. When you make the wise decision to transport your silo with Heavy Haulers, you are guaranteed of exceptional transportation service that leaves you feeling respected, appreciated, and looking forward towards our next business together.
At Heavy Haulers, we strive to understand your silo shipping needs and deliver according, or beyond your expectations. We are currently the transport behemoth in silos due to our respect for different states regulations, timely delivery, exemplary quality of work, and the provision of innovative silo transportation solutions for unmatched service. Heavy Haulers will ship your silo from the manufacturer to your local point anywhere in America. We will even transport a silo across the border to Mexico and Canada! At Heavy Haulers, we remain committed to providing you with the best transport services for your silo.
Contact Our Expert Shipping Specialist's
(800) 908-6206
Transport a Silo with Ease When You Call Heavy Haulers
Due to a silo's diameter and length as well as the increased need for stability, it is important for one to find the most suitable and reliable silo transporting services. At Heavy Haulers, we not only have a range of specialized equipment but are also equipped with a vast experience in silo transporting services. Therefore, we are able to easily and effectively customize the transportation of silos to meet the unique needs of different clients.
A silo is a large structure that is commonly used in the storage of bulk materials. Silos are largely used for agricultural purposes such as the storage of silage, grains, and carbon black among other materials and products. Shipping a silo may be tasking due to the logistics involved. Not for Heavy Haulers, though. We have hauled and transported silos and other similarly large consignments for years. If you ship a silo with us, you sign up to having your silo transported with ease all through.
Common Silos Heavy Haulers Transport
• Bag Silos
• Bunker Silos
• Low-Oxygen Tower Silos

• Tower Silos
• Concrete Stave silos
How to Ship a Silo with Heavy Haulers
At Heavy Haulers, we offer a comprehensive silo transport coverage all through the United States. We are known to make sure that we meticulously deliver on the promises we make to all our clients. We make sure to provide you with the best silo shipping service while giving you the best possible budget terms. At Heavy Haulers, we communicate clearly and promptly with our clients to maintain their trust in our services. We deliver to anyone as well as to any corner in the United States. If you need your silo shipped to the remotest part of your state, you can count on Heavy Haulers. For all your silo needs and enquiries, please reach us on (800) 908-6206.
Common Engines Heavy Haulers Transports
Tower Silos
Tower silos are usually cylindrical, with diameters between 3-27 meters and are 10 to 90 meters tall. Tower silos are commonly used in silage and grain storage as they pack well due to their weight. This type of silo may comprise of cast concrete, wood, and even concrete stave material.
Bunker Silos
Bunker silos are usually suitable for the storage of dry grains. These bunkers are usually long ditches sided with concrete material. Once filled with the dry goods, the trenches are covered airtight using plastic material. Bunker silos are preferred as they are inexpensive and are relatively easy to construct.
Bag Silos
With their height and diameter being dependent on their purpose, bag silos are usually a short-term storage measure during harvest. Tractors and loaders are usually used to unload bag silos. These silos are preferred as a short term solution as they can be reused during the offloading process.
Concrete Stave Silos
Concrete stave silos are constructed from concrete block precasts. The compression of concrete stave silos is stronger compared to their tension. The main advantage of concrete stave silos is their flexibility. The heights of stave silos can be adjusted to meet the different needs and purchasing capacity of the user.
Low-Oxygen Tower Silos
Low-oxygen silos are used in the storage of fermented products to protect against the decay of such products. Low-oxygen tower silos are designed to, for example, keep silage in low-oxygen levels. These tower silos can only be opened to air when the initial loading process takes place.
Common Trailer Types Available from Heavy Haulers
Heavy Haulers specializes in hauling heavy loads such as construction equipment, oil field rigging and Super Loads. We are wideload experts! We offer an extensive range of trailer choices, including:
Max Weight: 48,000 lbs. | Max Length 53 ft. | Max Width 8.5 ft. | Max Height 11 ft.




Max Weight: 45,000 lbs. | Max Length 29 ft. | Max Width 8.5 ft. | Max Height 11.5 ft.
Max Weight: 150,000+ lbs. | Main Deck Length 29 ft. | Well Width 8.5 ft. | Legal Height Limit 11.6 ft.




Max Weight: 48,000 lbs. | Max Length 53 ft. | Max Width 8.5 ft. | Max Height 8.5 ft.
HEAVYHAULERS.COM
START YOUR SHIPMENT TODAY!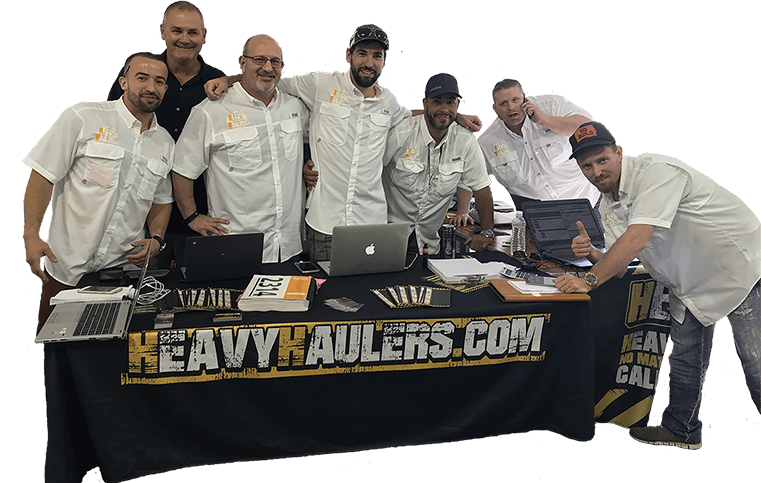 We Are Ready To Help You Haul Your Equipment!