Transporting Aging Coolers with Quality Service
When you want to transport one or multiple aging coolers, think Heavy Haulers. We are a leading heavy-cargo shipping company in the United States with more than ten years in the industry. We take pride in providing safe shipping solutions, and we owe our success in the many shipments that we have safely delivered. We demonstrate our commitment to offering safe shipping services by the surety bond and liability insurance we hold. Our shipping company is one of the leading shippers in the US with an insurance cover worth over 200,000,000. Therefore, you can be sure that your dry-aging meat cooler is in safe hands.
At Heavy Haulers, we have an affinity toward heavy equipment. That's why we pride ourselves in helping our clients transport their oversized cargoes and superloads efficiently. Time is of the utmost importance when shipping heavy freight. We need to work within the DOT time restrictions and ensure that you receive the load in time. Our transport crew will be at the pick-up location at the time we agreed so that we meet the shipping timeline. Call for a free aging cooler shipping estimate now! (800) 908-6206
Contact Our Expert Shipping Specialist's
(800) 908-6206
Top Notch Aging Cooler Shipping at Affordable Rates
A dry ager or aging cooler is a type of refrigerator used to mature cured dry meat and other dairy products such as cheese. It offers excellent conditions and clean airflow, perfect for the meat or cheese to acquire the desired taste. When you choose to work with Heavy Haulers, you work with expert logistics specialists. They are seasoned in what they do and can handle the entire shipment, from pre-planning and route mapping to budgeting and transportation. They know the rules and regulations governing heavy cargo shipping in the US and within every state.
Over the years, Heavy Haulers has splurged significant cash in acquiring and maintaining a huge fleet of trucks and shipping rigs and equipment. That has enabled us to provide reliable shipping services for a wide range of freight, such as plane frames, windmill rotor blades, toll gantries, and steel bridges. Hence, you can leverage our experience and resources to safely move your dry-ageing cooler to your desired receiving location, whether in a busy urban location or remote rural area. If you need help installing the equipment, we are also glad to arrange that. Our professionals understand how the load they carry works. Therefore, they can offer professional equipment installation, so you don't get your hands dirty. Call now! (800) 908-6206
How to Transport an Aging Cooler with Heavy Haulers
Heavy Haulers has all equipment and rigs to transport dry agers. Our transport crew will ensure that the equipment doors are shut securely. We will also ensure that the aging cooler is transported upright inside a closed or open shipping container, depending on the weather conditions. We use performance cushioning material to secure the load properly and prevent vibrations and stresses that might damage the cargo while in transit. Once secured on a trailer, a professional and seasoned driver will be tasked with the transportation. Let's get started! (800) 908-6206
Heavy Haulers Ships Across All 50 States
Alabama - Alaska - Arizona - Arkansas - California - Colorado - Connecticut - Delaware - Florida - Georgia - Hawaii - Idaho - Illinois - Indiana - Iowa - Kansas - Kentucky - Louisiana - Maine - Maryland - Massachusetts - Michigan - Minnesota - Mississippi - Missouri - Montana - Nebraska - Nevada - New Hampshire - New Jersey - New Mexico - New York - North Carolina - North Dakota - Ohio - Oklahoma - Oregon - Pennsylvania - Rhode Island - South Carolina - South Dakota - Tennessee - Texas - Utah - Vermont - Virginia - Washington - West Virginia - Wisconsin - Wyoming
Looking For Transport
With a Specific Trailer?

Max Weight: 150,000+ lbs. | Main Deck Length 29 ft.
| Well Width 8.5 ft. | Legal Height Limit 11.6 ft.

Max Weight: 48,000 lbs. | Max Length 53 ft.
| Max Width 8.5 ft. | Max Height 8.5 ft.
Max Weight: 48,000 lbs. Max Length 53 ft. |
Max Width 8.5 ft. | Max Height 11 ft.
Max Weight: 45,000 lbs. | Max Length 29 ft.
| Max Width 8.5 ft. | Max Height 11.5 ft.
Heavy Haulers Pilot Car Services
Are you looking for a reliable pilot car
for your transport?
Get Started
HEAVYHAULERS.COM
START YOUR SHIPMENT TODAY!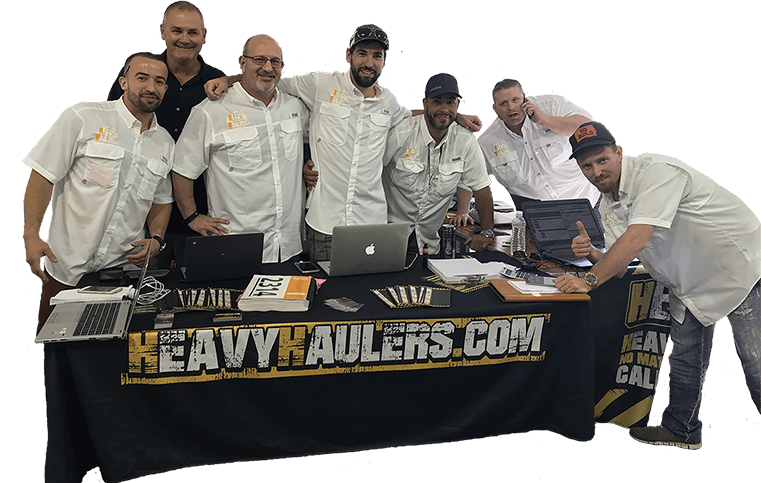 We Are Ready To Help You Haul Your Equipment!
See what you need?
Call us for a FREE Shipping Estimate at (800) 908-6206