Booth Shipping with Confidence
If you need quality booth transportation today, Heavy Haulers is here for you. We are passionate about heavy equipment, and we love transporting them. We have a long portfolio of consignments that involve all sorts of oversized and overweight equipment. Therefore, we relish undertaking your booth transportation, and we will ensure we deliver expert logistics services.
Heavy Haulers has been in the industry for more than ten years. Couple that with low staff turnover, and you have a potent brew of experience and quality workmanship. Every member of our logistics and transportation teams are seasoned professionals who've been doing what they do for years. Hence, you can be confident that your booth consignment is in professional hands.Call now! (800) 908-6206
Contact Our Expert Shipping Specialist's
(800) 908-6206
Booth Transport Done Efficiently and Safely
At Heavy Hauler, we understand the importance and value of your booth. That's why we will handle the shipment with care and high adherence to safety measures, from the pick-up to delivery points. We use state-of-the-art equipment and transportation rigs to ensure the booth reaches the receiving area in one piece.
We offer efficient booth transportation without compromising service quality. We always find the shortest routes with the lowest toll fees. Our logistics representatives are ready to organize pilot cars to clear the path so that the shipment doesn't waste time in-transit. Let's get started! (800) 908-6206
Common Types of Booths We Ship
There are different types of booths. They include:
● Guard Booth
● Phone Booth
● Exhibition Booth
● Display Booth
How to Ship a Booth with Heavy Haulers
Once you contact our offices, we will ask you several questions regarding the shipment: the origin, destination, weight, and distance. We understand that booths come in all shapes and sizes. Heavy Haulers has professional transportation specialists who can creatively position the booth on the trailer. We will also take care of other partial goods and transport them as palletized goods. Trust us to transport your booth because your business operation won't commence without it.
Phone Booth
A telephone kiosk is a partially opened structure made of either metal or bolstered plastic and furnished with a payphone. It is used to offer convenience to anyone wishing to phone someone when they don't have their mobile phone on them.


Exhibition Booth
An exhibition is an area in a business-show platform. Therefore, the exhibition booth is the stand where a particular brand showcases its products and service information to their target consumers. Usually, the company's sales team will be manning their specific booth during the conference.


Display Booth
A display booth is a portable stand, usually made of fabricated glass, hence clear. Companies use them in their business premises or business events to create a powerful visual representation of their brand, products, and personality. They come in different sizes and layouts, and you can choose one that resonates with your brand.


Trade Show Booth
Trade shows encompass businesses across various sectors. Trade show booths or stalls are an open structure you can use to market your brand, products and share your business story with your consumers. It gives you an open space where businesses can offer experiential marketing.


Guard Booth
Also known as a guard shack, a guard booth is a building structure used by on-duty security personnel. It is also used to house security equipment. Typically, a guard booth features benches, a platform, shelves, and [maybe] a bed for resting. You can find guard shacks in airports, residential properties, government offices, and commercial premises.


Looking For Transport
With a Specific Trailer?

Max Weight: 150,000+ lbs. | Main Deck Length 29 ft.
| Well Width 8.5 ft. | Legal Height Limit 11.6 ft.

Max Weight: 48,000 lbs. | Max Length 53 ft.
| Max Width 8.5 ft. | Max Height 8.5 ft.
Max Weight: 48,000 lbs. Max Length 53 ft. |
Max Width 8.5 ft. | Max Height 11 ft.
Max Weight: 45,000 lbs. | Max Length 29 ft.
| Max Width 8.5 ft. | Max Height 11.5 ft.
HEAVYHAULERS.COM
START YOUR SHIPMENT TODAY!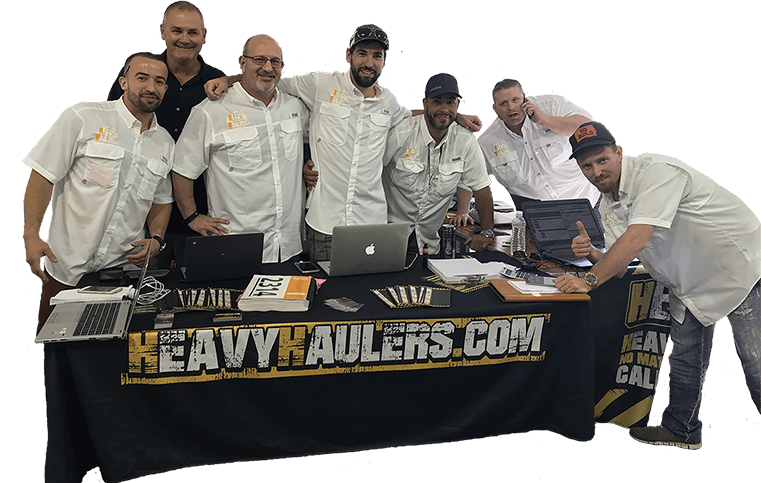 We Are Ready To Help You Haul Your Equipment!
Common Equipment Heavy Haulers Transports
Trust Heavy Haulers to transport any brand of equipment you own. Most of our drivers are experienced heavy-machinery operators who can safely maneuver your loads aboard our trailers. Some of the brands we have shipped include:
See what you need?
Call us for a FREE Shipping Estimate at (800) 908-6206