Quality and Affordable Log Washer Shipping
Heavy-duty or oversized equipment like log washers requires a lot of special planning to transport from one site to another. Finding log washer shipping that is both affordable and convenient might seem impossible but at Heavy Haulers, we take care of everything. Call now and find out how we can help with your log washer transport! (800) 908-6206
Log washer transport on trailers is one of the most affordable and reliable ways to get your log washer where it needs to go. We help plan the route, figure out paperwork, and settle all the logistics before loading the log washer onto one of our heavy-duty trailers. Our experts are there with you from door to door to ensure that you get your log washer shipped within your deadline and without any surprise extra costs. Our transparent and affordable pricing and free cost calculations will put you at ease and help you budget for shipping your log washer.
Contact Our Expert Shipping Specialist's
(800) 908-6206
Log Washers and Transport with Heavy Haulers
Log washers are heavy-duty machines that use high-pressure water streams to remove contaminants like clay, plastic, or silt from your gravel, crushed rock, or stone. It pushes the gravel or other feed in one direction while water flows in the other direction, the reverse currents create a high-power washing effect that dissolves contaminants and pulls them downstream, away from the feed.
Hauling log washers requires a lot of planning and preparation. Ranging in size from about 30-35 feet, you will need a large enough flatbed trailer for shipping log washers. Heavy Haulers offers a range of trailers, up to 53 feet long. These are perfect for oversize loads like log washers. Plus, the team at Heavy Hauler shipping will help you plan your route, schedule your delivery, and calculate your total costs!
How to Ship Log Washers with Heavy Haulers
• Note the dimensions and weight of your log washer. We need these numbers to determine the best shipping option.


• Choose your trailer. We help you select the right type of trailer for your needs.


• Plan your route. We chart the entire route with you to low clearance overpasses, weight-restricted roads, and other hazards.


• Get your quote. With all the details in place, we can figure out the total cost of the shipping process.


Common Trailer Types Available from Heavy Haulers
Heavy Haulers specializes in hauling heavy loads such as construction equipment, oil field rigging and Super Loads. We are wideload experts! We offer an extensive range of trailer choices, including:
Max Weight: 48,000 lbs. | Max Length 53 ft. | Max Width 8.5 ft. | Max Height 11 ft.




Max Weight: 45,000 lbs. | Max Length 29 ft. | Max Width 8.5 ft. | Max Height 11.5 ft.
Max Weight: 150,000+ lbs. | Main Deck Length 29 ft. | Well Width 8.5 ft. | Legal Height Limit 11.6 ft.




Max Weight: 48,000 lbs. | Max Length 53 ft. | Max Width 8.5 ft. | Max Height 8.5 ft.
HEAVYHAULERS.COM
START YOUR SHIPMENT TODAY!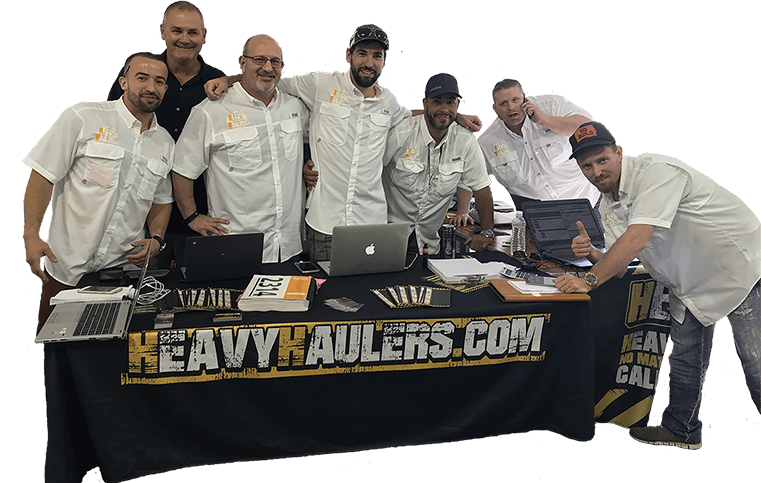 We Are Ready To Help You Haul Your Equipment!
See what you need?
Call us for a FREE Shipping Estimate at (800) 908-6206