Dependable Lofted Playhouse Shipping With Heavy Haulers
A playhouse enhances children's playtime and helps them in the development of various skills. However, you might be concerned about its successful shipping operation owing to its shape and size. Fortunately, Heavy Haulers are at your disposal. We are efficiently staffed with drivers and high-end equipment, which will ensure the safe and timely delivery of your lofted playhouse.
Successful hauling of your lofted playhouse will need you to conform to various state and border requirements. At Heavy Haulers, we thoroughly run local and international checks and help you obtain the essential permits. Furthermore, our drivers are road confident and vastly experienced on the best routes that will not derail the shipping process. They also work in shifts to relax and recharge for the utmost road concentration and safety. Let's ship your lofted playhouse now! (800) 908-6206
Contact Our Expert Shipping Specialist's
(800) 908-6206
Accountable Towing Services with Heavy Haulers
The most striking thing about hiring professional hauling companies for your heavy loads is that they are licensed and insured. On this ground, you are confident that they are solely responsible for any damages and losses incurred during the shipping process. At Heavy Haulers, we are licensed and bonded, and as such, you can always trace back to us in case of any shipping complaint. When you choose us to haul your lofted playhouse, be assured that it is in the safe hands of shipping pros.
A lofted playhouse is a small wooden house that children enjoy their playtime. It has a roof and is mostly decorated to help children make the most of their fun times. Outdoor lofted playhouses are particularly crucial in this era, where children are spending less time outside. You can also opt for an indoor playhouse embellished with loads of fun accessories. Call now! (800) 908-6206
Common Playhouses Heavy Haulers Ships
There are various types of playhouses, mostly based on construction materials. They include;
● Wooden Lofted Playhouse
● Children Play Tents And Teepees
How to Ship a Lofted Playhouse with Heavy Haulers
Transporting your playhouse across distances just got more comfortable with Heavy Haulers. We understand the struggle that comes with shipping uniquely shaped, large, and massive structures. As such, we are always at your disposal to ease up the hauling process and transport your load timely and securely. Heavy Haulers take pride in offering top-notch services to our clients across all states of America, Canada, and Mexico. Call for a free shipping estimate for your lofted playhouse! (800) 908-6206
Looking For Transport
With a Specific Trailer?

Max Weight: 150,000+ lbs. | Main Deck Length 29 ft.
| Well Width 8.5 ft. | Legal Height Limit 11.6 ft.

Max Weight: 48,000 lbs. | Max Length 53 ft.
| Max Width 8.5 ft. | Max Height 8.5 ft.
Max Weight: 48,000 lbs. Max Length 53 ft. |
Max Width 8.5 ft. | Max Height 11 ft.
Max Weight: 45,000 lbs. | Max Length 29 ft.
| Max Width 8.5 ft. | Max Height 11.5 ft.
HEAVYHAULERS.COM
START YOUR SHIPMENT TODAY!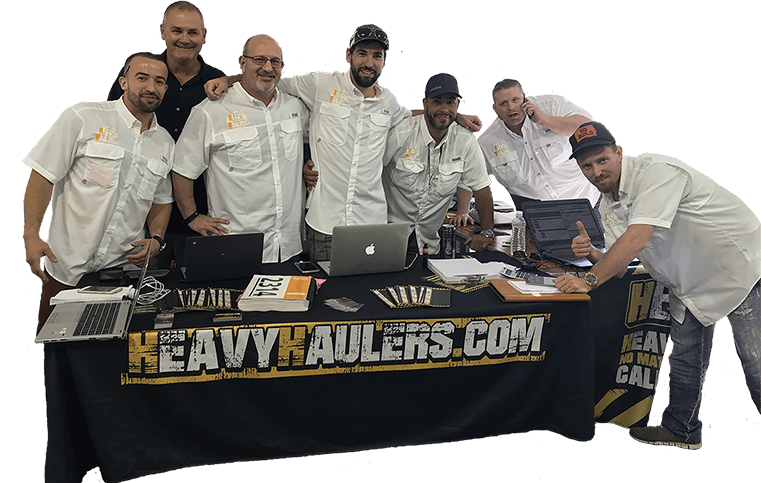 We Are Ready To Help You Haul Your Equipment!
Common Equipment Heavy Haulers Transports
Trust Heavy Haulers to transport any brand of equipment you own. Most of our drivers are experienced heavy-machinery operators who can safely maneuver your loads aboard our trailers. Some of the brands we have shipped include:
See what you need?
Call us for a FREE Shipping Estimate at (800) 908-6206