On-Time Delivery for your Chiller
Heavy Haulers pride in offering unparalleled service, principally regarding timely delivery. At Heavy Haulers, we remain true to our word being our bond. We continue to enjoy a fruitful and long cooperation with clients based on our ability to deliver just like we promise. Our brand reputation, relationship with clients, and the trust we enjoy emanates from our realization that timely delivery is paramount in conducting business.
When you ship a chiller with us, you are guaranteed that we will stick to the schedule as we know that respect for time is a critical success factor in business. We cannot be the reason for delay in your business. We therefore work tirelessly to ensure that regardless of how far we are from you, we transport and ensure a safe and timely delivery of your chiller. The countless times that we have hauled all chiller types and sizes have given us profound experience to guarantee a timely delivery. Call now for a free shipping estimate! (800) 908-6206
Contact Our Expert Shipping Specialist's
(800) 908-6206
Hassle-Free Chiller Transport Services
Transporting a chiller does not necessarily have to be a herculean task. When you trust Heavy Haulers with your chiller transport needs, we easily do so based on our many years of experience and accumulated knowledge. You will enjoy hassle-free transport services as our team comprises of highly competent and properly qualified and licensed personnel who will move even the most oversized and extremely heavy loads all through the country.
Chillers are machine types that are used to achieve cooling functions for industrial and large commercial facilities, machines, and operations. Such systems are preferred for their energy and time efficiency as well as their affordability. Whatever the type or size of your chiller, Heavy Haulers's team is keen to follow legally-laid processes and protocols to ensure that the chiller's transport is done in a safe and efficient way. At Heavy Haulers, we are increasingly keen on complying with the different transport and safety regulations as spelled out in different American states. Whether you want your chiller transported from California to Maine or from Arizona to New Mexico, you can trust in us to deliver.
Common Chillers We Transport
• Reciprocating Chillers
• Rotary or screw chillers

• Centrifugal Chillers
• Scroll Chillers
How to ship a Chiller with Heavy Haulers
At Heavy Haulers, we work diligently to provide unmatched services for high customer satisfaction. In fact, we confidently boast of being the go-to transport and logistics company for shipping chillers. We are not limited by distance, the size of your chiller, or the machine needed for a successful haul. Further, we know that every coin counts and hence, we are increasingly affordable. Heavy Haulers shall work with your budget while still maintaining top-notch services for you. If you need your chiller safely and cost-effectively delivered in a timely manner, we would be happy to hear from you. Reach us on (800) 908-6206 for inquiries.
Rotary Screw Chillers
These chillers are usually suitable for medium cooling loads. They can be used as water chillers where they remove heat by pumping water through a condenser that is sealed and thereafter dispersing this water into a cooling tower. They are also available as air chillers, too. Rotary chillers are energy efficient and are typically available in capacities ranging from 20 to 1000 tons.
Centrifugal Chillers
Such chillers largely operate as water chillers. These chillers serve best in medium to large cooling functions. Centrifugal coolers are manufactured in capacities that range between 90 and 2000 tons. Their preference is based on the operational efficiency conferred as well as their availability in quite large sizes.
Scroll Chillers
Scroll chillers can be used as both air and water chillers. These chillers are usually effective in commercial facilities that have quite low capacities. Most scroll chillers have a tropicalized design that is imperative in enhancing their promotional efficiency, particularly at high temperatures, They are also quite easy to install. The use of one stationary spiral plate and another rotating one achieves refrigerant compression function.
Reciprocating Chillers
The preference for these chillers emanates from their affordability as well as the capacity to have multiple machines installed closed to effectively meet a particular building's load. Flexibility is, therefore, fostered. Reciprocating chillers use a piston and a chamber for compressing the refrigerant.
Common Trailer Types Available from Heavy Haulers
Heavy Haulers specializes in hauling heavy loads such as construction equipment, oil field rigging and Super Loads. We are wideload experts! We offer an extensive range of trailer choices, including:
Max Weight: 48,000 lbs. | Max Length 53 ft. | Max Width 8.5 ft. | Max Height 11 ft.




Max Weight: 45,000 lbs. | Max Length 29 ft. | Max Width 8.5 ft. | Max Height 11.5 ft.
Max Weight: 150,000+ lbs. | Main Deck Length 29 ft. | Well Width 8.5 ft. | Legal Height Limit 11.6 ft.




Max Weight: 48,000 lbs. | Max Length 53 ft. | Max Width 8.5 ft. | Max Height 8.5 ft.
HEAVYHAULERS.COM
START YOUR SHIPMENT TODAY!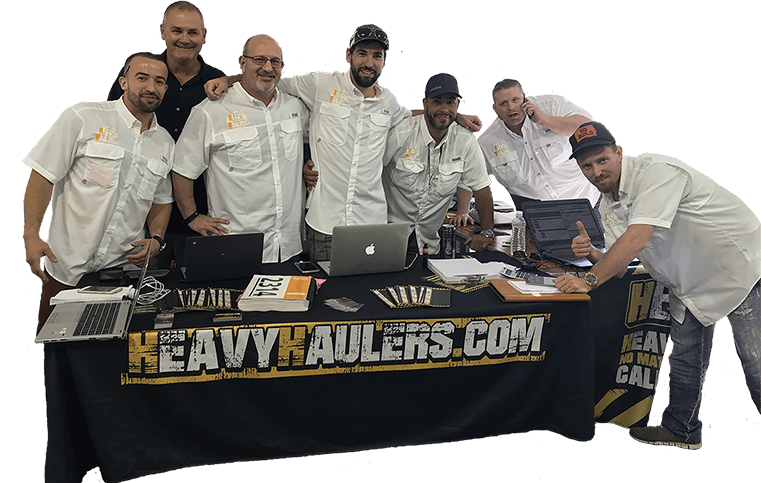 We Are Ready To Help You Haul Your Equipment!
See what you need?
Call us for a FREE Shipping Estimate at (800) 908-6206