Top Quality Recreational Equipment Shipping Services
Do you own a recreation outfitting shop, and you need to ship recreation equipment such as canoe/kayaks, oversize trampolines, hot air balloons, commercial playgrounds, among others? Perhaps you need to transport water sport or wheeled recreational equipment; you can trust Heavy Haulers to make your vacation enjoyable by shipping your recreation toys to your preferred destination on a timely basis. We promise to be at the pick-up location at the agreed-upon time so that we proceed with the loading as scheduled. Our dedication to offering time-focused shipping services also enables us to transport your hang gliders or any other recreation equipment within each state's time restrictions.
You deserve the best when shipping your paddle boats, fitness stations, oversize trampolines, and other recreational equipment, and that's why we welcome you to try shipping your recreation equipment with us today. We have professional and trained customer-care staff passionate about heavy equipment and helping their owners move them. We'll greet you with a friendly tone and explain to you our shipping options explicitly. We don't look at you as our client but as an integral part of our business. That's why we will provide quality and tailored shipping service to all your recreation equipment. Call now! (800) 908-6206
Contact Our Expert Shipping Specialist's
(800) 908-6206
Affordable Recreational Equipment Transport
Recreation equipment is gear, machinery, or items designed for human consumption and used combined with recreation or outdoor activity that's not suitable for public use. Whether you want to transport surfing or paddle boards to your marina watersport outfitters, Heavy Haulers is your trusted shipping company for cost-effective services. Our logistics professional will calculate your quote with the utmost transparency, honesty, and accountability. We'll also help you save by mapping out the route with the lowest transport fees.
Heavy Haulers is a full-service heavy-equipment shipping company with over a decade in the freight-hauling sector. We have invested in state-of-the-art equipment, trailers, and rigs to ensure we can handle any recreation equipment such as hang gliders, canoe, commercial playgrounds, wheeled recreational equipment, etc. We work hard to continue providing dependable shipping services to make your vacation memorable. Let's get started! (800) 908-6206
Types of Recreational Equipment We Ship
● Cano/Kayaks
● Wheeled Recreation Equipment
● Paddle Boats
● Hot Air Balloons
● Fitness Stations
● Commercial Playgrounds
● Hang Gliders
● Oversized Trampolines
● Ski Lifts
● Aerial Tramways
How to Ship Recreational Equipment with Heavy Haulers
Depending on the number, size, and type of recreation equipment you are planning to ship; We will deploy a unique trailer that will match the equipment. For instance, hauling a snowmobile to a winter destination might require a closed container for transportation. Shipping a bunch of kayaks or canoes will require proper arrangement and padding for safe shipping. Worry not, for we have professional leverage and weight specialists who will ensure your cargo is carefully loaded and transported to the intended destination. Our affordable and hustle-free recreation equipment hauling service comes with the peace of mind that you deserve. Once you call us, we will send our free no-obligation quote, make all arrangements, plan the routes, do all paperwork and acquire necessary oversize shipping permits, and professionally deliver the equipment as promised. Call now! (800) 908-6206
Looking For Transport
With a Specific Trailer?

Max Weight: 150,000+ lbs. | Main Deck Length 29 ft.
| Well Width 8.5 ft. | Legal Height Limit 11.6 ft.

Max Weight: 48,000 lbs. | Max Length 53 ft.
| Max Width 8.5 ft. | Max Height 8.5 ft.
Max Weight: 48,000 lbs. Max Length 53 ft. |
Max Width 8.5 ft. | Max Height 11 ft.
Max Weight: 45,000 lbs. | Max Length 29 ft.
| Max Width 8.5 ft. | Max Height 11.5 ft.
HEAVYHAULERS.COM
START YOUR SHIPMENT TODAY!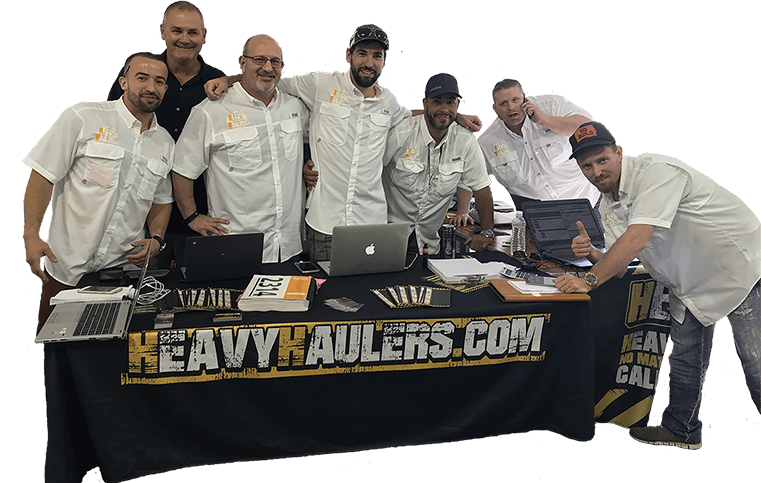 We Are Ready To Help You Haul Your Equipment!
Common Equipment Heavy Haulers Transports
Trust Heavy Haulers to transport any brand of equipment you own. Most of our drivers are experienced heavy-machinery operators who can safely maneuver your loads aboard our trailers. Some of the brands we have shipped include:
See what you need?
Call us for a FREE Shipping Estimate at (800) 908-6206