Comprehensive Pump Shipping Services
Pump shipping transport can take many forms, from LTL intercity shipping to long-haul oversized pump shipping that needs to meet very specific state and federal transport regulations. Pump hauling can be a complicated process for anyone that's not familiar with the intricacies of long-haul transport. Luckily for you, at the Heavy Haulers pump transport company, we provide comprehensive pump shipping services that include all the scheduling, paperwork, and additional shipping services that you might not even have considered.
We offer load tracked shipments, and safe and secure haulage wherever and whenever you need it. We have a sophisticated fleet of enclosed carriers, flatbed trucks, RGN trailers, and step decks suitable for hauling every type of pump, large or small. Our truck drivers are assisted by experienced scheduling professionals that can provide the most efficient transport routes to make sure your pump shipment gets where it needs to be on time. Call now! (800) 908-6206
Contact Our Expert Shipping Specialist's
(800) 908-6206
Qualified Pump Shipping Services Provider Across All 50 States
The Heavy Haulers pump transport company is here to assist you, no matter where you are located in the United States. We're licensed to operate in all 50 states, and we can even coordinate international pump shipping transport services if required. Our haulers are fully qualified pump haulage professionals who take pride in their ability to ship any pump safely and securely. If you're looking to export to upstate New York, downtown Chicago, across the United States, or ship replacement pumps to remote locations, we've got a pump transport service suitable for you. Every shipping coordinator knows how to handle long-haul transportation efficiently and takes care of the intricate oversized pump shipping details, so you don't have to.
Pumps can vary in size and complexity from pumps used in residential water tanks to industrial-sized pumps used to remove excess water from construction sites or during emergency flood cleanup operations. However, every pump is designed to move fluid continuously. Water pumps come in two main types: centrifugal and positive displacement. The pump can be electric, hydraulic, manual, or gas-powered, and pump transport methods may vary depending on the type of water pump requiring transport.
Heavy Haulers Transports All Pumps Inclduing:
● Slurry Pump
● Boiler Feed Pump
● Lobe/Sanitary Pumps
● Rotary Gear
● Air Operated Pumps
● Magnetically Driven Pumps
● Progressing Cavity Pumps
● Metering/Dozing Pumps
● Vertical Pumps
● High Pressure Pumps
● Multistage Pumps
● Metering/Dosing Pumps
● Submersible Pumps
● Horizontal Split Case
● Self Priming Centrifugal Pumps
How to Ship a Pump with Heavy Haulers
Using the Heavy Haulers pump shipping quote service online, you can choose the pickup and delivery locations, supply us with pump shipping details, and we'll provide you with the most suitable available pump shipping service that we offer. Alternatively, you can contact our friendly office staff by phone, and we'll discuss with you how to prepare your pump for transportation, including the most appropriate packing materials. We can arrange to haul a pump through our door-to-door service, so there's no need to take your pump to a central location for pickup. Contact us to receive a pump transport quote and start your pump shipping journey with us.
Centrifugal pumps are either engine- or electric-powered pumps that transport the fluid through the conversion of rotational kinetic energy. Fluid enters by way of the rapidly rotating impeller and is cast out by the centrifugal force at the impeller's vane tips. These pumps may operate at very high flow rates.
A diaphragm pump is a positive displacement pump that can use two flexible diaphragms that reciprocate fluid back and forth, creating temporary chambers that draw in and expel fluid through the pump itself. Versatile and accurate, these pumps are used in a variety of industries and can be used for filling, dispensing, and metering purposes.
Submersible Pump
Submersible pumps are often used to pump septic tanks and slurries. The fluid is transferred through hoses into storage tanks that can be taken to treatment facilities. Industrial-sized submersible pumps can be used to clear flooded basements or clear excess water from construction sites. Designed to work under the surface, when pressure is switched on, impellers spin to draw water into the pump.
Piston Pump
A type of positive displacement pump where a high-pressure seal reciprocates with the piston to move liquids or compress gasses. They can operate at a wide variety of pressures, and high-pressure operation is achievable without compromising the flow rate. Typically uses a rotational method to create motion along an axis and build pressure.
Progressive Cavity Pump
A progressive cavity pump is a type of positive displacement pump that is used when liquids being pumped have a higher viscosity than water. It transfers fluids through the pump through a sequence of small, fixed shape cavities as the pump rotor turns. Often used in applications where a centrifugal pump is not suitable.
Positive Displacement Pump
A positive displacement pump makes fluids move by trapping a fixed amount and displacing that volume into the pump's discharge pipe. Some pumps include an expanding cavity on the suction side and a cavity that decreases on the suction side of the displacement pump. Positive displacement pumps can be classified as rotary, linear, or reciprocating types.
A pump skid includes a pump and driver (motor or diesel engine) mounted on a steel base. Pump skids range in size and components. These components include pumps, valves, strainers, filters, gauges, piping, controls, and status lights. Pump skid packages move fluid or other products, usually in an industrial type setting.
Rotary Lobe Pumps are most comonly used in hygienic processing industries, such as in food and beverage processing. Rotary Lobe Pumps extract water to be purified through the membranes. This type of pump is considered to be a type of displacement pump. They are non-contacting and have large pumping chambers that allowe them to handle solid type foods without damaging them.
Common Trailer Types Available from Heavy Haulers
Heavy Haulers specializes in hauling heavy loads such as construction equipment, oil field rigging and Super Loads. We are wideload experts! We offer an extensive range of trailer choices, including:
Max Weight: 48,000 lbs. | Max Length 53 ft. | Max Width 8.5 ft. | Max Height 11 ft.




Max Weight: 45,000 lbs. | Max Length 29 ft. | Max Width 8.5 ft. | Max Height 11.5 ft.
Max Weight: 150,000+ lbs. | Main Deck Length 29 ft. | Well Width 8.5 ft. | Legal Height Limit 11.6 ft.




Max Weight: 48,000 lbs. | Max Length 53 ft. | Max Width 8.5 ft. | Max Height 8.5 ft.
See what you need?
Call us for a FREE Shipping Estimate at (800) 908-6206
HEAVYHAULERS.COM
START YOUR SHIPMENT TODAY!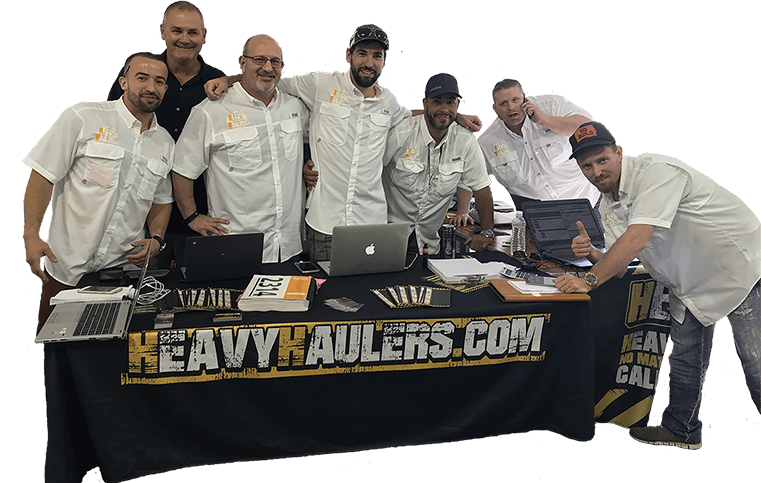 We Are Ready To Help You Haul Your Equipment!
See what you need?
Call us for a FREE Shipping Estimate at (800) 908-6206