Heavy Haulers Can Safely Deliver a Cell Tower Anywhere!
When you need to transport a cell site, you must work with a transport company that's dedicated to providing safe cell tower transport services. At Heavy Haulers, we've got more than ten years of experiencing handling cell towers and sensitive communications equipment of all sizes – something that not every transport company can say! Our team of professional cell site shipping specialists works tirelessly to make sure we provide the safest, quickest cell site delivery services. You can count on us to provide the most appropriate cell tower haulage solutions and safely handle your cell tower from start to finish.
When it comes to cellular base station shipping, we offer double insurance – both carrier and contingency. Every one of our haulers is an insured, bonded, and licensed heavy haulage expert who will make sure that your cellular base station shipment arrives in the same condition in which it began its journey. You can trust us to safely ship new, used, and refurbished cell towers to anywhere in the United States. We don't just serve every major city; we'll travel to any remote location, and even across the border to Canada or Mexico. Let's get started! (800) 908-6206
Contact Our Expert Shipping Specialist's
(800) 908-6206
Comprehensive Cellular Base Station Transport from Heavy Haulers
At Heavy Haulers, we understand the importance of keeping the world connected. We offer a full range of cellular base station shipping services, including a seamless door-to-door cell tower transport option. Whether you're looking for a local, state, national, or international cell tower transport service, we're here for you. Even if you need us to haul a cell tower at short notice, our national network of haulers is ready to deploy to your aid. All of the cell tower transport services we provide are highly customizable – our experts will work with you to provide the perfect cellular base station haulage solution every time!
Cell towers, also referred to as cellular base stations or cell sites, are mobile device sites that include sensitive equipment such as antennae, transmitters, receivers, and signal processors to build and deploy a cellular network. If you're looking to install a new shared mast, replace a degraded cell tower, or need a safe long-distance cell tower haulage option for your communications equipment, contact the experts at Heavy Haulers. Call now! (800) 908-6206
How To Ship a Cell Tower with Heavy Haulers
Heavy Haulers can ship awkward, oversized cell site cargo such as cell tower structures, backup generators, antenna, and digital signal processing units. Cellular base station transport is typically done using a heavy-duty rig. At Heavy Hauler, there's plenty of expertise available that will ensure your cell tower is safely loaded and transported onto one of our appropriately-sized trailers. Besides offering the right equipment to transport a cell tower, we also plan the best routes, arrange the necessary permits, and schedule the best time to undertake cell site shipping.
Looking For Transport
With a Specific Trailer?

Max Weight: 150,000+ lbs. | Main Deck Length 29 ft.
| Well Width 8.5 ft. | Legal Height Limit 11.6 ft.

Max Weight: 48,000 lbs. | Max Length 53 ft.
| Max Width 8.5 ft. | Max Height 8.5 ft.
Max Weight: 48,000 lbs. Max Length 53 ft. |
Max Width 8.5 ft. | Max Height 11 ft.
Max Weight: 45,000 lbs. | Max Length 29 ft.
| Max Width 8.5 ft. | Max Height 11.5 ft.
HEAVYHAULERS.COM
START YOUR SHIPMENT TODAY!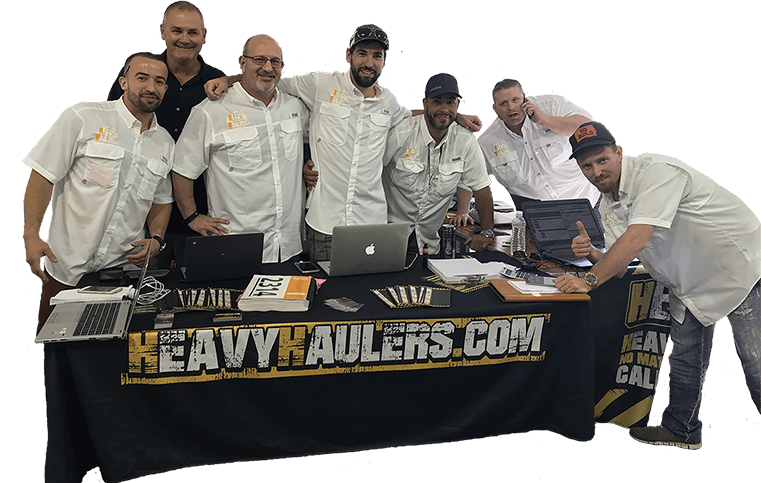 We Are Ready To Help You Haul Your Equipment!
Common Equipment Heavy Haulers Transports
Trust Heavy Haulers to transport any brand of equipment you own. Most of our drivers are experienced heavy-machinery operators who can safely maneuver your loads aboard our trailers. Some of the brands we have shipped include:
See what you need?
Call us for a FREE Shipping Estimate at (800) 908-6206