Hire Trusted Swamp Buggy Haulers For Premium Shipping Services
Since the 1940s, swamp buggies have become a prominent machine in the racing world that excited and attracted spectators and racers. Across the United States, the swamp buggy has become typical racing machines and vehicles to carry tourists in some rough terrains. Swamp Buddies may not be road rated, and their movement on public roads may be heavily restricted. When transporting swamp buggies across a state or multiple states, you need the assistance of an experienced trucker, who can guarantee nothing but safe and timely delivery of your swamp buggies.
Heavy Haulers is your go-to transporting company. We have the resources, expertise, and talented people that are committed to putting your hauling needs first. When it comes to shipping your swamp buggies, we don't just want just to excel, we are determined to surpass your expectations. With us, you will always have your shipment delivered exactly as we promised. Call now! (800) 908-6206
Contact Our Expert Shipping Specialist's
(800) 908-6206
Use Heavy Haulers to Haul Your Swamp Buggies with Ease and Stress-free
Whether you have recently purchased your swamp buggy, you are relocating; you can always trust Heavy Haulers to deliver your equipment to the new location. We've been in the industry for more than a decade. The experience we've gained so far has helped us tailor our shipping services to our clients for the utmost convenience. Whatever number of swamp buggies you want to be hauled, we can do it in a way that makes you not worry about a thing.
A swamp buggy is designed to be used in swampy terrains. It is engineered with enhanced features and elevated height that make the movements through swamps possible. A swamp buggy is also designed to self-propel with the ability to move through dry land, dense vegetation, and drive over rough terrains. Heavy Haulers understand all the features of a swamp buggy, which makes us your number swamp buggy trucker. Let's get started! (800) 908-206
Common Types of Swamp Buggies Heavy Haulers Ships
How to Haul a Swamp Buggy with Heavy Haulers
Seeking our shipping services is an easy process. All it takes is a call with our logistic team. After which we will make the necessary arrangements, find the best routes, handle all the paperwork, get the required permits, and safely load the swamp buggies. Throughout the journey, you will receive constant updates, and once we arrive safely in your desired location. Our team will help you unload and securely store your swamp buggies. Call today! (800) 908-6206
Looking For Transport
With a Specific Trailer?

Max Weight: 150,000+ lbs. | Main Deck Length 29 ft.
| Well Width 8.5 ft. | Legal Height Limit 11.6 ft.

Max Weight: 48,000 lbs. | Max Length 53 ft.
| Max Width 8.5 ft. | Max Height 8.5 ft.
Max Weight: 48,000 lbs. Max Length 53 ft. |
Max Width 8.5 ft. | Max Height 11 ft.
Max Weight: 45,000 lbs. | Max Length 29 ft.
| Max Width 8.5 ft. | Max Height 11.5 ft.
HEAVYHAULERS.COM
START YOUR SHIPMENT TODAY!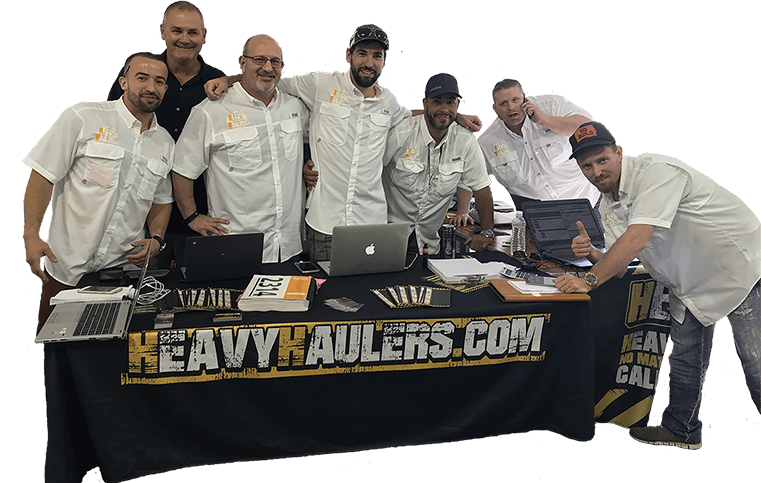 We Are Ready To Help You Haul Your Equipment!
Common Equipment Heavy Haulers Transports
Trust Heavy Haulers to transport any brand of equipment you own. Most of our drivers are experienced heavy-machinery operators who can safely maneuver your loads aboard our trailers. Some of the brands we have shipped include:
See what you need?
Call us for a FREE Shipping Estimate at (800) 908-6206