Unequaled Substation Shipping Services with Heavy Haulers
Substations play a critical role in power generation, especially if you're running a plant or piece of equipment that requires specific electrical requirements. At Heavy Haulers, we'd like to be the reason you don't run out of electrical supply because we provide quality, consumer-centric substation shipping services. We understand the importance of each component of the unit substation, from safety side breakers, low tap changers for voltage control, to circuit protectors. It is the reason why we adhere to high safety code when handling and transporting a modular substation.
We have been providing superior freight and hauling services for more than ten years. We have a proven track record of excellence, thanks to our high-regard for professionalism and never-ending strife to offer innovative towing solutions. We've bolstered our technological resources and invested in state-of-the-art equipment to make sure we ship the substation to your preferred destination with all parts intact.
Contact Our Expert Shipping Specialist's
(800) 908-6206
Transporting a Modular Substation with the Consumer in Mind
We welcome each of our clients as part of the Heavy Haulers family, and we make sure each person has a quality transport experience. When it comes to professionalism we always make sure to provide the best. We have tip-top logistics systems, and we'll handle every stage of the shipment. That's not all; we combine that with a long list of different trailers and trucks. Thus, we guarantee that we'll transport the substation using capable towing systems for timely and safe drop-offs.
A modular substation is prefabricated and shipped to where you need it. Our professionals use quality cargo-handling solutions when loading and offloading, alleviating any cargo damages during pick-ups or after deliveries. Call and let's get started! (800) 908-6206
How to Transport a Modular Substation with Heavy Haulers
Towing a piece of heavy machinery like a substation or a number of substations require a shipping company with years of experience. As opposed to hauling LTL/FTL freight, shipping substation requires special handling, special carriers, and permits. Also, hauling a substation requires a specialized trailer and experienced drivers to ensure that the substation is smoothly and timely delivered. With Heavy Haulers, we will discuss with you the best available options and routes for towing your substation. We'll enquire about the size of the substation, the pick-up point, and the destination. Once we have this information, we will layout the route to be used, calculate the quote, and find the most suitable transportation method. Shipping with us also allows you to track the load. We maintain clear communication channels between our staff and the trucking driver. Let's get started! (800) 908-6206
Common Trailer Types Available from Heavy Haulers
Heavy Haulers specializes in hauling heavy loads such as construction equipment, oil field rigging and Super Loads. We are wideload experts! We offer an extensive range of trailer choices, including:
Max Weight: 48,000 lbs. | Max Length 53 ft. | Max Width 8.5 ft. | Max Height 11 ft.




Max Weight: 45,000 lbs. | Max Length 29 ft. | Max Width 8.5 ft. | Max Height 11.5 ft.
Max Weight: 150,000+ lbs. | Main Deck Length 29 ft. | Well Width 8.5 ft. | Legal Height Limit 11.6 ft.




Max Weight: 48,000 lbs. | Max Length 53 ft. | Max Width 8.5 ft. | Max Height 8.5 ft.
HEAVYHAULERS.COM
START YOUR SHIPMENT TODAY!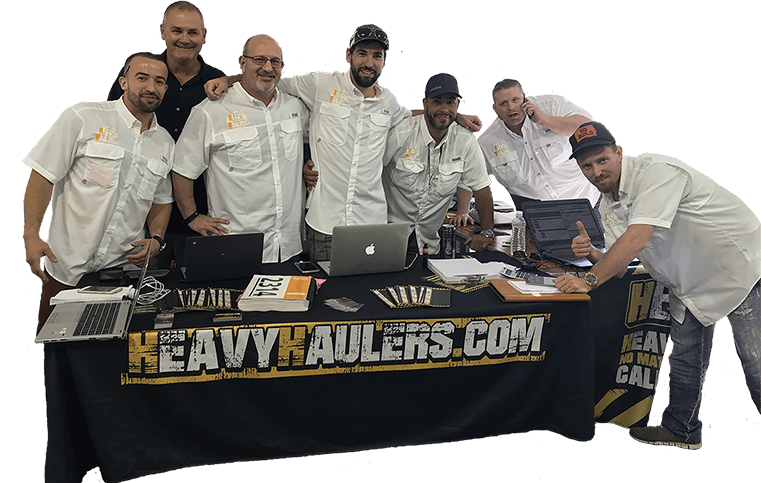 We Are Ready To Help You Haul Your Equipment!