Professional Industrial Oven Shipping
If you are a trader in food processing, chemical treatments, or electronics, you understand the importance of having a functional industrial oven. The equipment's safety begins when you transport the equipment from the manufacturer to the working site. That's where Heavy Haulers comes in. We are a trustworthy shipping company dedicated to offering quality heavy-cargo transportation. Over the 10+ years we have been in the business, our focus has been to invest in project-specific machinery and tools, enabling us to provide safe trucking services.
Whether it is a port-to-port or cross-country haulage, we have competent and trained drivers to handle that. Heavy Hauler only partners with licensed and insured drivers. Therefore, they are committed to ensuring that your industrial oven is safely transported and delivered in time. With such an industry-seasoned team of drivers, we can offer efficient industrial oven transportation no matter the path or type of terrain. Call now! (800) 908-6206
Contact Our Expert Shipping Specialist's
(800) 908-6206
Client-Focused and Timely Industrial Oven Shipping
At Heavy Haulers, we pay little focus on the business that you bring us. Instead, we concentrate on providing value for your money. Our professional logistics team understands the value and importance of your industrial oven. We will handle the consignment with the caution and security level it deserves.
We provide safe and efficient cargo trucking services in over 50 states in the US. You can take advantage of your proximity to your local Heavy Haulers offices for convenience and quality shipment. Each location has a team of logistics specialists who understand the transportation laws of each state. They will retrieve the necessary documents and position the industrial oven properly to maintain a legal load. Heavy Haulers understands that your time is of the essence to your business. We promise to reduce the downtime caused by the shipment. Our transportation will be at the pick-up point at the agreed-upon time. We will also map out the shortest route and assign an experienced driver for the timely delivery of the industrial equipment. Let's get started! (800) 908-6206
Common Types of Industrial Ovens
An industrial oven is a heated chamber used to perform several industrial processes. It is used in chemical processing, baking, and electronic industries. They are available in different types:
● Drying Ovens
● Continuous Ovens
How to Ship an Industrial Oven with Heavy Haulers
Heavy Haulers takes all the necessary measures and uses quality tools and machinery for secured industrial oven shipping. For such a multi-ton cargo, we will use an RGN trailer. Our weight and leverage professionals will use specialized forklifts, each on both sides of the trailer, to securely load the cargo. Afterward, the trailer will be coupled with a capable power cab, then shipped by an experienced driver to your intended location. We will organize for any police escort of pilot cars if you wish. Do you have an industrial oven you wish to ship? Talk to us today, and we will offer professional trucking solutions. Call us now! (800) 908-6206
>
Looking For Transport
With a Specific Trailer?

Max Weight: 150,000+ lbs. | Main Deck Length 29 ft.
| Well Width 8.5 ft. | Legal Height Limit 11.6 ft.

Max Weight: 48,000 lbs. | Max Length 53 ft.
| Max Width 8.5 ft. | Max Height 8.5 ft.
Max Weight: 48,000 lbs. Max Length 53 ft. |
Max Width 8.5 ft. | Max Height 11 ft.
Max Weight: 45,000 lbs. | Max Length 29 ft.
| Max Width 8.5 ft. | Max Height 11.5 ft.
HEAVYHAULERS.COM
START YOUR SHIPMENT TODAY!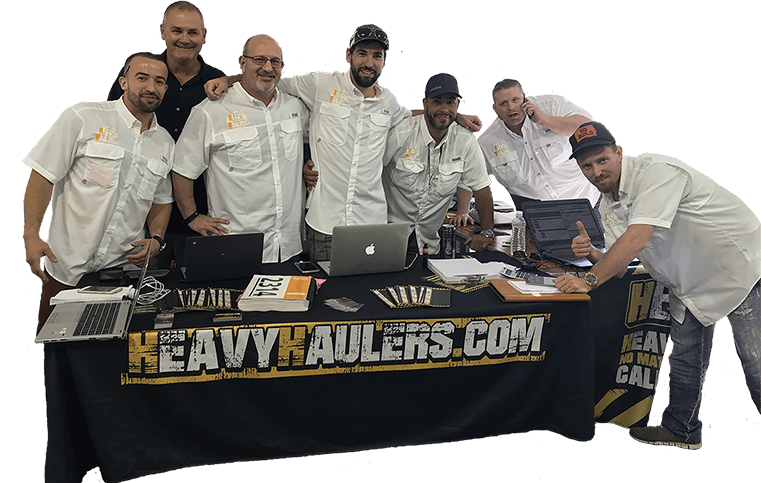 We Are Ready To Help You Haul Your Equipment!
Common Equipment Heavy Haulers Transports
Trust Heavy Haulers to transport any brand of equipment you own. Most of our drivers are experienced heavy-machinery operators who can safely maneuver your loads aboard our trailers. Some of the brands we have shipped include:
See what you need?
Call us for a FREE Shipping Estimate at (800) 908-6206