Premium Freezers Shipping Services with Heavy Haulers
If you run a gourmet restaurant or manage a commercial eatery, you understand the importance of having a freezer. And to ensure that you move it from one location to another safely, it is imperative to partner with a reputable heavy-cargo shipping company. When you choose Heavy Haulers, you not only have get consumer-centric solution, but you also have access to professional advisory from knowledgeable logistics specialists.
Since our company's establishment, we have taken pride in providing superior freight-carrying services that supersede consumer expectations. We have shipped many types of freezers to clients in the US, Mexico, and Canada over the past decade. All of them have expressed their satisfaction and happiness of how our professionals have handled their shipment project with integrity, transparency, and accountability. We will involve you in the planning process so that we can understand your special wants and needs. Our flexible logistics professionals will be glad to tailor the services for you.
Contact Our Expert Shipping Specialist's
(800) 908-6206
Trust Us to Provide Top Cost-Effective Freezer Shipping
A freezer is an equipment used to preserve perishable goods and commodities, such as meat, dairy products, and other foods. Unlike a large double-door refrigerator, a freezer has one door with compartments to store and preserve different food items.
At Heavy Haulers, we know that purchasing the freezer already dented your savings. That's the reason we strive to provide unmatched shipping services at an affordable price. Our professional logistics crew will even go out of its way to find the shortest and cheapest path to the delivery area, whether it's a haul within your local area, or a full cross-country shipping.
Common Types of Freezers We Haul
● Meat Freezers
● Outdoor Freezers
How to Ship a Freezer with Heavy Haulers
We take pride in rendering detailed and thorough freezer shipping services. Hence, we follow the standard procedure to make sure the appliance reaches you safely. Our logistics personnel will empty and clean the freezer. They 'll also remove the shelves before packing it in a box. For secure freight, we will cushion it with foam or bubble packaging. We don't skimp on any stage of the shipping package, because we know a broken shelf might take weeks to replace. Let's get started! (800) 908-6206
Walk-In Freezers
These freezers are used commercially to provide businesses with additional storage space to preserve their bulk and popular ingredients. They come in different storage capacities and dimensions. They also come with shelves, allowing user to safely store food in boxes above the ground.
Chest Freezers
Also known as reach-in freezers, chest freezers look like large boxes with hinged doors on the top side that open upwards. Despite their impressive storage capacity, they require a relatively larger storage space. Besides, they don't have an in-built fan, meaning that highly perishable goods, like meats, are stored at the bottom because cooler air is heavier.
Outdoor Freezers
If you have an outdoor kitchen, investing in an outdoor freezer is the best option. They are durable, powerful, and energy-efficient to withstand the constant beat from environmental elements. You can count on outdoor freezers when you are entertaining your guests outside or simply when you prefer not to have a freezer inside your home.
Meat Freezer
A meat freezer can be mistaken for a chest freezer, but they are not. While the latter offers even coldness within the freezer, a chest freezer has relatively colder temperature at the base than a meat freezer. Hence, meat freezers let you stack over 40 pounds of cuts up to the top without the upper meat cuts going bad.
Looking For Transport
With a Specific Trailer?

Max Weight: 150,000+ lbs. | Main Deck Length 29 ft.
| Well Width 8.5 ft. | Legal Height Limit 11.6 ft.

Max Weight: 48,000 lbs. | Max Length 53 ft.
| Max Width 8.5 ft. | Max Height 8.5 ft.
Max Weight: 48,000 lbs. Max Length 53 ft. |
Max Width 8.5 ft. | Max Height 11 ft.
Max Weight: 45,000 lbs. | Max Length 29 ft.
| Max Width 8.5 ft. | Max Height 11.5 ft.
HEAVYHAULERS.COM
START YOUR SHIPMENT TODAY!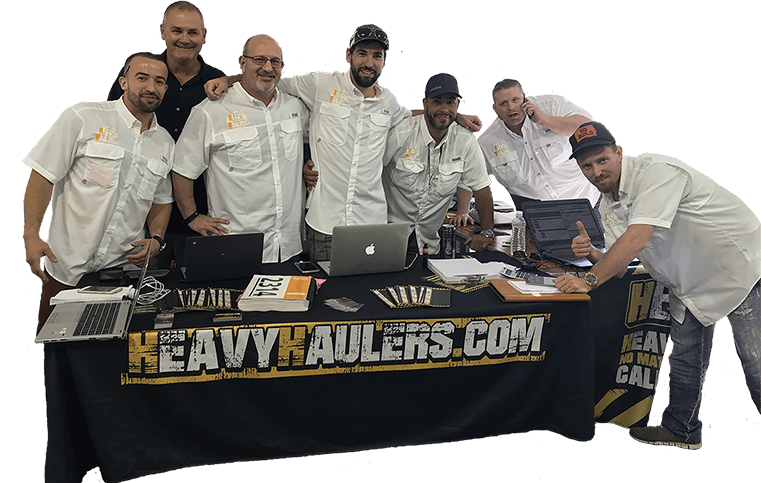 We Are Ready To Help You Haul Your Equipment!
Common Equipment Heavy Haulers Transports
Trust Heavy Haulers to transport any brand of equipment you own. Most of our drivers are experienced heavy-machinery operators who can safely maneuver your loads aboard our trailers. Some of the brands we have shipped include:
See what you need?
Call us for a FREE Shipping Estimate at (800) 908-6206