Industry's Flagship Floodgate Transport Services
When natural waterways expand due to increased precipitation, the prevention of water into residential and industrial areas is paramount. Floodgates, also referred to as stop gates, are used to mitigate the potential risks of flooding. But how can you transport a floodgate when you need it for installation on a water doorway? You can count on Heavy Haulers to help you move the gate. Some of these doors feature 25mm-thick steel construction with a 7mm-thick neoprene coat, which makes it a piece of heavy equipment. That's precisely what we do! We arrange for the transportation of stop gates, whether it's 500-mile haulage between towns or a 2000-mile cross-country transportation.
From mapping out the travel route and retrieving the transportation documents to choosing the right hauling method and planning unloading services, Heavy Haulers does it all for you. We will coordinate long-distance transportation by assigning several experienced drivers who drive in turns to make sure the load is safely delivered. Call now for a free shipping estimate! (800) 908-6206
Contact Our Expert Shipping Specialist's
(800) 908-6206
Superior, Consumer-Centric Floodgate Shipping
Leaving our client happy ranks among our top priorities. We understand that different construction projects require different sizes of floodgates. With that in mind, we provide high-quality stop gate transport while anticipating your unique needs. Our logistics personnel are updated in the latest, market-driven shipping systems. They will provide a customized transportation package at an affordable quote. We don't lowball. Neither do we offer fleecing offers. Our main focus is to ensure your cargo reaches you in time, and in the same state we picked it up.
A floodgate is a thick, steel door installed in strategic points along a watercourse to prevent flooding during storms. Designed with a jacking mechanism, these doors can be adjusted horizontally, so the frame fits in an area in the bordering walls to prevent water seepage. Heavy Haulers has specific tools and professional manpower to handle the floodgate. We're ready to transport your floodgates now! Call today! (800) 908-6206
Common Types of Floodgates Heavy Haulers Ship
• Dam Gates
• River Gates

• Channel Gates
• Sea Gates
How to Transport a Floodgate with Heavy Haulers
Set yourself up for quality floodgate shipping services by contacting Heavy Haulers on (800) 908-6202. You can also get a free, non-obligatory quote by visiting our website. Our personnel will collaborate together and mobilize the necessary loading equipment for secure positioning on a capable trailer. We are insured, so is every one of our drivers. Therefore, you can rest assured that your floodgate will be delivered securely to its intended destination.
Dam Gates
Also known as Tainter gates, dam gates are kinds of radial arm stop gate with watertight seals to monitor and control water discharge. The adjustable gateways curve inward, with unique arms extending from both sides to meet at a trunnion – the pivot that allows the gate to move up and down.
River Gates
These are huge metallic doorways constructed along the course of a river or along the banks to avert massive flows of water into flood-prone areas during a severe downpour. They feature a mechanical construction and can be adjusted to an intended height electrically or manually.
Channel Gates
As their names suggest, channel gates control flow in water channels. They tower above the water surface because their height exceeds the depth. Hence, they lack a top horizontal seal but can bear a bolting system against the side walls when needed.
Sea Gates
Sea gates are channels or waterways that offer access to the ocean. They are constructed to control maritime shipping and transportation services. By the development of sea gates or canals, water levels behind the sea gate can be controlled to streamline oceanic freight services.
Common Trailer Types Available from Heavy Haulers
Heavy Haulers specializes in hauling heavy loads such as construction equipment, oil field rigging and Super Loads. We are wideload experts! We offer an extensive range of trailer choices, including:
Max Weight: 48,000 lbs. | Max Length 53 ft. | Max Width 8.5 ft. | Max Height 11 ft.




Max Weight: 45,000 lbs. | Max Length 29 ft. | Max Width 8.5 ft. | Max Height 11.5 ft.
Max Weight: 150,000+ lbs. | Main Deck Length 29 ft. | Well Width 8.5 ft. | Legal Height Limit 11.6 ft.




Max Weight: 48,000 lbs. | Max Length 53 ft. | Max Width 8.5 ft. | Max Height 8.5 ft.
HEAVYHAULERS.COM
START YOUR SHIPMENT TODAY!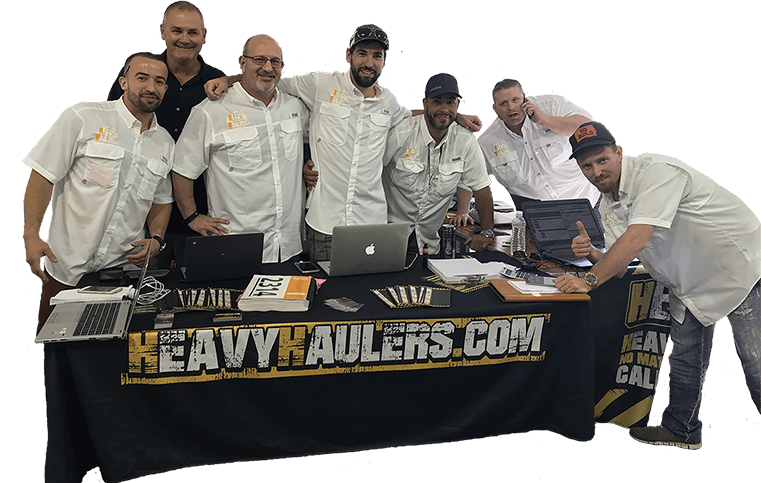 We Are Ready To Help You Haul Your Equipment!